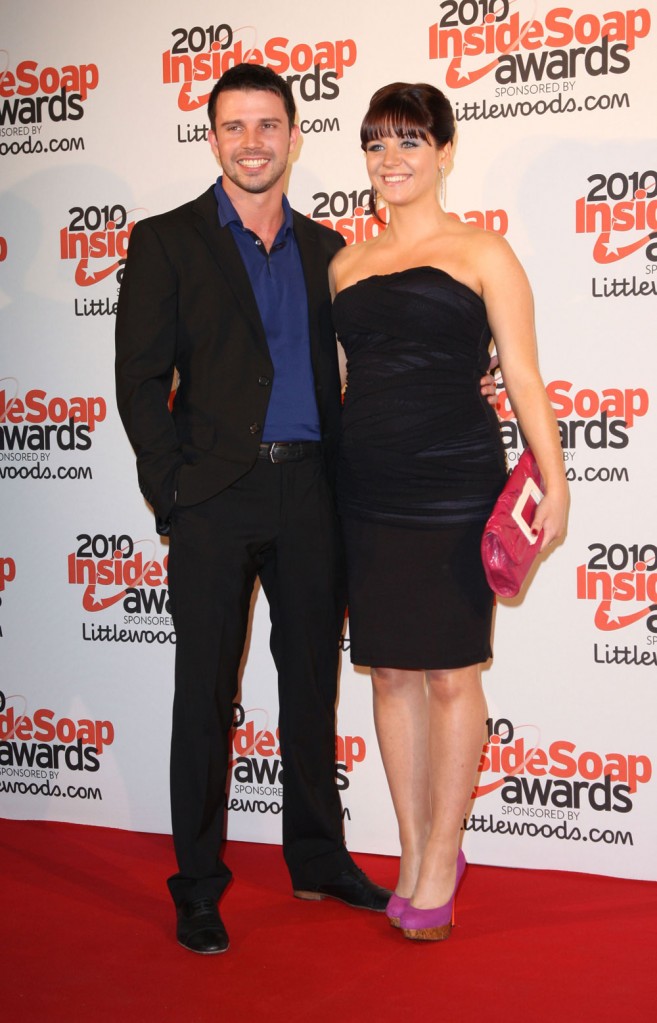 I don't know who this actor is, but this is one of the worst celebrity cheating stories I've ever read, and you know it's not the first time this guy has done it, it's just the first time he's been caught. Anyway a 30 year-old actor on the popular British soap opera EastEnders, Neil McDermott, has admitted cheating on his wife, who just gave birth to a baby girl less than two months ago, with a 16 year-old girl he met while he was on tour. This isn't technically statutory rape in England, where the age of consent is 16. It's still very, very skeevy, and the details from the girl make it sound like she was seduced.
Neil McDermott, who plays Ryan Malloy in the UK soap Eastenders, shown on UKTV in Australia, has left his family home carrying a bin liner of belongings.

The 30-year-old heartthrob had a night of sex with 16-year-old fashion student Chloe Peebles after making a personal appearance at a nightclub in Stockton, Cleveland, England, while his wife Michelle was at home with their newly-born daughter Arabella.

The star bought her alcopops in the VIP area before asking her back to his budget motel room, where they shared a passionate romp.

Peebles told The Sun newspaper in the UK: "I've always thought Neil was gorgeous. When he came on stage, girls kept asking, 'Why does Neil keep looking at you?'

"I hadn't even noticed, but later I bumped into him and he said, 'Oh, it's you, from the front of the stage – come and have a picture'."

McDermott told the teenager he was staying in a motel and invited her to join him for drinks.

"He said we couldn't go together in case we got photographed, so I left after him in a cab. When I got to the hotel, he met me and whispered, 'Pretend you're my cousin'," the teenager said.

"I said, 'OK, I've only come for a quick drink'. But I could tell he had other things on his mind."

The youngster, who admitted she was "quite drunk", told how McDermott eventually led her to his room.

"We chatted a bit about the club, but he didn't mention his family. Then he said, 'I'm going to bed – are you coming?' He started taking his clothes off. His body was amazing. I was thinking, 'Oh my god, oh my god'.

"We got into bed and he leant over and kissed me really passionately. We just couldn't stop from there.

"Afterwards we fell asleep, and Neil held me the whole time. I felt safe. He wrapped his arms round me and we slept face-to-face, inches from each other."

In a statement to the Daily Mirror in the UK, McDermott said:

"I am so sorry: To my wife, ­daughter and our family for this ­betrayal. I love my wife and family dearly and I'm distraught that my life is now in tatters due to a stupid ­mistake.

"I've caused heartache to those I love most which I deeply regret. This was a one-off incident but I've let myself down as well as my wife and everyone who knows me. Now I just need privacy and time to do all I can to rebuild my family."
[From News.com.au via Fark]
A "one-off incident" I'm so sure. This dude is sorry he got caught, and this is probably his M.O. He picks out the youngest and most impressionable girls out of the audience every time he makes an appearance, gets them drunk and tries to convince them to come back to his hotel room. Just as it's legal to have sex at 16 in England, it's legal to drink wine and beer at that age. It's a shame he wasn't in a country where this would be statutory rape.