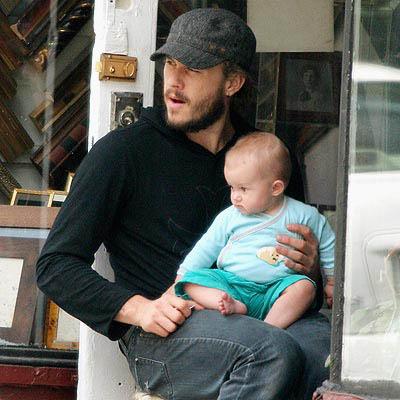 After what seems like an incredibly long time, Heath Ledger's estate is nearly settled, with the entire thing going to his two-year-old daughter Matilda. The Ledger family says Michelle Williams never had to make a claim on Heath's will because they have "gifted" every penny to Matilda.
EVERY penny of Heath Ledger's estimated $20 million will go to his little girl Matilda Rose, Ledger's father says. In his will, which has been probated behind closed doors at the Supreme Court in Perth, Ledger left everything to his parents and three sisters. Many observers expected his former partner Michelle Williams to lodge a claim on the will, which was signed by the actor on April 12, 2003, two years before Matilda was born.

The will left half of the estate to Ledger's sisters, Kate and Olivia Ledger and Ashleigh Bell. The remainder was to go to his parents, Kim Ledger and Sally Bell, after debts had been paid. But Ledger's father, Kim, says there will be no challenge and the family has given everything to Matilda. "There is no claim," Mr Ledger said. "Our family has gifted everything to Matilda."

Some estimates have put the value of the Heath Ledger estate at up to $20 million. But Adelaide accountant Mark Dyson, who is an executor of the estate, said he could not reveal what Matilda would inherit. The will, filed at the Manhattan equivalent of Australia's Family Court after Ledger died in New York on January 22 from a cocktail of prescription drugs, puts the bulk of his assets into a trust.
[From Perth Now]
Michelle Williams' father, who is a well-known stock market trader, had had a beef with the Ledger family over some of the financial details in Ledger's will that didn't make sense.
Despite the millions of dollars in property in Ledger's trusts, his will lists assets and cash of just $145,000, with no mention of mansions or millions.

Williams' father has previously challenged the grieving Ledger family to publicly state the value of their son's fortune.

Larry Williams, one of the world's best-known stock market traders, said he was perplexed that documents filed in a New York court listed Ledger's assets at just $145,000.

"It's real simple: just come clean with everything," he said.
[From Perth Now]
It does seem that Heath's affairs (and finances) were a bit out of order, to say the least. He hadn't updated his will since Matilda was born, which added a lot of complications. And clearly he had some sort of assets worth a good deal more than $145,000, as it's estimated Matilda will probably inherit something around $16.5 million in U.S. dollars.
Hopefully this wraps up any lingering tensions between the Ledger and Williams families and they can all continue to be involved in Matilda's life.