I just read the full Rachel Zoe cover interview for this week's Hollywood Reporter. She is improving, I have to admit. Since getting pregnant, Rachel seems… less tense. Less all-over-the-place. Less bananas. And this is maybe one of the first in-depth pieces I've read with her – I learned stuff in this piece that I didn't know from watching The Rachel Zoe Project, which if you haven't seen, IS AMAZING. I love ass-kissy fashion people. Anyway, it's a fascinating read, and if you'd like to see the full piece, go here. Here are some highlights:
The basics of Zoe's empire: Her clients include Cameron Diaz, Jennifer Garner, Anne Hathaway, Eva Mendes and Demi Moore (among others), she designs her own line for QVC and filming her own Bravo reality series. She makes $50,000 an episode and earns as much as $10,000 per styling job. Her first job: fashion assistant at the now-defunct YM magazine (where she made $18,000 annually). Zoe went freelance at 25 years old.

Early years: "I worked 20-something hours a day, seven days a week," Zoe recalls. "I was completely obsessed with fashion and spent all my money flying to Paris to go to couture because that was the dream. I crashed shows, stood in line for Marc Jacobs. Designers were my heroes and my celebrities. It hasn't really worn off."

Her husband Rodger Berman admits that money was a constant worry for his ever-stylish wife. "Last year was the first time when I felt like, 'OK, we're not gonna go bankrupt," he tells THR. "But, 'Mo' money, mo' problems.' To my wife, it just means she can spend more."

Zoe on her own fame: "A stylist is a behind-the-scenes job," she explains. "I'm never a star when I'm with a star. Back then, I was very insecure about that. Even now, if you watch me on a red carpet, I'm physically uncomfortable. I can't strike a good pose to save my life. Fortunately and unfortunately, it's a part of brand-building. It's just part of my job."

Due to her pregnancy, the fashionista (born Rachel Zoe Rosenzweig) was forced to take a break from her typically hectic travel schedule. She skipped the fashion shows in Paris and Milan this year, instead choosing to stay home and watch Twilight in bed. "I can say in all honesty that being pregnant, working with the kind of people I work with and being this businesswoman has been a really wonderful, drama-free time in my life," Zoe says.

Styling celebrities and a few private clients (says Zoe, "Sometimes princesses will fly in for three days from Dubai or Russia or London — that's always fun") remains RZI's bread and butter, but she's not looking to expand the roster anytime soon. "That's not to say I wouldn't take on new clients," Zoe says, "if I was really excited about someone and if it was the right fit." And if that person were, say, Snooki waving a $10,000 fee? "I don't have time," coos Zoe, who says she's never seen an episode of Jersey Shore. "No really, because she's so out there right now, that's like a full-time job. It's nothing against Snooki."

Zoe on her former client, Lindsay Lohan: "We had a great run. I wish her the best and hope that everything works out."

Zoe (who is Jewish) on John Galliano and his anti-Semitic remarks: "It's a little insane and super-sad," she says. "Anti-Semitism, racism or any prejudice is not something I tolerate. I've fired clients because they were anti-Semitic, or anti-everything, except what they were. … I've known John Galliano and his boyfriend for years. I don't know enough about it to make a clear statement, but if it's true, it's tragic."

Zoe "swears she's never touched a drug in her life."

Zoe on her gut: "When you're a creative person, whether you design clothing or homes, your brain is constantly moving," Zoe says. "What is beautiful? What gets you going? I have a 99 percent accuracy rate on my gut. I wish I could be that good with people. But projects, I'm pretty right-on about."

So does Zoe feel powerful? "No," she says with an audible snort. "Oprah is power — she is everything. Martha, she can make a house out of a piece of paper. I have incredible respect for women like that because it's not easy. People fight you every step of the way — they pull you down as soon as you get up. And the reality is, it's harder for women. It's like if a girl has fooled around with a lot of guys, she's a slut. But if guys do it, they're cool."
[From The Hollywood Reporter]
See? She seems calmer than before. Maybe she just came to the realization that she no longer has to hustle like crazy, that people are coming to her. As far as her gut and her fashion sense… well, I don't doubt that Zoe is one of the best fashion historians working today. Her instant recall of current and vintage fashion is amazing, and she has a deep understanding of the technicalities of fashion. As for her taste… I often find Rachel's styling to be hit or miss. It depends on the client, and I know that Camy Diaz wants one thing and Rachel wants to put her in something else, but still. Some of her girls go out looking like hot messes all too often.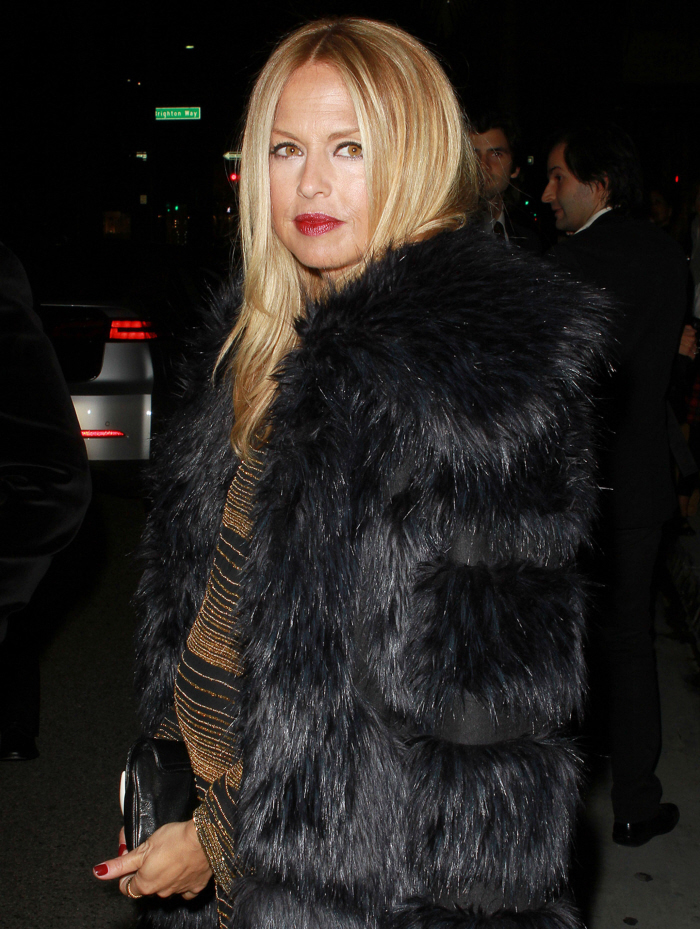 Photos courtesy of WENN.