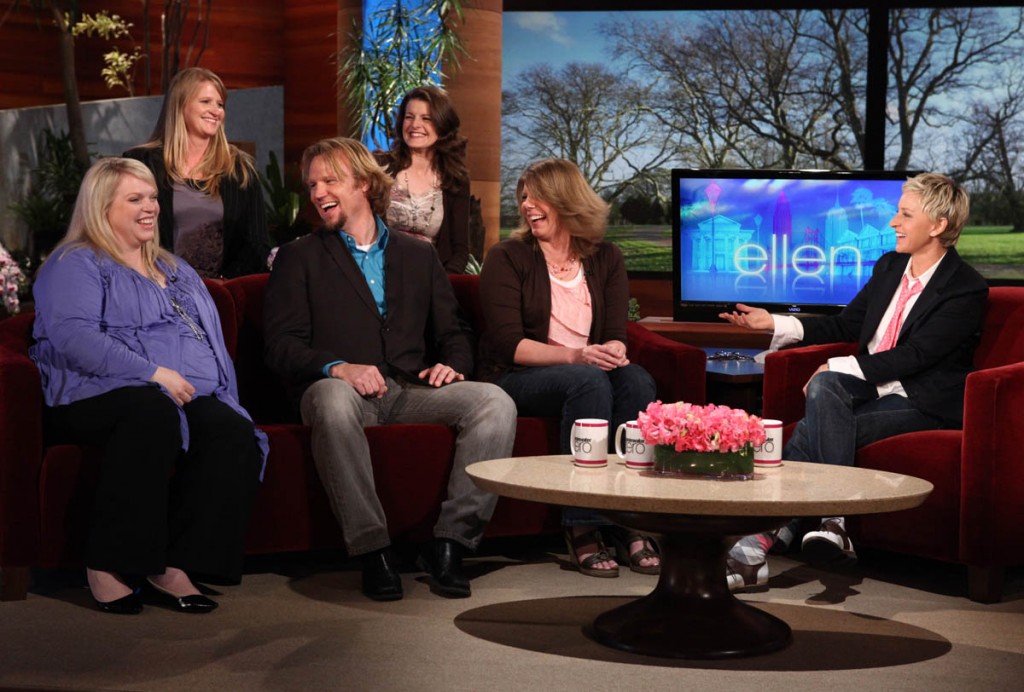 When I heard that Sister Wives was returning this Sunday I practically squealed. I know the concept of the show bugs a lot of people, but it's fascinating to watch. The Brown family features patriarch Kody, 41, his four wives, his 13 biological children and 3 stepchildren from his newest marriage to his youngest wife, Robyn, 31. The last we heard of this family they were relocating from Lehi, Utah to Nevada, perhaps due to the fact that they're under investigation in Utah for felony bigamy as the result of going public.
Kody and his wives make an appearance on Ellen today, and Ellen asks Kody if he ever gets his wives names mixed up. He admits that now that he's added Robyn to the mix, he does. He was with his first three wives for 16 years before "marrying" Robyn, and she's caused quite a bit of jealousy and hurt feelings among the other women despite her desire to fit in. It's got to be worse if he's calling the other women "Robyn."
The Brown family also tells Ellen about making ends meet with 16 kids. Two out of three of the original wives worked out of the home, although first wife Meri lost her job in the mental health field after the reality show exposed her as a polygamist. Kody is in advertising sales. It's unknown what they're doing for work now that they've moved to Nevada, although they probably have more than enough to get by on now that they're on television. I forsee a Kate Gosselin-style diva emerging among the wives (my vote is on Robyn) with the other wives struggling to keep up, getting makeovers, new clothes and nail tips.
On making ends meet
Ellen: Now, you're in four houses with 16 kids. That is a lot. That's costly.
Christine: It is. We cut corners. We use coupons. We don't own a boat.
Robyn: Hand-me-downs.
Ellen: You don't own a boat?
Kody: Our neighbors own boats.
Janelle: We do second hand stores. It's hand-me-downs. Our cars are old.

On getting his wives names mixed up
Ellen: So you have different nights? Is that right?
Kody: Yes, it's a schedule and we rotate through the schedule.
Ellen: So you have to drive to different houses all the time. Do you ever wake up in the night and bump in the wall because you're going to the bathroom in the wrong house?
Kody: Wake up, "Where am I?" Laughs
Ellen: Because that must be confusing, right?
Kody: It's actually not. Packing to come here took me four hours. Because it's like, "Oh, my favorite socks are at Meri's house." And I was packing at Janelle's.
Ellen: So, Janelle had you last? Laughs Well, you know what I mean because you're in somebody's house. Do you ever say the wrong name?
Kody: You know, it's funny, I never did until Robyn came into the family and lately I've been slipping up a lot.
Robyn: It's true. He can only remember three things at once.

Why Christine wanted to be Kody's third wife
Ellen: And you're the third wife?
Christine: Oh my gosh yes.
Ellen: What does that mean, "I want to be the third wife?"
Christine: I don't want a guy around all the time. I didn't want to marry a guy by himself. It sounded like too much work.

Meri's response to criticism
Ellen: What do you say to that [criticism of their lifestyle)?
Meri: I just feel like we're all adults. Anybody, any of us, I feel like are free to do whatever we want if it's not hurting any one else. I think we should all be free to love who we want.
[From the Ellen DeGeneres show, received via e-mail]
That's not true that all their cars are old. Kody drives a new two seater convertible Lexus. Maybe he thinks he's got to keep up appearances for his job, but it's ridiculous that a dad with 16 kids would drive a car that only fits two people. He could have opted for a sporty sedan. Then again if he was the selfless type he never would have taken on four wives and constantly pressured all of them to have his children. That was probably a motivation for marrying Robyn – he wants even more kids and the other wives are just about tapped out.
Sister Wives airs on TLC this Sunday March 13 at 9/8 central.
Here are photos of Kody with his wives and children in order from newest to oldest. The first one below, Robyn, has her children from her first marriage but the rest are all Kody's.