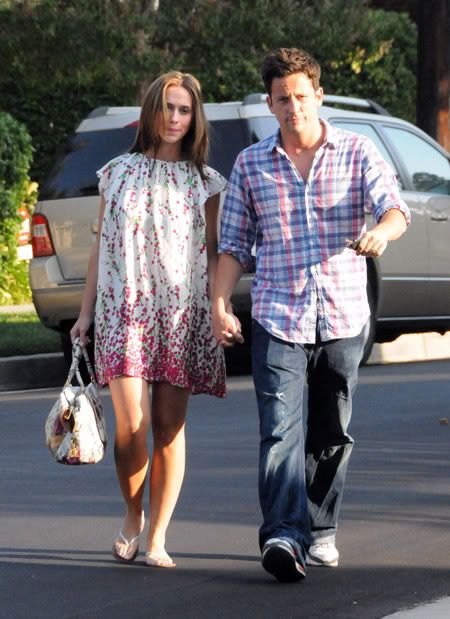 Jennifer Love Hewitt and her fiance Ross McCall out in Toluca Lake, CA on 9/13/08. That dress is not doing her any favors. Credit: VAH/Fame Pictures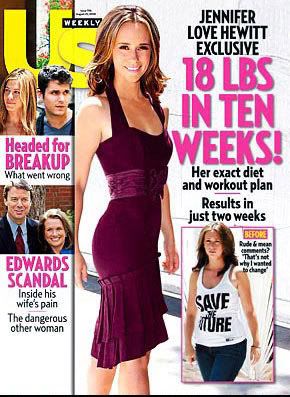 Some people were calling Jennifer Love Hewitt a hypocrite for the US Weekly cover story in August that featured her 18 pound weight loss and promised to tell us how she did it. Hewitt blogged late last year after criticism of her normal-looking bikini body that the media standards for women's bodies were unreasonable and that she loved her figure. She wrote "To all girls with butts, boobs, hips and a waist, put on a bikini – put it on and stay strong." When she lost weight and seemed to be bragging about it, some wondered why she seemed to be changing her tune.
Hewitt insists the cover wasn't her idea, though, and that she didn't even know about it until it was well underway. Apparently US called her trainer and got the story from him. She says she would rather not focus on her weight and that people's bodies change all the time.
TVGuide.com: Having lashed back at the media about that "controversy" [Hewitt blogged, "I've sat by in silence for a long time now about the way women's bodies are constantly scrutinized.... I'm not upset for me, but for all of the girls out there that are struggling with their body image"], did you hesitate about participating in that Us Weekly cover story about your 18-lb. weight loss?
Hewitt: You know what's funny is I didn't participate in it. Everybody thinks I did, but…. They talked to my trainer, who I think was just trying to say nice things and it kind of went on. I literally got a phone call saying, "P.S. You're going to be on the cover of Us, and they're talking about you losing weight." I was like, "What?!" [Laughs]

TVGuide.com: I myself thought, "How could she do that, having criticized the media for obsessing on body image?"
Hewitt: I know, and that's what everybody keeps concentrating on, but I had nothing to do with it. I didn't go lose weight because of that. I'm not a "work out" kind of girl — I'd rather shop or see a movie! — but I got this "bug" in me to run a marathon for my 30th birthday [next Feb. 21]. I started training, and when you're doing anything like that which you're not used to, you drop weight. When I heard all the compliments and nice things, it made me nervous. I didn't want people to think what I said [last year] wasn't true, because I stand by what I said. People's bodies are going to change. Sometimes you're going to go up, sometimes you're going to go down…. I wish people would stop talking about it all together, to be quite honest.
[From TVGuide as found on Defamer]
I've always liked Love Hewitt and she just endeared herself to me a little more. She could have told us a lot earlier that the US Weekly cover wasn't her idea and that she was kind of railroaded into it, but she waited until someone asked her specifically about it and then set the record straight. She was criticized about it and she kept her mouth shut for a while. It's not like she even brought up the subject in this interview. Good for her for keeping her integrity about it and letting it blow over. She looks great, and in my opinion she didn't even need to lose weight.