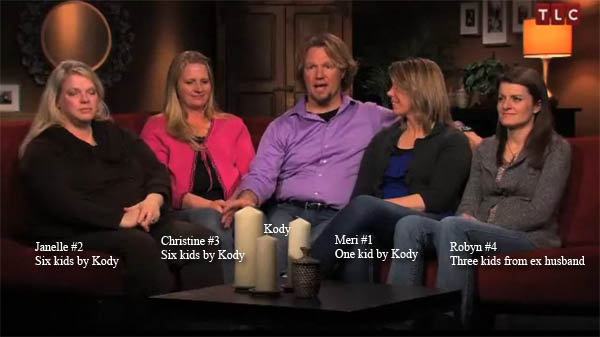 I started watching the latest episode of Sister Wives thinking that it wouldn't be that interesting since Kody and the clan was headed out to visit his family on their ranch in Wyoming. I was totally wrong. Kody's 75 year-old dad is a polygamist and he married Kody's second wife Janelle's mom three months before Kody married Janelle (17 years ago. Did you follow that?) Kody's dad and Janelle's mom hit it off when Kody brought Janelle and her mom to meet his family. Janelle's mom then became Kody's dad's second wife – I think. (It was unclear how many wives Kody's dad has had in his life, but it looked like he just has two now.) Kody wasn't raised polygamist but his mom convinced their dad to try it. She was probably sick of cleaning up after his ass.
Janelle explained how her mother met Kody's dad: "My mother was trying very hard to support me, so she came with me to visit the family just to see what it was all about. She also became intrigued with the faith and so she made the conversion to the faith and then she actually married Kody's dad… This is not anything funny going on, it was just a matter of circumstance."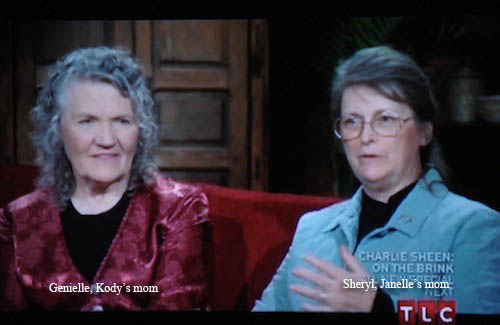 Sheryl, Janelle's mom, explained "I got to know Winn [Kody's dad] and then I actually became quite attached. It didn't work that way with Genielle [Kody's mom] and I."
Genielle, Kody's mom "When Sheryl came into the family. I had a difficult time, because I was jealous. She was beautiful, she was educated, she was vibrant, and I took care of kids and she took care of Winn and so it was a difficult thing for me for quite a while."
Sheryl "It's been a while, but we've worked through all of those things."
Genielle "I consider her one of my very best friends now."
That's some serious "faith" that makes women take care of kids and clean up around the house when their husband takes a new lover, brings her home and rubs it in their faces. According to what Kody said it was his mom's idea to become polygamist though, just like Kody's first wife Meri supposedly convinced him to become a polygamist too. Now Genielle and Sheryl are best buddies. Janelle and Kody and the gang commented that now that Winn is getting up in years their moms Genielle and Sheryl are a great comfort to each other on will probably outlive the husband they once fought over. (The fought over part I added, they didn't say that.)
Also on Sister Wives this week, one of their cars broke down during the trip and the motor was totally shot so they had to decide to scrap it or pay over $5,000 to get it fixed. They seem to be hurting for money but meanwhile Kody is driving a two seater Lexus and they just moved to Vegas. I learned on TMZ that their new homes in Vegas are rented, not purchased, though and that they live in three houses spread among them. You can still assume that they're doing much better financially since the series premiered, but at least they haven't gone full Gosselin yet.
I'll say something nice – I was kind of moved by how much it means to this family and to Kody's mom that they're coming out as polygamists. They're basically the first people to do this and it's a huge deal to them. Kody seems really upset by the pending felony investigation against him at the time (it's since been closed) but I also get the sense that he just loves being on camera and is eating up the attention.
Plus Kody is a selfish ass. He even bragged about how his mom would do anything for him and then took a bite of her breakfast burrito before she had a chance to taste it.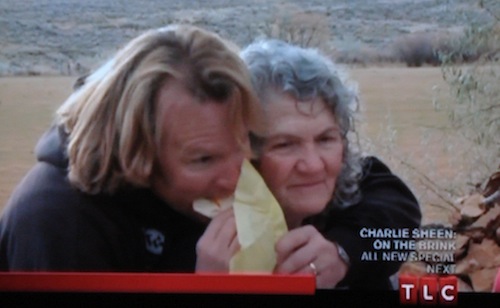 So getting back to this family thing – that makes Janelle Kody's stepsister, right? I didn't come up with that.
Second and third screenshots above via Houston Chronicle and Seattle Post Intelligencer