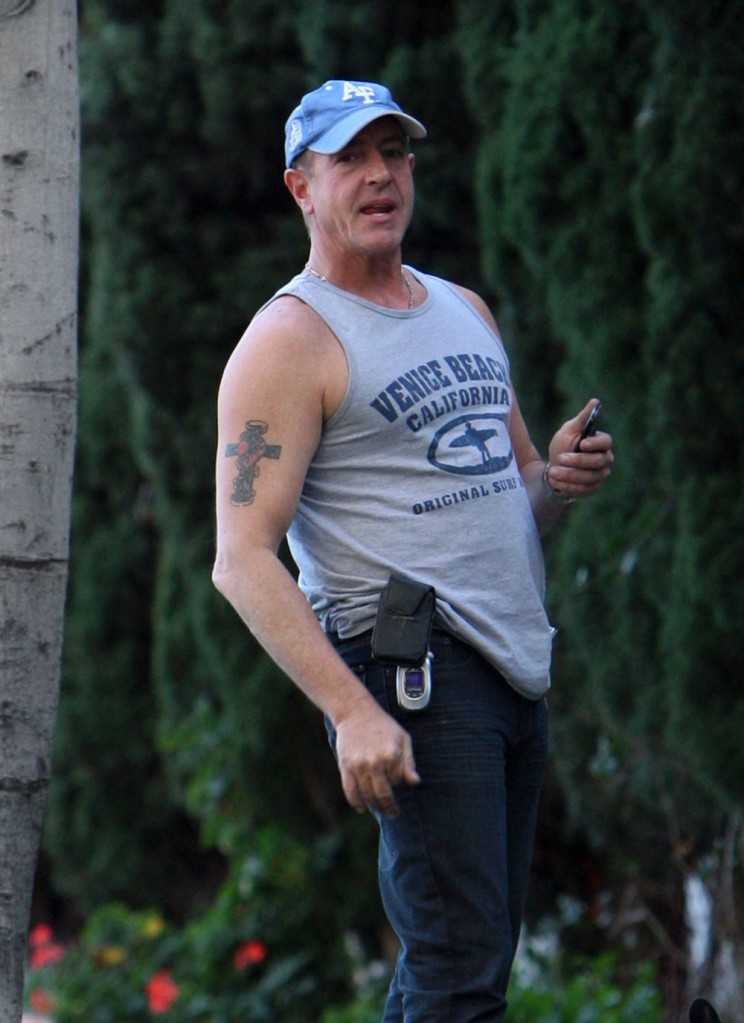 In one of an ongoing series of incidents of domestic violence, Michael Lohan was arrested late Monday night after allegedly abusing his girlfriend, who is not named. (It may have been his ex fiance, Kate Major, but it could have been some new girlfriend. Update – it was Kate Major, see below.) I expect to see leaked nude photos of his target any day now.
According to the police report and as detailed on TMZ a phone call was made reporting domestic violence. Cops arrested Lohan and booked him at the station, at which point he asked to go to the hospital for chest pains. (TMZ reports it like he went to the hospital before he was booked, but the police report says he was booked first.) He was then transported to Cedars Sinai. According to People Magazine, he's still at the hospital. Lohan's victim had "minor injuries," but refused treatment. Lohan's bail has been set at $200,000.
This comes right after a story last week from Lohan's ex fiance, Kate Major, that he went after her in an angry rage. Kate claims to be broken up with Michael, but to have agreed to go to couples' therapy with him as part of his treatment for the VH1 reality show Celebrity Rehab. According to Kate, she decided not to participate in therapy when she learned that Lohan had been seeing other women. As reprisal, Michael Lohan chased after her and punched her friend in the face or something. Note that this is a completely different incident from the one Lohan was arrested for.
"I agreed privately to go to Celebrity Rehab over the weekend for couples therapy even though we've been broken up – I thought it would be therapeutic for both of us," Kate told RadarOnline.com in an exclusive interview.

"However, I found out all the lies that have been going on with myself, with his friends and with his family in the past few months.

"I still agreed to go to therapy last night though and that's when all hell broke loose. When I turned up at the center I found out Michael had lied to me about numerous things, including other women. I immediately called the counselors and said I would not be attending the therapy session and I left.

"Michael found out and fled the Pasadena Recovery Center on foot and found me and a friend that I was with. This is when I became very afraid of him and my life and other situations.

"One of the producers found out about Michael leaving rehab and chased after him in his car.

"In the meantime, Michael ripped a bracelet off my hand and then punched my girlfriend in the face –it was all caught on camera.

"I was very emotional, and I was very, very scared. The producer tried to get me into his car, along with Michael but I was very fearful, I would not be in the same car as him because of past physical abuse."
[From Radar]
Supposedly that incident with Kate Major's friend getting punched was all caught on tape by the celebrity rehab people. This guy is an abusive ex con who spent about two years in jail on a four year sentence for multiple charges including DUI and assault. He was released in March, 2007. It's a shame that he hasn't violated his probation with this latest incident because he'll probably get off with a slap on the wrist, just like his famous daughter. I look forward to seeing his mugshot at least.
Update: TMZ has "alleged" details from the night that Lohan was arrested and it involved Kate Major and includes him throwing her across the room and choking her with a towel.
Photos are from 11/13 and 10/22/10. Credit: Fame