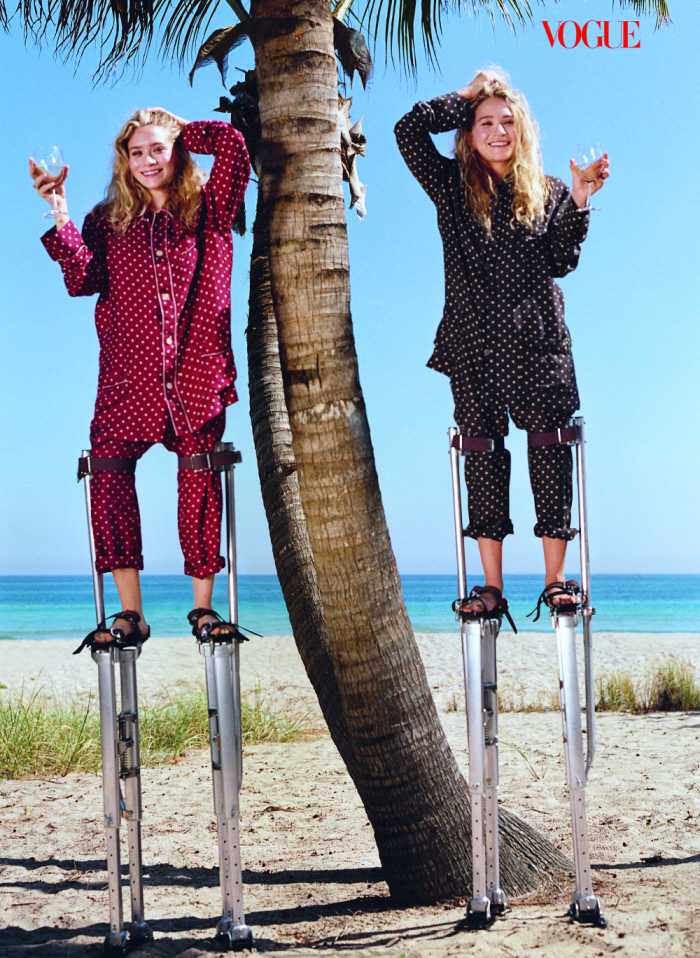 It's always interesting to think that Mary-Kate Olsen and Ashley Olsen are now two of the most prominent and respected American fashion designers working today. Their luxury line, The Row, is worn by everyone from A-listers to average boutique-shoppers. In addition to The Row (the luxury line), they also do Elizabeth and James as the more middle-ground line, and Olsenboye, their teen/juniors line for JC Penney. The Row is featured in all of the fashion magazines too - Vogue was an early supporter of the line, and in the April issue, MK and Ashley sat down for a lengthy profile. The full piece is here – it's a surprisingly good read, if you enjoy people talking about fashion (which I do). Here are the highlights:
Mary-Kate on being so close: "Some of our memories are shared. We don't know what actually happened to whom. One of us was stung by a bee, but we can't remember who, because we both felt it."

Ashley on leaving acting: "I am so proud of what we did. We made kids smile every day. But we had done the most we could do." MK: "There was a fear, but also, an exhale."

Ashley on their lack of formal design education: "Fair question," replies Ashley, "but Dualstar started when we were six. And we had a collection with Walmart at twelve, which was the upper tier of the tween market. It was before celebrity designers." "And we were really designing it," adds Mary-Kate. "It would be jeans, a bit bohemian, or with a little blazer. It was really fashion-forward."

Ashley is more business-oriented: The twins had been brought in on all business and production decision-making since childhood, vouches Collage. Ashley thrived on absorbing business knowledge. "I loved being in those meetings!" she declares. "We were working with the smartest people, learning from them." Ashley is often considered the financial brain, Mary-Kate the creative—though it's more complex than that.

On the press: "The press here in New York respect you more," Ashley notes. "It was the worst in Los Angeles when we got our license. They would follow us. They knew where we lived. And you don't know who these people are. People just out of jail." Being young and stalked has taken its toll. "We are paranoid," Mary-Kate states, glancing out the window. But isn't that not paranoia, because what you're imagining is what's happening? "Well," she responds, "we have no way to tell the difference."

MK on being exposed to fashion through TV and movie wardrobes: "It was so fun because it was all about clothing and hairstyles. We had to change twelve times every episode. There would be five or six racks of clothes there, and they cut them down to fit us—even Chanel." Ashley: "We were involved 100 percent in the fittings. And at that age when you become so crazy about how you look sometimes there were three or four fittings. All our memories are of shooting."

Ashley on sharing clothes: "There's hers, there's mine. And a huge 'maybe' pile."

Ashley on the future: "I want to run a studio. I'd probably like to manage other people on their brands. It could be an artist. A young designer. It could be an existing brand." MK: "The thing about us is we think big. Huge."

Carey Mulligan on MK and Ashley: "I couldn't believe what they did when I texted in a panic about having nothing to wear for my audition for Gatsby. I was hoping they'd send me some things from The Row, but then these huge boxes arrived—Ashley's entire collection of thirties vintage dresses."
[From Vogue]
The article also has all of these kind of spooky asides about how their twin-brain works. Like, Mary-Kate says something about how a fabric might make a good coat and Ashley immediately turns around and MK just starts fashioning a coat, with neither of them saying another word. I actually like MK and Ashley, and I'm really glad that they're somewhat well-adjusted and that their lines do so well… but I'm just saying, they sometimes freak me out a little.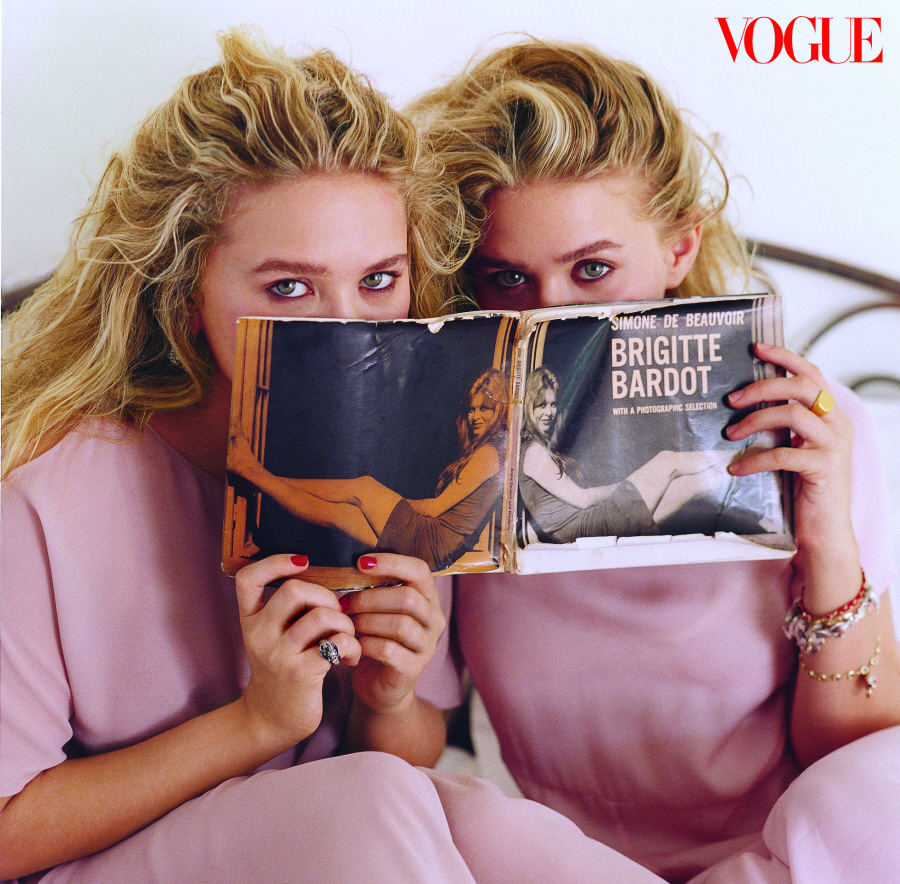 Photos courtesy of Vogue.