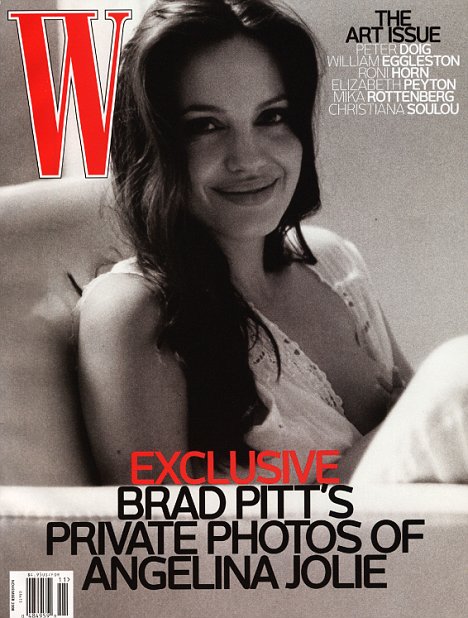 Brad Pitt's personal photos of Angelina Jolie are on the cover (and all over the inside) of the upcoming issue of W magazine. And it's not just any random issue of the magazine – Brad's photos made the cover of W's annual art issue. In the shot Angelina is shown breastfeeding one of the twins, though the angle and lighting is so subtle that you don't initially realize that's what's she's doing.
Angelina has an expression on her face that is natural: both serene and a little bit tired. She's clearly very comfortable and relaxed, and doesn't appear to be made up. Of course she's Angelina Jolie so she looks utterly amazing with or without makeup. But she seems more approachable and relatable in this photo than in all of the paparazzi and professional shots we see of her.
Angelina Jolie graces the cover of the November issue of W Magazine, which hits stands on Oct. 21. The cover shot is of the actress breastfeeding one of her twins. The pictures, taken for the magazine in in mid-August in the backyard of their French Chateau, are by none other than proud daddy Brad Pitt. The spread is 21 pages, and Brad also shows off a series of tasteful, near-nude portraits as well as playful ones of Jolie playing with their children and pulling faces for the camera.
[From Celebrity Baby Scoop]
W doesn't have any of the other photos up on their website yet, but I imagine there will be a ton of them, given that it's 21 full pages. Brad has long been noted for his love of art, especially architecture. It's really no surprise that he's good with a camera – he's been in front of one often enough to know how to make people feel comfortable. It's clear from the photo that there is a special intimacy between the two of them, and it really captures something you could never get had W just sent a photographer to their home. It'll be really exciting to see what the other photos reveal.