There have been questions about Pink's sexuality since she burst on to the music scene in 2001.  Speculation that she was a lesbian seemed to lessen, but never go away, when she married Motorcross champ Carey Hart in 2006 but intensified again when they divorced earlier this year.  In a recent interview, Pink gives a little insight into the rumors.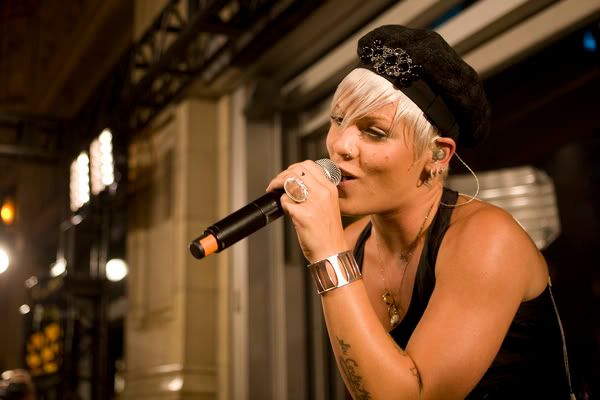 The 'So What' singer – who split from her husband Carey Hart earlier this year – has had flings with women in the past, but would never completely give up men.

She said: "I'm not gay so I guess I would not try a relationship with a woman. I didn't say I haven't experimented but I love men too much to make it a permanent thing."
[From 92.9 Entertainment]
Now, that that's cleared up, we can move on to more important details of Pink's life.  The rock star has never been on a date, with a man or woman, and she doesn't want to start now.  She feels there's too much pressure in the formal dating act and prefers to just relax.
She said: "I meet boys all over the place. It's just that I don't ever go on dates. I have never been on a date. I don't believe in that, it has to be organic. A barbecue, a show or whatever. I have never met anybody in a bar."

However, Pink also revealed she has a number of friends who are attempting to persuade her to start dating.

She added: "Lately I have been hearing from a lot of people, like married couples, who have met in a bar. I'm always amazed. So maybe that is where I am going wrong."
[From 92.9 Entertainment]
In classic overshare that plagues celebrities and delights gossip mongers, when asked what she misses most about ex-husband Carey Hart, Pink answered, "I really loved my husband's penis. It was really pretty."
You're pushing it, Pink.
Pink is shown performing on "Live at MuchMusic" at CTV in Toronto, Canada on 09/22/08. Credit: Robin Wong / PR Photos