Kaiser covered the Hangover II trailer (above) when it first came out last week. It looked funny as hell, but like they used the exact same plot device as last time: guys go out to celebrate an upcoming wedding, wake up the next day beat to hell and have to figure out what happened the day before. Ed Helms finds himself with a tattoo on his face instead of a missing tooth, they have a little monkey to tag along with them instead of a baby, and a guy goes missing and they have to find him. As many of you pointed out in the comments: if it ain't broke… Still, you would hope that they would mix it up a little, but why mess with a good formula when there's so much money at stake?
Like the first movie, this trailer has some shocking moments and things that could potentially be considered offensive. That's what made the original (and let's face it, probably the best) Hangover so much fun. Only Warner Brothers claims not to have run this trailer by the powers that be at the MPAA, who freaked out and made the decision to pull it after it was run during Source Code showings on April 1st. Source Code is PG-13. Slashfilm had the notice below informing theater owners that they were no longer to air the trailer even with R rated movies.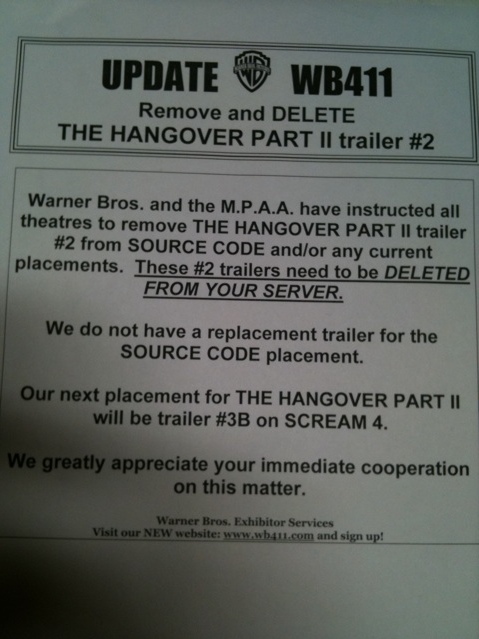 The Hollywood Reporter has the news that the trailer was pulled probably due to a scene where a monkey licks on a bottle from a guy's pants (that's at 2:15 in the trailer above.) Warner Brothers takes responsibility for not running it by the MPAA first, but that's probably not the case at all. JoBlo notes that of course the trailer has the green MPAA "approved for all audiences" notice at the beginning, and adds that they probably didn't pull it until people complained.
In one offending scene, Zach Galifianakis' character encourages a monkey to bite a bottle he's shoved under an old man's sarong.

Warner Bros. has pulled the first trailer for The Hangover Part II from theaters after failing to vet the spot properly with the Motion Picture Assn. of America, which makes sure movie advertising isn't out of sync with the ratings system.
The MPAA asked Warners to rectify the situation after the trailer—complete with a monkey made to perform a simulated sexual act—debuted in front Summit Entertainment's Source Code on April 1. Source Code is rated PG-13; while Hangover II is rated R.

"In our haste to meet the placement schedule for this trailer, we failed to properly vet the final version with the MPAA. We acted immediately to correct the mistake and removed the trailer from screens," Warner Bros. said in a brief statement.

But the trailer is apparently too racy to play even in front of R-rated films. Insiders said Warners is making several tweaks to the trailer before it goes back into theaters on April 15, playing in front of the R-rated Sream 4. The online trailer also will change.

Warners wouldn't discuss what's being tweaked, but insiders say the scene featuring the monkey nibbling on an old man's "wenis" is a likely target.

Hangover II opens in theaters on May 26.
[From The Hollywood Reporter]
Well maybe this trailer should have been rated with a red band for "restricted audiences" and only shown before R movies. I get that it could be offensive to some, but that's not the filmmakers fault. If the MPAA viewed this and approved it, it's on them. This will only increase the buzz for this film, which is sure to be a hit even if it's a pale derivative of the original. Hell I'll probably see it.