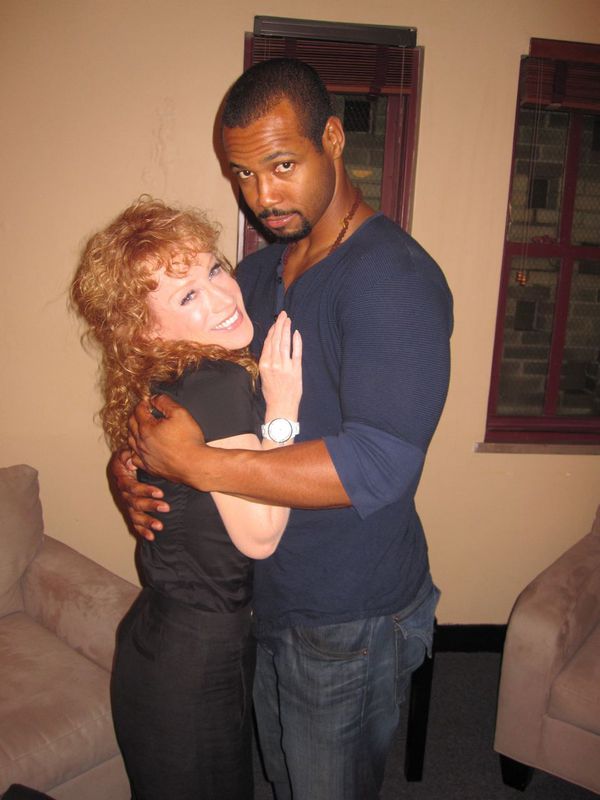 My immediate reaction to that is "he can smother me any day," but I know how it is when a guy gets too clingy, even if they're drop dead gorgeous and they smell really good. According to the National Enquirer (I know!) Kathy Griffin, 50, has dumped 13 years younger Old Spice hunk Isaiah Mustafa when he wanted a real relationship and she was just too busy to deal with it. When Mustafa showed up on the set of Glee to surprise Kathy during her guest appearance, that's when she got spooked and decided to set him free. She'll have her hookups without complications, thank you.
"Kathy really liked spending time with Isaiah, but it got to be too much and she felt smothered," a close pal revealed. "The bottom line is that she's too busy to date anyone seriously – even a sexy, younger guy like Isaiah.

Griffin, 50, and the muscular 37 year-old former pro football player started their short-lived romance in February when they attended the Costume Designers Guild Awards in Beverly Hills as a couple.

A few weeks later, Isaiah surprised Kathy with a visit to the set of "Glee" while she filmed a cameo.

"She started getting cold feet when he showed up at 'Glee,'" says the friend. "That's when she realized that he was moving too fast.

"Kathy thrived on dating a gorgeous guy, but she wants her freedom."
[From The National Enquirer, print edition, April 18, 2011]
Isaiah called Kathy "amazing" and "a force of nature" last month, and while he insisted he's a "single man" I think we can assume that he's experienced Kathy's force of nature firsthand more than once. Good for Kathy for getting hers and moving on. And the good news is that the Old Spice guy is single, hurray! Even if the end of their relationship didn't go down this way, it's just like Kathy to spin it in her favor. I kind of admire her. Did you see those bikini pics where she's looking ghostly though? Those cracked me up. Makeup makes all the difference in the world doesn't it?