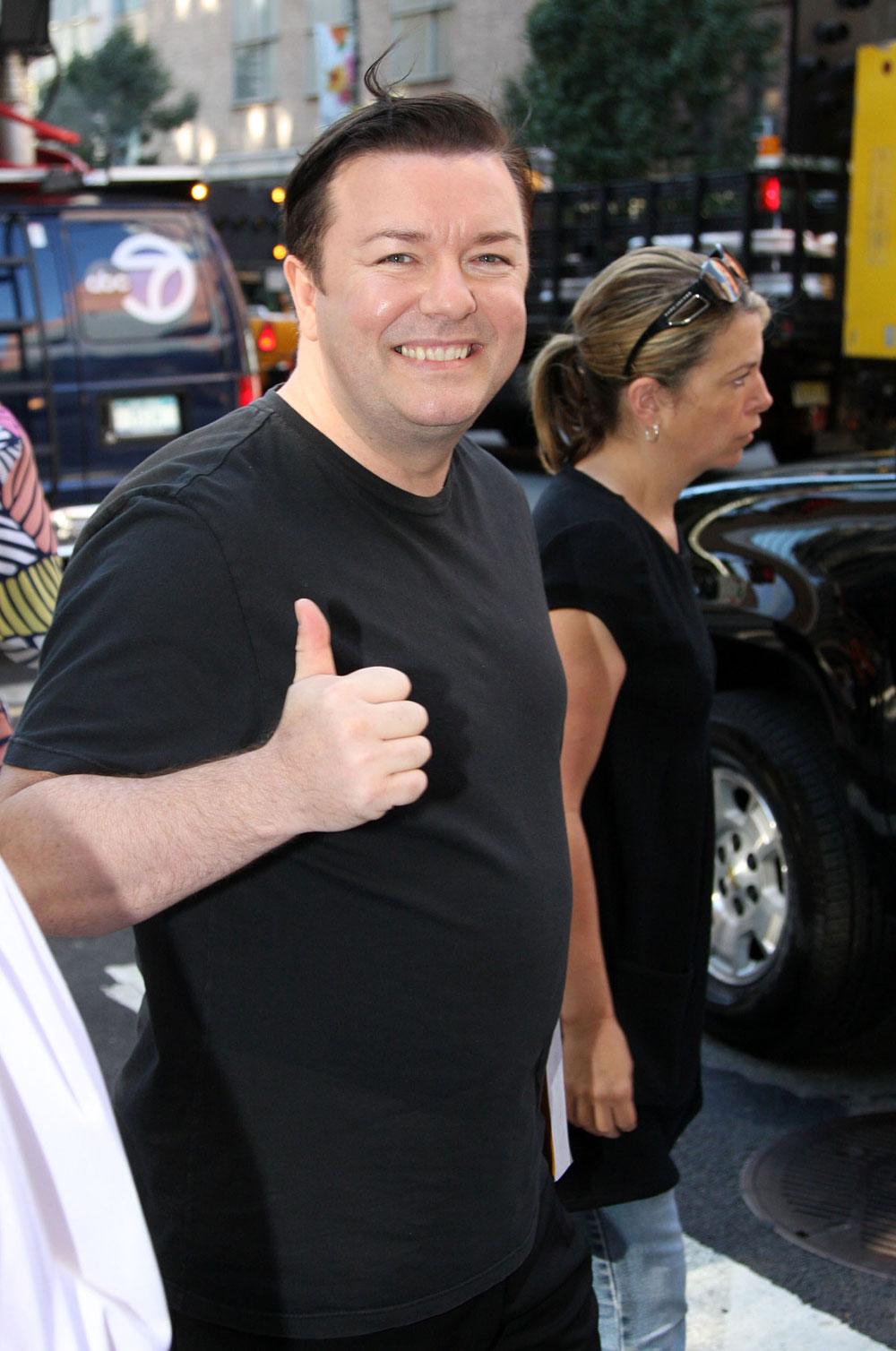 There are alot of adjectives to describe Ricky Gervais, funny, clever, witty, just to name a few, but according to Gervais, himself, sexy isn't one of them. The British comedian says he's not sexy, but he's ok with that.
The British comic star – who is in a long-term relationship with author Jane Fallon – has never thought of himself as an attractive man.

He said: "Looks are still the most important thing for women when it comes to meeting a partner. And that's fair enough, but a sense of humour is really important too. For starters, it's a great indicator of whether you are going to get on. If the first time you go on a date you don't find each other funny, there's a fundamental problem. Laughing at each other's jokes is one of the keys to a good relationship.

"I don't see myself as sexy but I am happy with that. I don't think a comedian should even be concerned with being cool or sexy – as soon as you do, you aren't a comedian any more."
[From FemaleFirst]
Russell Brand might beg to differ, although, Gervais might beg to differ that Brand is funny, I don't know. There are definitely sexy comedians out there, Eddie Izzard, anyone? I've got a fire in silly places for Craig Ferguson that no number of lines on his face will douse. So just like regular joes, they don't have to be gorgeous to be sexy. There is so much more to sexy than looks.
Ricky Gervais has been in a relationship with author Jane Fallon for so long he can't remember what it was like to be single. He says women don't throw themselves at him because he's "not sexy", but also because they know he's taken.
Ricky also revealed he would hate to be single because he would have no idea how to approach a woman he liked.

He added to Britain's Cosmopolitan magazine: "Women certainly don't throw themselves at me because I'm funny – they know I'm in a relationship anyway. I've been with my girlfriend Jane for so long now, I wouldn't know where to start!

"I can't even remember chatting anyone up!"
[From Female First]
There is something intrinsically sexy about people who make you laugh and they have to really be unattractive to fight that fundamental allure. Rosie O'Donnell, not sexy. Lee Evans, hilarious, but not sexy. Ricky Gervais is not unattractive, but he often plays characters that have unattractive personalities or are otherwise unapproachable. But I'd be willing to bet there are some closeted Ricky-loonies who would love to make him stumble through some awkward chat-up lines.
Picture note by Celebitchy: Here's Ricky Gervais shopping for antiques on 9/28 in London and out with his partner, Jane Fallon, on 7/27/08. He's also shown in the header outside the Regis & Kelly show on 9/15. He looks so happy to be papped.