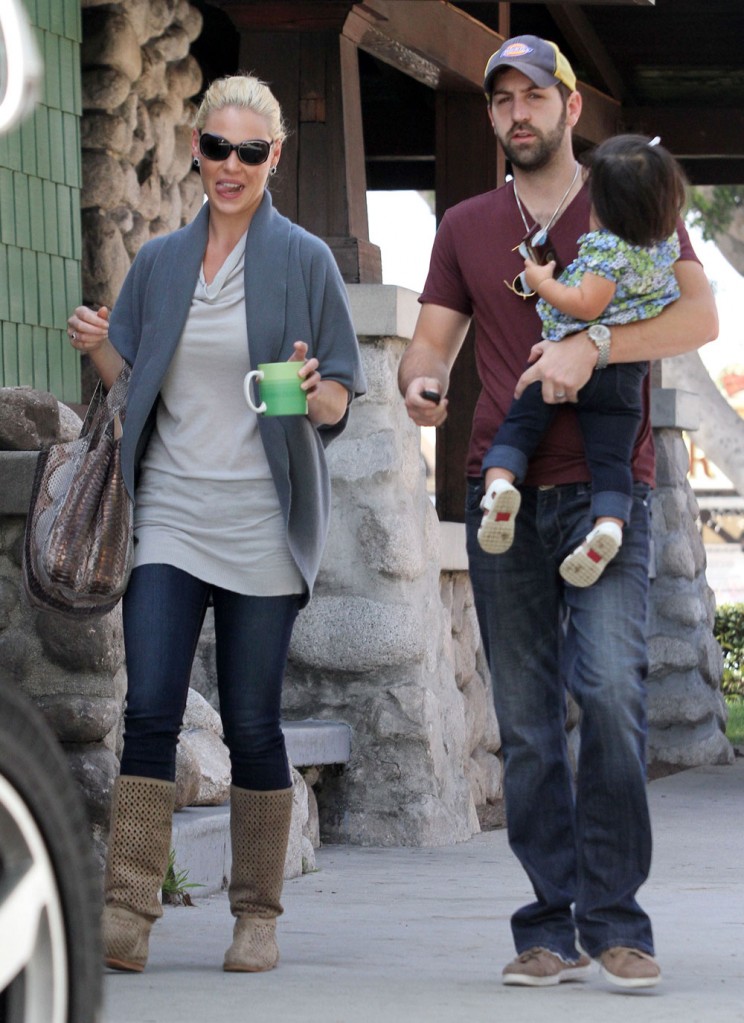 This week's National Enquirer, which had the scoop that Katherine Heigl was adopting back before she announced it, claims that she's about to adopt another baby, at her husband Josh's insistence. Katherine and Josh adopted a baby from South Korea in September of 2009. Their daughter Naleigh is now two and Josh wants to give her a brother or sister, because he thinks a new addition to their family "could be the answer to their problems." At least a bandaid baby is the husband's idea for once, not that it makes a difference:
"They want Naleigh to have a little brother or sister soon," a longtime family friend told the Enquirer.

Josh, 31 – who has a new country album, "Georgia Clay" – recently told an interviewer that Naleigh "needs a buddy."

And the source divulged: "Josh has talked Katherine into adopting another child. He believes this could be the answer to their problems."

In recent months, the couple's storybook marriage has been battered by articles alleging Katherine's insecurities over her faltering career and interference from their families.

As the Enquirer recently reported, Josh complained that Katherine's mom Nancy was spending so much time around them, it was smothering their marriage and ruining their love live…

"Their marriage has definitely been very rocky," said the friend. "He acknowledged that their relationship could use a boost – and he thinks another child will be the solution."
[From The National Enquirer, print edition, April 25, 2011]
It's a pretty dumb idea to add another child to an already troubled marriage, and it won't do much to keep Katherine's mom from meddling in her relationship. It will add a lot of love and wonder as kids always do but it can also make things more hectic and stressful. Katherine admitted on Letterman that she and Josh argue over really stupid sh*t about caring for Naleigh, like what diapers and wipes they should use. She also said that "I think I'm a little bit of a control freak." Oh yeah, a new baby is just what they need. That will solve everything.
There are photos of Katherine out with her mom yet again yesterday (below), the mom who is said to be smothering her daughter and her husband. You know that lady is going to be around even more if she gets another grandkid.
Header photo is from 10/12/10. Photos of Katherine and her mom are from 4/14/11. Credit: Fame