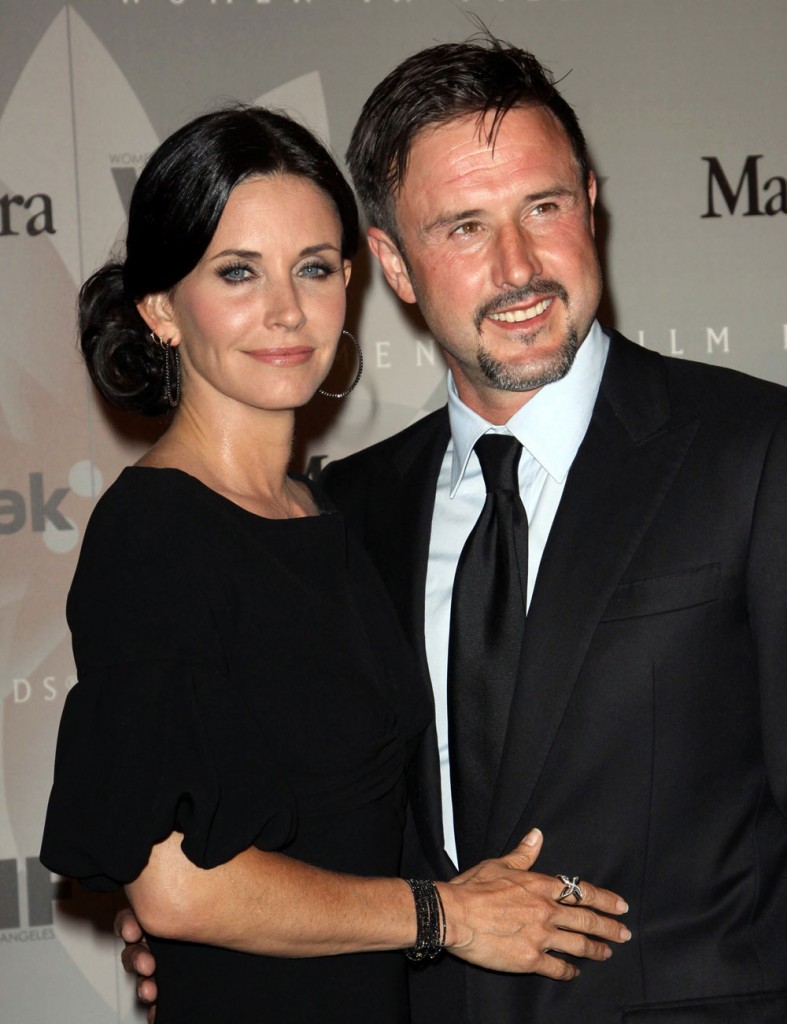 When I heard this story I thought it was old news, because didn't David Arquette just tell Howard Stern that he tried to make a pass at Courteney Cox while they were on a family trip to Disneyland but got shot down? He did say that, but it was on Tuesday and as E! reports he was sitting in on Howard's show all week. Well Courteney paid him a visit yesterday on the show and she confirmed that story that David tried to get in her pants but she turned him down. She also claimed that she hasn't had sex at all since their split. Now why is she palling around with all those fine men and going on vacation with them? What is the damn point? Whether she was telling the truth or not, David believes her. What's more is that Courteney said that she and David broke up because he couldn't just hang out with her without getting a boner and wanting sex. They must have gotten old after 10 freaking years.
In an interview with Howard Stern yesterday, the estranged couple discussed their sex life at length, leaving little to the imagination.

When probed by Stern regarding Arquette's reported advances on Cox during a trip to Disney World with their daughter Coco, 6, the actress said frankly, "It was early in the morning. This is one of our problems in our relationship. Whenever I would need consoling from David, he could not literally put his arm around me for one second without completely getting a boner."

Cox told Stern that, despite her husband's admitted flings following their separation, "I have not had sex," since the split, denying that she is romantically involved with her 'Cougar Town' co-star Josh Hopkins.

While Cox had said just weeks before of her ex, who recently celebrated his 100th day of sobriety, "He looks the best he's ever looked. He's doing great. He's just awesome," she admitted that she was hesitant to become intimate with him again. "I don't want to confuse the issue," she said. "We're going through a hard time."

"I'm always ready for [Courteney]," said Arquette. "I know I'm more in touch with what she needs now…She takes one sort of thing and she clumps it [and says] that's what happens all the time in our relationship. It's not really true."

Cox told Stern that in the past, Arquette had supported her through difficult times, including her father's death in 2001, but she seemed far from ready to get back together. After Arquette accused her of being "over it," Cox admitted, "The truth of the matter is that we love each other so much. We have such affection for each other but we are very different."
[From Popeater]
You can hear a clip of that at TMZ. David said that "I'm always ready for you," but as Popeater noted above he claimed that she was overgeneralizing.
Can we believe Courteney, did she really not bone any of those hot guys from her show? David is buying it, but it's obviously not helping their relationship much. I get the impression that she just doesn't want to tell him it's over for good and is hoping he'll figure it out and come to terms with it on his own. She may think she's doing him a favor but it looks to me like she's just stringing the poor guy along.
Image below credit: HowardStern.com Other photo is from 6/1/10. Credit: WENN.com