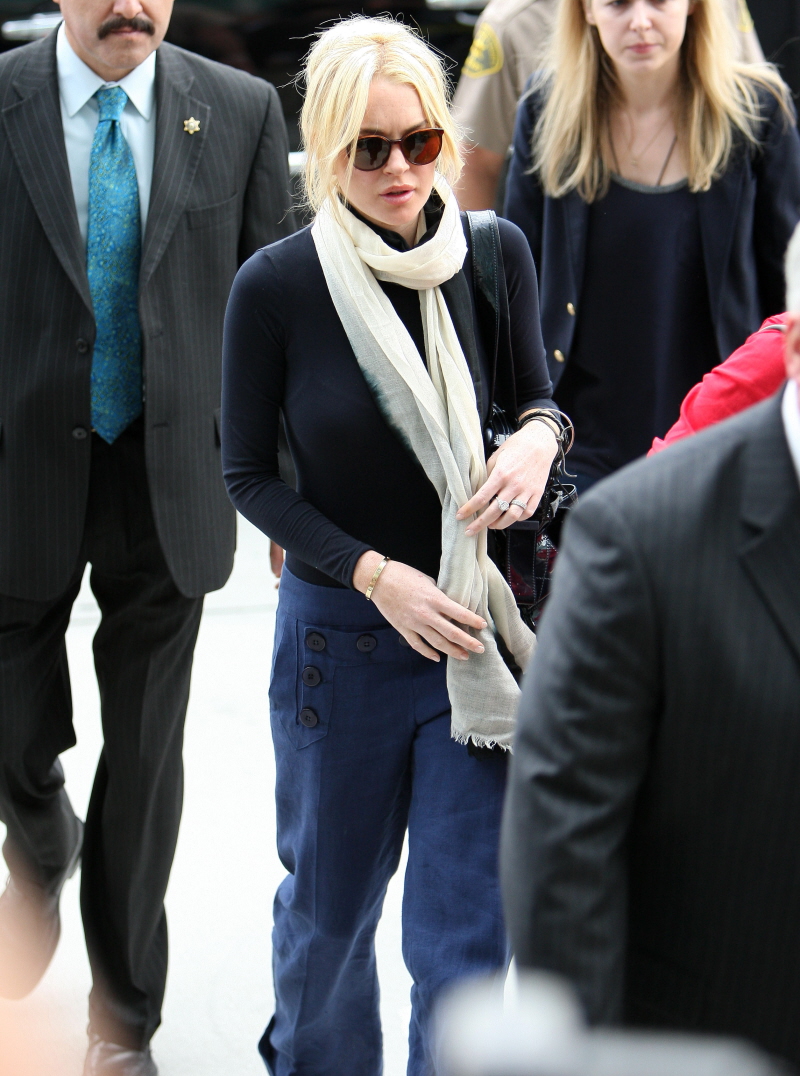 OH DEAR GOD. I wish the California legal system was a person, so I could shoot it in the face. Judge Sautner just dropped Linnocent's felony crack thievery charge down to a misdemeanor! Crap. DA Meyers argued that Linnocent should still go to jail because even it was misdemeanor theft, it was still a parole violation. Linnocent pled not guilty to the misdemeanor charge. BUT – Linnocent doesn't have to go jail now, first she gets her crack trial. The pretrial date is May 11th, and the trial date is June 3rd, and the trial verdict will set the penalty for both the theft charge and the probation violation.
By the way, Hollywood Life has all kinds of interesting little side notes and tangents about Linnocent's behavior during the hearing. Here are some interesting parts:
Lindsay Lohan is in court today for her felony grand theft trial over her alleged theft of a $2500 necklace. Unfortunately, a preliminary hearing for a felony is still not enough to keep Lindsay somber. She's been laughing and texting while in court all morning!

Lindsay walked into court this morning and immediately asked to go to the bathroom. Once the trial started, our eyewitness tells us Lindsay was constantly texting on her phone. She even laughed at her own lawyer when Shawn Holley mistakenly asked the court transcriber rather than the judge to repeat a question. She laughed again when the defense attorney called her witnesses up to the stand, giggling at the store owner.

She has been repeatedly looking at her phone all morning, picking at her nails and sometimes whispering into Shawn's ear when she disagrees with the witness testimony.

Lindsay Lohan isn't the only one acting inappropriately at her felony grand theft court case today, her lawyer Shawn Chapman Holley has been creating quite the stir! During the first half of the preliminary hearing today in Los Angeles, the D.A. called Kamofie & Co. store owner Sofia Kaman to the stand as well as a store employee, Tinelli Comsooksri, who was there the day Lindsay allegedly stole the necklace. When Shawn Holley started cross-examining owner Sofia Kaman, she kept harping on Lindsay's cleavage!

"When she wasn't on her phone, Lindsay jotted down a few notes while Sofia took the stand. Sofia explained the store did not receive any money from the supposed $25,000 sale of the surveillance tape. She also expressed her belief that Lindsay's friend Patrick acted as a decoy while the duo were shopping," explains our spy.

"Judge Stephanie Sautner had her eyes locked on Lindsay during Shawn's cross examination. When Shawn asked why the store had security cameras the owner responded 'Because of theft,' and Lindsay looked surprised when everybody in the courtroom laughed. But then, things got a little odd."

How so? "Shawn kept grilling the owner different ways about whether or not she was looking at Lindsay's breasts, since Lindsay was wearing a low-cut top. The witness insisted she never looked at Lindsay's cleavage. Shawn was trying to make the point that if you saw her breasts, you saw her necklace, which means Lindsay was allowed to take it and didn't steal it. At one point the witness started arguing with Shawn, and she looked very unprepared."

So how did Lindsay feel about this line of questioning? "She looked very uncomfortable while they were talking about her breasts. Shortly after they broke for lunch and Lindsay was escorted by eight security guards to go to the bathroom. She then ordered chinese food and went to the bathroom again, where she ran into her father Michael and they had a cordial chat."
[From Hollywood Life - two stories]
Gee, I wonder why she has to go to the bathroom so often? *SNIFF*
So, just so we're on the same page, Linnocent sat through her pretrial hearing – in which the judge bent over backwards to "give her a chance" and "go easy on her" – coked out of her skull. She was doing blow in the courthouse bathroom. Certainly someone could have caught her, right?
By the way, you can see clearly through Linnocent's bodysuit – she's not wearing a bra, but she is wearing some kind of spaghetti-strapped tank underneath it.
UPDATE: WTF? I have no idea what's happening.
Judge Stephanie Sautner just threw the book at Lindsay Lohan for her probation violation, sentencing her to 120 days in county jail!!!

Lindsay has been remanded into custody and taken to the basement of the courthouse for booking. Lindsay's lawyer has said she'll appeal, which means Lindsay is entitled to post bail.

Lohan was also ordered to complete 480 hours of community service — 360 of those hours must be performed at the Downtown Women's Center, so Lindsay can see how needy women have to live. The remaining 120 hours will be served at the L.A. County morgue.

Judge Sautner explained that Lindsay should have called the store and notified the owners about the necklace sooner. She waited several weeks and returned the necklace after finding out the cops were about to raid her house.

Sautner seemed influenced by the surveillance video, which she saw for the first time in court today. Sautner agreed with Danette Meyers, who argued Lindsay used her friend Patrick as a decoy to distract the clerk.
[From TMZ]
So… she'll probably post bail…? How can she be sentenced to 120 days in jail YET get bail?!?!?
UPDATE #2: Okay, I've actually been thinking about it, and here's what I think it happening – she'll post bond (or bail or whatever it's called, I'm not a *grumble* lawyer) and she'll be out until June, when her crack trial is. Whatever happens during the crack trial, it doesn't really matter because the judge's sentence still stands and she will actually have to do the time in jail because THAT sentence is for her probation violation, right? Er… Imma go to law school.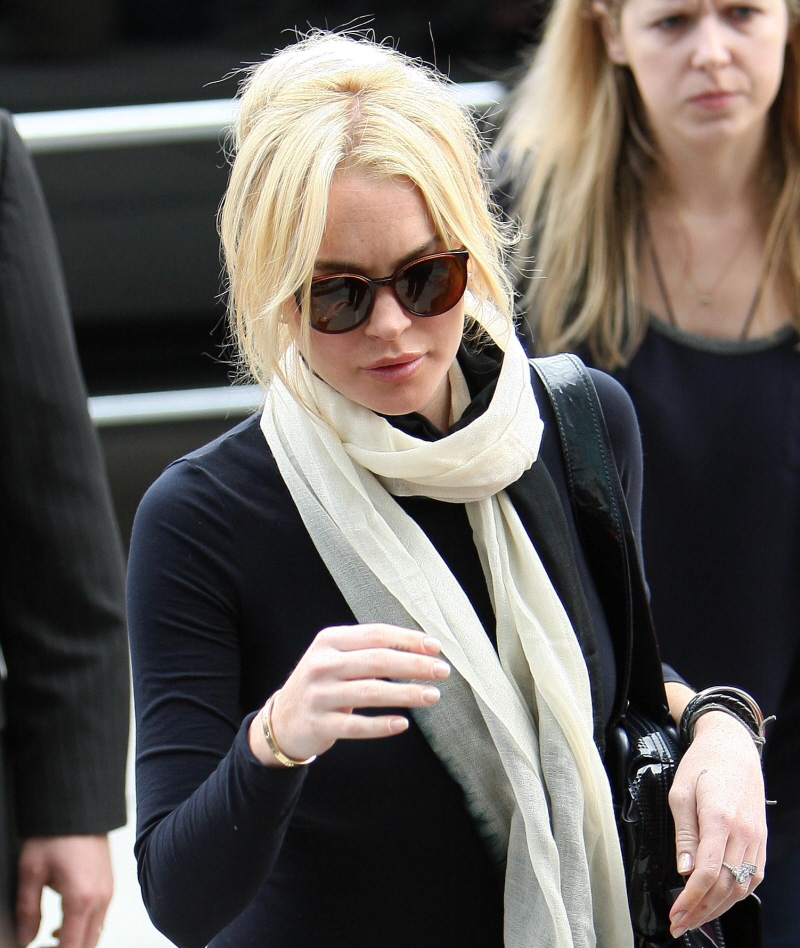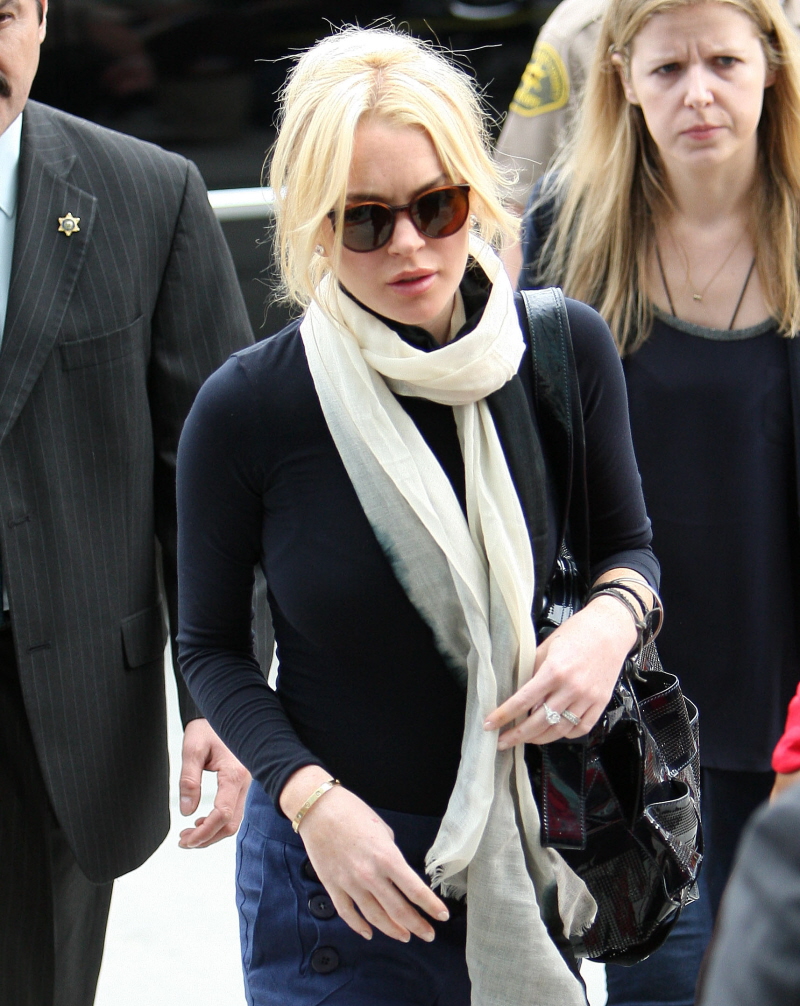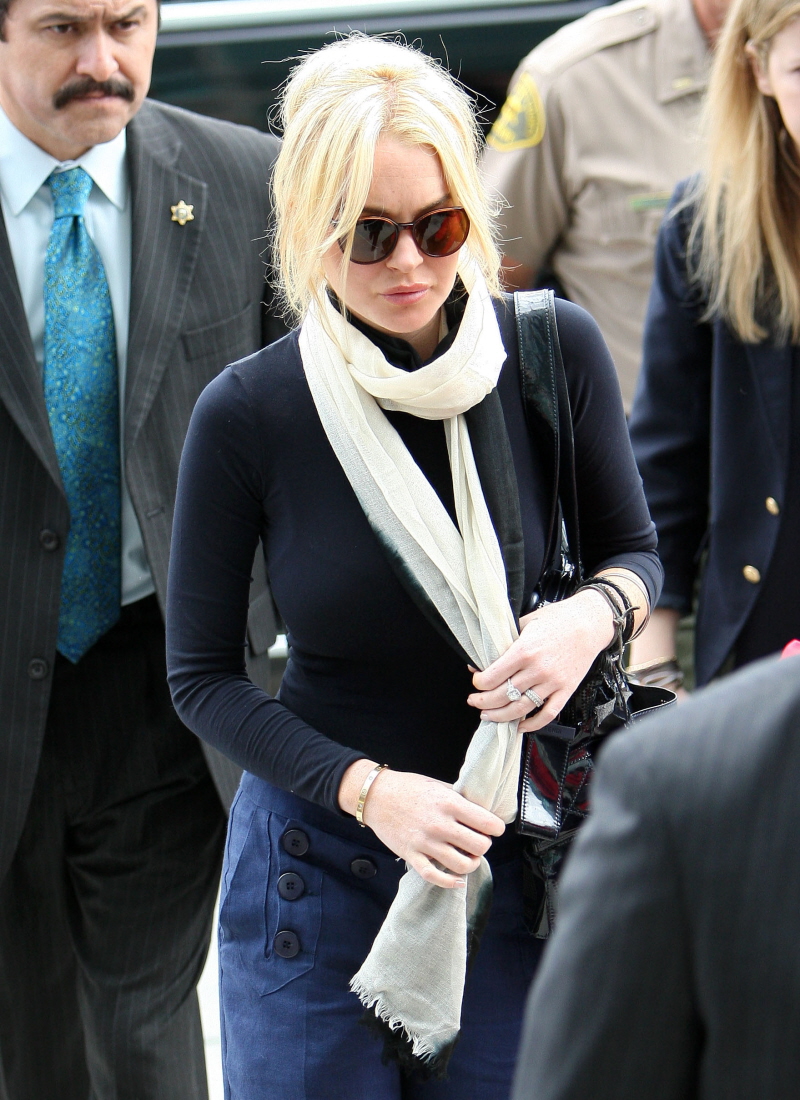 Photos courtesy of Fame.