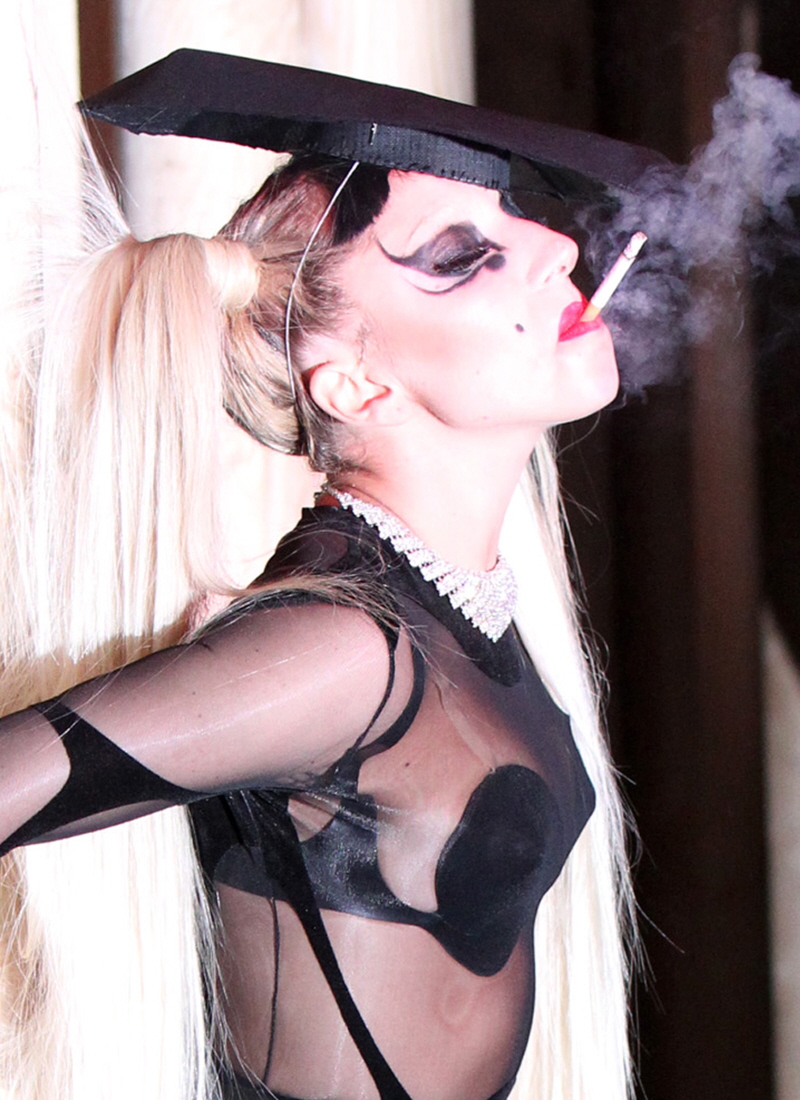 Lady Gaga had a new interview with E! News this weekend. I don't even know what to say about Gaga at this point… I used to like her, but over the past year, the bitch has changed. Maybe it's because she's back with Luc, who is likely a bad influence on her. Maybe it's the idea that I have of her: that she's a terrible cokehead. Maybe it's that Gaga started believing her own hype, and she honestly thinks she's some incredibly original pop artist/messiah. I don't know. It's probably a combination of all of that, and then some. All I know is that I'm over her, and her first two singles off of Born This Way suck. Here's video of the interview, plus some E! transcribed highlights:
Gaga on "Judas": Gaga says it's "essentially about me going back to an ex-boyfriend and still being in love with someone that betrayed me, someone that was bad for me. I try to write from a really honest place when I write pop music, and then carry the message of the song into a more deep and more symbolic visual. That's really what the video is, the video is a metaphor for forgiveness, and for betrayal and darkness being one of the challenges in life as opposed to being a mistake. The name Judas is something that bears such an intense connotation. I often feel misunderstood, and I think my fans do. I think [the video] liberates the word in a lot of ways…takes it out of the negative and into the positive."

On the music video for "Judas": It marks Gaga's directorial debut with "sister" Laurieann Gibson, the pop star said it "came out even more incredible than I ever thought it would…it's so beautiful, it's like a fresco come to life." And as for the final imagery in her video, well, she figured she may as well beat her critics to the punch: "I figured if I'm gonna get stoned for making this video, I'll stone myself first."

Gaga on her career: "In a lot of ways I'm really delusional about my success, and sometimes I feel like an underdog in so many ways," she said. "My biggest fear is that I'll die before I get all my ideas out. I have nightmares about it. I have recurring nightmares where I'm late, I'm late to turn something in."

Gaga on where she'll be in 10 years: "Maybe with a f–king rock on my finger and a baby. I don't know. With a few more albums under my belt…I don't so much think about 10 years from now as I do about 10 minutes from now. I could never explain to you the amazing life-changing experience that has been the last three years of my life. I was in New York City singing in bars, busting my ass and nobody believed in me. And all of a sudden I have to catch a plane to sing for 60,000 people in Guadalajara. I can't even conceive of it."

On her family: "My parents are pretty immune at this point to my performance art statements. My grandmother did call my father—because she's blind…'Was [Gaga] wearing meat at the MTV Awards?' I said, 'Explain to grandma that it was a statement about equality.' She said that that was enough to her. It's sacrilege to an Italian grandmother to wear prime rib…she doesn't understand jerky. I'm like, it was cured!"

Gaga on her icon status: "I believe it takes a lot of time. The definition of iconography is repetition of imagery, I haven't been around long enough yet. Give me at least 10 more years."
[From E! News]
Hahaha, my favorite part was, "Explain to grandma that it was a statement about equality." BITCH PLEASE. You wore a meat dress because you wanted to! Grandma is all "Dumbass."
As for "Judas" and how it's SO CONTROVERSIAL that THE POPE is going to condemn it and how IT WILL CHANGE EVERYTHING FOREVER… when the video premiered last week, it elicited a collective "meh." The Catholic League (Bill Donahue, who will literally protest the drop of a hat) even made this statement: "In her "Judas" video, Lady Gaga plays fast and loose with Catholic iconography, and generates several untoward statements, but she typically dances on the line without going over it. Perhaps that is because the video is a mess. Incoherent, it leaves the viewer more perplexed than moved. The faux-baptismal scene is a curious inclusion, as is her apparent fondness for the Jesus character. But if anyone thinks the Catholic League is going to go ballistic over Lady Gaga's latest contribution, they haven't a clue about what really constitutes anti-Catholicism." Hahaha. Fake controversy.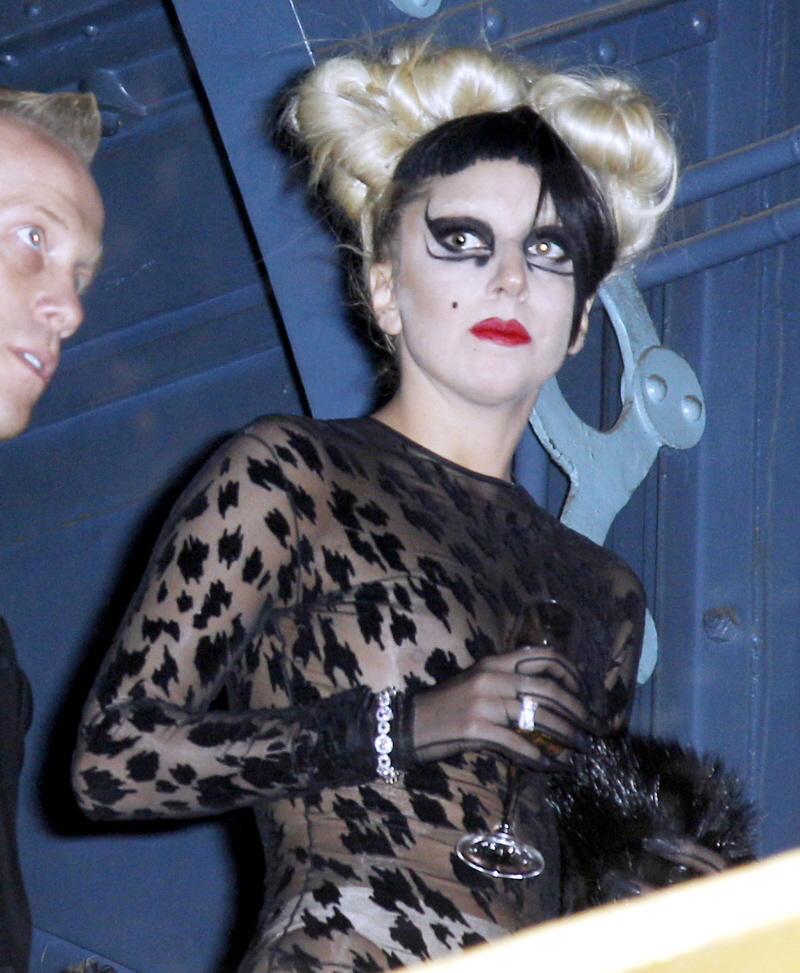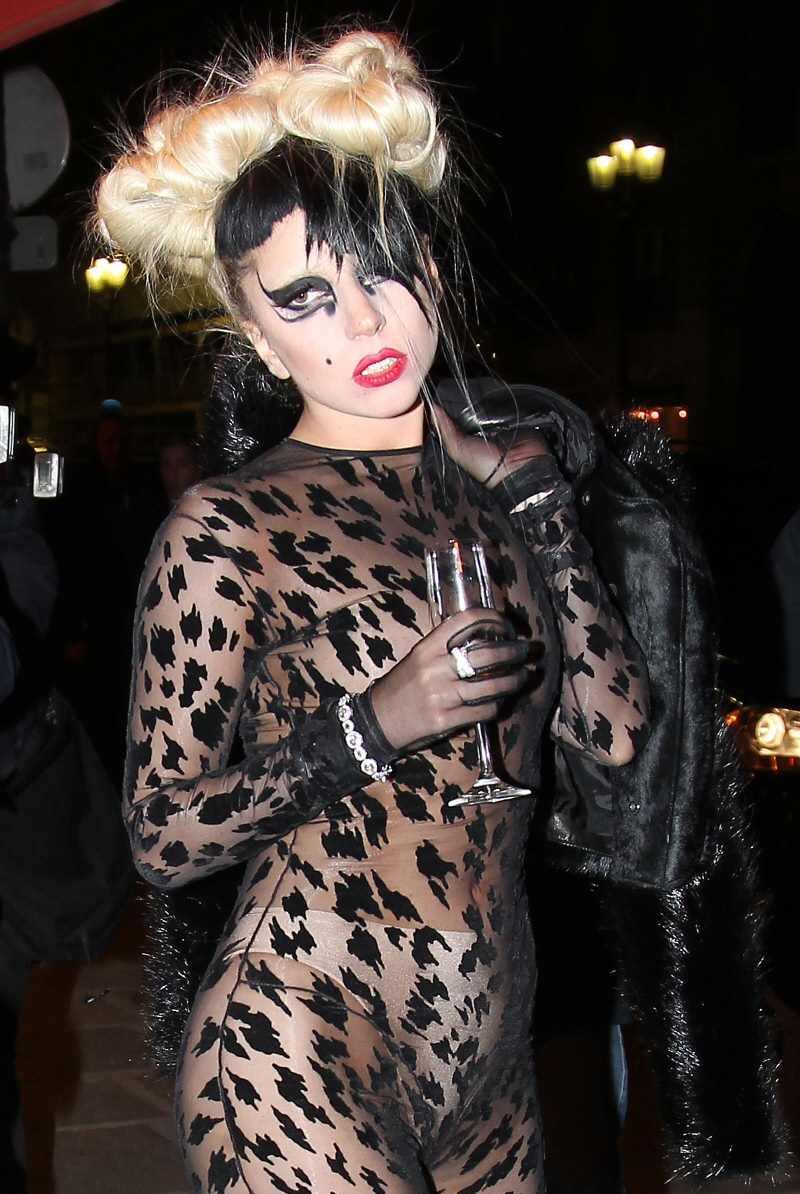 Photos courtesy of Fame.