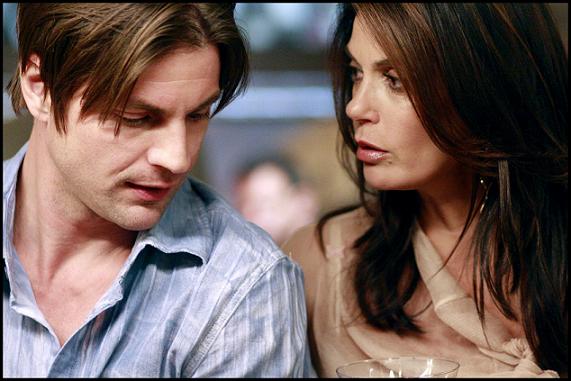 Gale Harold, one of the new men on Wysteria Lane this season, was in a motorcycle accident Tuesday and is in critical condition at USC Medical Center. Harold plays Jackson, the new boyfriend of Teri Hatcher's character, Susan, on Desperate Housewives.
A hospital spokeswoman says "Desperate Housewives" actor Gayle Harold is in critical condition following a motorcycle accident.
USC Medical Center spokeswoman Adelaida De La Cerda said Harold was awaiting further tests.

Publicist Nancy Seltzer said Wednesday that Harold fractured his shoulder, and "Housewives" creator and executive producer Marc Cherry said he apparently has swelling on the brain but was expected to recover.

Harold plays Jackson, the boyfriend of Terri Hatcher's character, who plays a pivotal role in the fifth season's eighth episode.
[From Breitbart.com]
The Huffington Post reports that Harold had been filming all week and was due on the set on Tuesday when the accident occured. His storyline with Susan and Mike, played by James Denton, has been a major focal point this season and his role has been expected to grow. Marc Cherry, writer/creator of Desperate Housewives, says that Jackson plays a pivotal role in the May sweeps episode, which was filming this week, and at least one scene is going to have to be rewritten. They are not making any further changes in the story or character until the have a more thorough prognosis.
I'm an avid Desperate Housewives viewer. I like my soap with a healthy dose of laughter, I can't help it. Having had let myself get invested in Mike and Susan last year, I was a little put off by Jackson at first, and I still think he's not "mature" enough for someone like Susan, but he's grown on me quickly. I love that the writers have made Jackson and Mike friends, and even happier it annoys Susan. The only other thing I know Harold from is Queer As Folk and he was kind of an ass on that show, so I like seeing him in a more likeable role.
I am certainly hoping he's ok and wishing him a thorough and speedy recovery.
Gale Harold is shown below at the Tribeca Film Festival on 4/26/2006. Credit: Janet Mayer / PR Photos. He is shown in the header in a still from Desperate Housewives