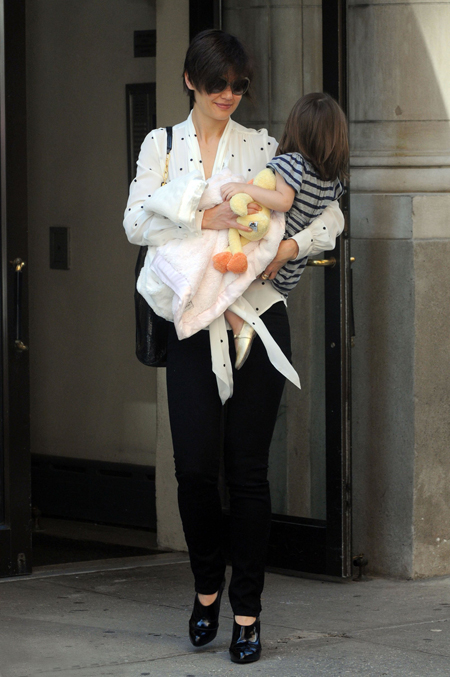 Page Six is speculating that Suri Cruise needs some serious socialization. It seems that parents Tom Cruise and Katie Holmes are practically keeping Suri isolated. It's probably hard for them to find parents they feel they can trust, and kids that won't say inappropriate things to Suri ("Is your dad really an alien king's son?). Still, the paper points out that we see new pictures of Suri almost every single day – and it's always with Katie. She doesn't seem to even get to socialize casually with other kids like at the park or the playground, and she seems desperate for some interaction.
POOR Suri Cruise. The 2-year-old daughter of Katie Holmes and Tom Cruise doesn't seem to get much playtime with other toddlers. A local spy who's seen Suri around other children says, "Whenever she sees kids, she gets excited and runs up to them and hugs them as if she never gets to see kids her own age. There's not a lot of socialization there." Indeed, almost every day there are different shots of Suri with her mother – always shopping and always alone.
[From Page Six]
I could see how a celebrity parent would be extra wary about the people in their kids' lives. But Tom seems unusually controlling, and it's hard to believe it's just normal, healthy parental caution that's keeping Suri all alone. It's great that she has so much time with her mom, but she needs to learn how to interact with kids her own age. I'd imagine that if Tom and Katie wait too long, Suri could end up feeling really shy and awkward around other kids as she grows up.
Hell they've got the money – I say hire a friend. It's the best of both worlds: Suri will have someone to play pretend with, and Tom can control everything the friend says or does. Maybe a robotic one, so he can just reprogram when needed.
Here are Katie and Suri Holmes leaving their NYC apartment on Thursday. Images thanks to Fame and WENN.