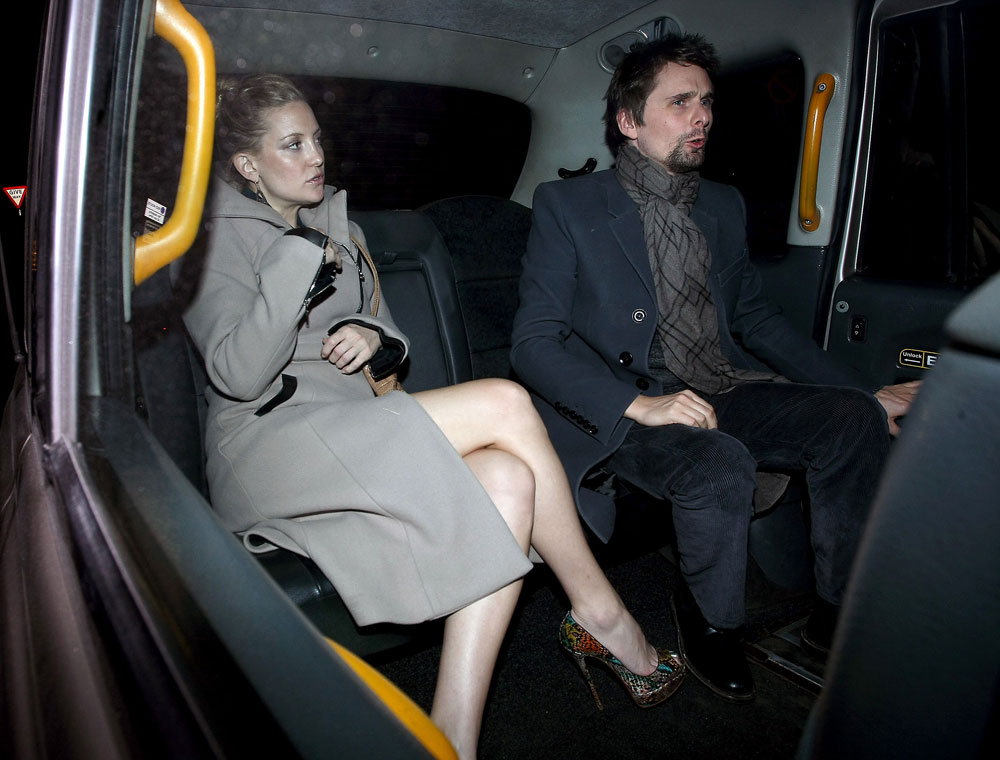 This story is in Star Magazine, so it could be a pile of hooey, or it could be a valid scoop. Either way, it's only slightly damning in that it makes it sound like Kate Hudson's fiance and soon-to-be-born baby's father, Muse Singer Matthew Bellamy, was promiscuous. At least he allegedly was until he hooked up with Kate. Right before Bellamy met the lackluster romcom actress, he is said to have had a three day fling with a groupie in which they didn't use protection and the young girl fell pregnant. (I love the British way of phrasing that, as if it was a little accident.) The poor girl tried to contact Matt and was unable to, and ultimately lost the baby.
Star Mag – A lady who slept with Muse singer Matthew Bellamy right before he hooked up with Kate Hudson says Matt betrayed her. Sophia Bloxam claims that she met Matt via MySpace (?!?!) and they had an intense email relationship. Finally, she saw him in the flesh at a show, after which the twosome "shacked up" in a hotel for a "two-night, three-day sex marathon. Sophia says they had unprotected sex at least eight times, and that Matt knew she was not on birth control, but was "fine with that." Later he texted her, "There is a good chance you could be pregnant, as we used no contraception." She texted back that everything would be fine, and that whatever the outcome was "we would be ok." WTF does that mean? She wanted to get knocked up? Anyway. Sophia found out she was pregs and tried to call and text Matt, who refused to return her messages. She wanted to see him at Cochella and tell him the news in person, but felt too ill. Later she found out that he met Kate Hudson at Coachella. Soon after that, Sophia suffered a miscarriage. It doesn't seem like Sophia and Matt were dating —- sounds more like a one-night-stand gone cuckoo, but Sophia warns Kate: "He has an issue with fidelity."
[Star Magazine via Jezebel]
You know, it could be true that someone told this to Star. Muse is huge and Bellamy probably has some really delusional fans. I'm not saying that it's not possible that a rock star had unprotected sex with a fan he met online. (Although the MySpace part is ridic.) It surely happens constantly. It's just that this story is too convenient in that the girl miscarried and that she never got to contact the rock star again. Plus how did he anticipate that she could be pregnant? I know they weren't using protection, but it sounds too contrived. It reads like fan fiction, especially since it's coming out well into Kate Hudson's pregnancy and not earlier.
In related news, US Magazine has information about Kate and Matthew's wedding plans. According to US, she isn't going to start planning "until after the baby arrives" and she wants a big wedding. They quote a source who claims "Her first wedding was done quickly and a lot of her friends weren't there. So now she wants to have a big, fancy party." I bet we'll be seeing a baby photo spread with Kate and eventually some wedding pictures in People. She so seems like the type.
Photos of Kate and Matt are from 2/4/11 (limo) and from 4/10/11 (walking candids). Kate is shown out on 5/3/11 (yellow dress) and 4/27/11 (black dress) Credit: WENN.com and Fame