Have you heard the story about the stage mom who told the press that she gives her eight year old daughter Botox and waxes her daughter's legs and pubic area monthly? The girl doesn't have any hair down there or wrinkles, but this insane mom thinks that she's somehow giving her daughter a competitive edge in the tween beauty pageant arena. She thought it would be a good idea to 1. do that to her poor daughter and 2. go public with the fact that she's an abusive witch.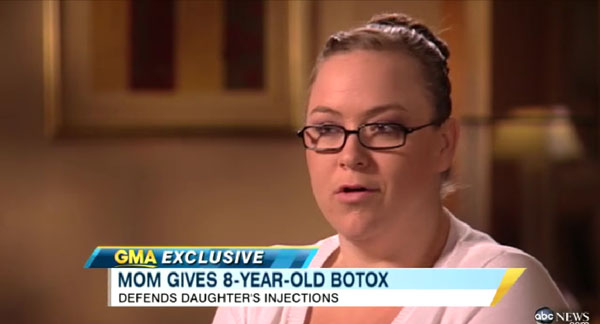 To ABC, this mom said she waxed her daughters' "upper leg area," and tried to act like it was a onetime thing, but to The Sun she admitted she does "monthly virgin waxes," saying, "She also has her virgin wax monthly, which gets rid of her fluffy leg hair and makes sure she wont develop pubic hair in the future." Having heard this cretin of a woman speak (video above) I doubt she's capable of sounding that articulate. The good news is that the mom is now under investigation by Child Services (a division of Human Services). I doubt they'll take her kid away from her but maybe they'll force her to take some parenting classes, not that anything could help a person this stubborn and stupid. (Update: The child has been removed from the home, see below.)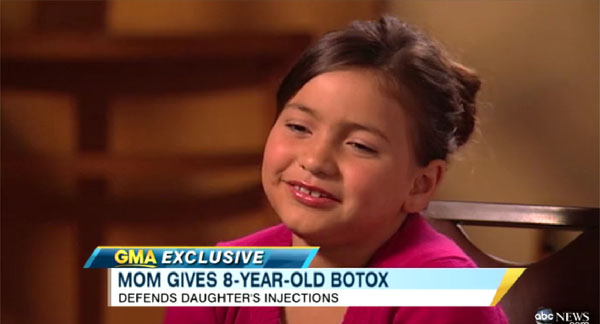 The California mom who admitted to injecting her 8-year-old daughter with botox for a kiddie beauty pageant is now being investigated by the San Francisco Human Services Agency.

"It's pretty unusual for a mom to be injecting an 8-year-old with botox and certainly is grounds for an investigation," said Trent Rohrer of the San Francisco Human Services Agency.

Mom Kerry and daughter Britney, appeared on "Good Morning America" Thursday defending the 8-year-old pageant contestant's use of botox.

"I just, like, don't, like, think wrinkles are nice on little girls," Britney said.

Britney admitted it hurt to get the injections on her face, but said she was used to the pain.

The admission sparked an uproar online, in the medical community and by child advocates.

Kerry told ABC News that she does not believe she's endangering Britney's health and that her daughter asked for the injections. Kerry, who asked that her family's last name not be used, is a part-time aesthetician and no stranger to Botox herself, having done the treatment on her own face.

"Like I said, I do the botox myself. It's safe," Kerry said.

"She had watched me do it before," said Kerry. "So when we first did it, she was fine with it."

Kerry wouldn't reveal who provides her with the Botox. Kerry typically administers the Botox to Britney through a total of five shots, in three different locations on her face.
As Good Morning America mentions, doctors sometimes give kids Botox as a legitimate treatment for neurological disorders or crossed eyes, but of course this is outrageous and abusive. At least it sheds light onto a really despicable abusive practice that some of these stage moms may be inflicting on their daughters. Hopefully this is an isolated case though.
Update: The child was removed from the home over the weekend.
Look at this sweet little girl. Who could do this to their kid?