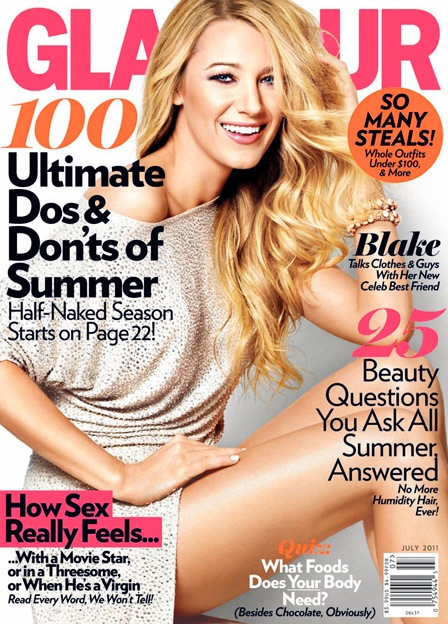 Here are some fully-clothed shots of Blake Lively's photo shoot for Glamour Magazine. She's their July cover girl, probably to promote her supporting part in The Green Lantern. The photo shoot is… well, I think she looks pretty in most of the shots, but JESUS CHRIST, someone tell this chick to close her mouth. I don't mean that I want her to stop talking – she gives a good interview – I'm talking about getting her to PHYSICALLY shut her mouth while posing her photos. It's The Open-Mouth Syndrome that is running rampant throughout young Hollywood. Blake might even have it worse than Kristen Stewart and Robert Pattinson combined.
Anyway, obviously, this interview was conducted before Blake and Leonardo DiCaprio officially became a couple in the south of France last month, so there are no quotes about HOW she won The DiCaprio's Heart and Loins. Go here to read the full Glamour piece, and here are some highlights:
On twitter: "People ask me why I don't tweet. Honestly, I'm so sick of myself."

On becoming the new face of Chanel's Mademoiselle handbag: "It's such an honor. When I found out I got [the job], you and I [Editor's note: She's talking to Florence Welch] went to dinner and concocted this plan, like two little girls at a tea party, saying, "Oh, it would be the best if we had a party. And you'll perform, and we'll do it in Paris." Like you and I were in charge of Chanel!"

On being her own stylist: "You know, my mom modeled and made clothes, so I always had such an appreciation for design. And then Gossip Girl completely blew open the door to fashion for me. I'd go to fashion shows and call my publicist and say, "Can I wear that?" I think I became my own stylist by not knowing any better. And once I was told it was time to get one, I thought: This is one of my favorite hobbies! And I'm going to pay someone to steal my hobby from me? That's a terrible idea!

Being nervous at her first Met Gala: "You're referring to this beautiful teal Versace dress that I wore. I loved that dress, but I am far too shy to walk around in a dress like that with a slit up to my neck. So I thought, The only way I can wear this is to pretend I'm someone else. Who is somebody who completely owns her sexuality? I thought, Marilyn Monroe! So I'm going to be Marilyn Monroe tonight."

On getting ready for an event: I like it to be easy. I don't feel like I have to do so much with hair and makeup, because I'm the mannequin for these beautiful clothes, so I never want to do anything too distracting. Most of the time, I put my hair in a ballerina bun, and I take it down and it's wavy, and then I leave. I feel shy when people are fussing on me. And my diet of choice before events is a chicken potpie from Tea & Sympathy, because they never have enough food at these things."

On breakups: "Every relationship you have, you're learning and growing and taking something from that. So for me, it's never been too dramatic of a thing when something ends."

Working on The Town: That's the real me—that's what you don't know! [Laughs.] No, I'm drawn to those roles because [they're so] rare, especially for someone my age. Women in film are often the prizes for the men and nowhere near as layered or complex as the men get to be. My character in The Town was written for a 37-year-old. I had to fight for that role. But also, I'm not this super-tortured soul, so it's fun to be able to go there.

Being confident: Well, I have a strong sense of myself. That gives me a sense of security, you know? If I define myself by things that are always changing, like the public's opinion or what I'm wearing or what job I'm doing, there's no stability in that.
[From Glamour]
I've seen The Town several times, and I'm here to tell you that Blake really isn't any good in it. Some actors' performances grow on you through repeated viewings – like, I thought Ben Affleck did a much better job the second time I watched The Town. But after the first time, you just realize how miscast Blake was in that role, and then you start to wonder what the hell she had to do to get the part. Oh, Blake. So much ambition, so little actual talent.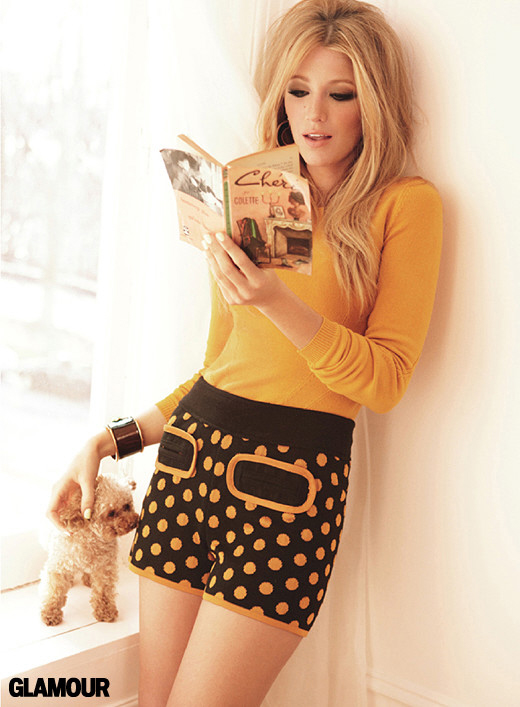 Photos courtesy of Glamour & Hot Celebs Home.