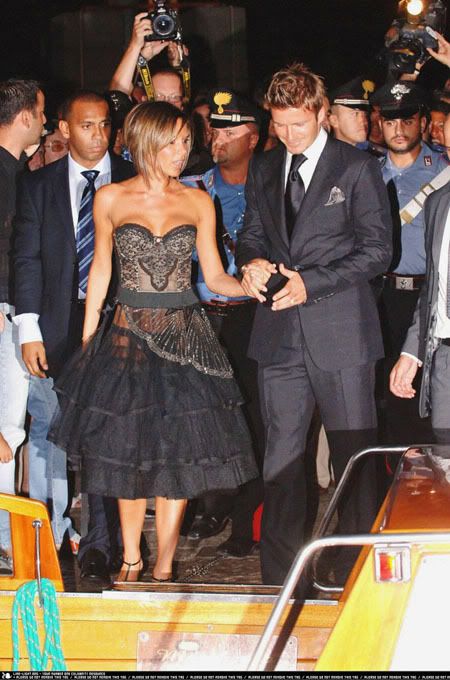 Victoria and David Beckham spoke to London's Mirror while promoting their new fragrance line in Italy. Victoria was quite upfront in the interview and I have a lot more respect for her after reading it. She seems like a person who struggles with her self esteem, but it sounds like she's finding her place in the world and is getting stronger every day.
Victoria said she wants a girl, but that now isn't a good time:
"But at the moment I take my Pill every morning as now isn't quite the right time.
"When you're in the public eye they expect you to pop one out every year. I mean, Cruz is still so young. One minute they're saying I'm pregnant, the next I'm too thin to get pregnant. I can't keep up."
She said her big butt in the perfume ads wasn't altered that much and that she was just bending over funny:
She insisted: "Honestly, the pictures weren't worked on nearly as much as everyone thought. I was really sticking my bum out. When you haven't got one you learn how to fake it."
Victoria admits she wasn't a great singer, but now that she's designing her own jeans and putting out a makeup line, she feels confident in her line of work:
She said: "I never used to be able to wake up in the morning knowing 'I'm brilliant at what I do'. I was never a great singer and I knew that.
"But now it's amazing, I'm doing something I'm actually very good at. I can confidently sit in a room with Donatella Versace or anyone in the fashion business and be respected as I know what I'm talking about.
"It's the first time I've ever felt like that and I can't explain how good that feels."
And Victoria feels a bit inferior to her gorgeous husband, international football star Becks:
She added: "I always say to David, you've got so much more going for you. You're naturally so talented and good looking, so much more so than me.
"Everyone always says, 'Oh David, he's so good-looking and so sexy', whereas I'm 'funny'. I don't want to be 'funny'. What do I have to do to be seen as sexy, too."
Victoria could gain a few pounds to up her sexy factor, but people do see her as sexy.
While she hasn't met Suri yet, Victoria said she speaks to Tom Cruise on the phone often and said that he's not strange like people say, and is "just a genuinely lovely caring person." She called Katie Holmes "one of the most down-to-earth celebrities I've ever met," and said she's really good for Tom.
She revealed that David was upset at being dropped by England's national team, and that he wears his heart on his sleeve. She asked if he wasn't "one of the top 23 footballers in the country."
David spoke of his pride in his boys' interest and skill at football at such a young age. When asked about his favorite smells, a reference to their new perfume line, he said:
"Victoria when she comes out of the shower.
"And the kids, they always smell wonderful."
That's so sweet! These two may preen a lot, but there's something vulnerable and endearing about them.
Here are Victoria and David outside of the launch of their perfume line. Victoria's skirt is see-through at the top, and you can see her panties in some of the shots. Of her outfit she said "I look like one of those dolls that sit on top of your toilet roll." She does look like a doll, but that's not a bad thing. [via]