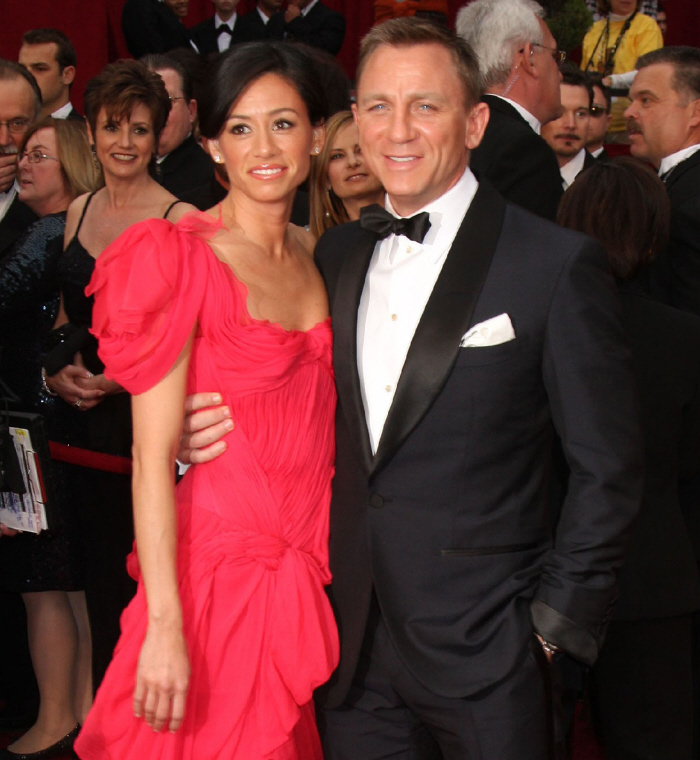 The last we heard of Daniel Craig and Rachel Weisz, a random passerby had declared them "sexier than Brangelina" which you guys debated exhaustively last Friday. Previously, we had talked about their "whirlwind" romance (which seemed to have begun while both Rachel and Daniel were "with" other people, and we also heard about how much Daniel really, really wanted to marry Rachel, which I thought was incredibly hot.) Anyway, a few days ago, The Daily Mail had an interesting piece about Daniel and Rachel, and the people left in the wake of their hot, sexy romance. The Mail spoke to the father of Satsuki Mitchell, who was engaged to Daniel for several years, and the whole article is full of interesting background on Daniel and Rachel. Did you know that Rachel was a radical feminist at university? Did you know that for the most part, Rachel likes, according to friends, "a bit of rough" in her men? You can read the whole exhaustive thing here, and here are some highlights:
The whole [wedding] event, which apparently was followed by a quiet meal and an early night, was carried out amid the sort of secrecy of which 007 himself would no doubt have been proud. But it has not exactly gone down well with friends of 43-year-old Daniel Craig back home. They are miffed, it seems, that the first they learnt of the nuptials was when the actor's Los Angeles-based PR Robin Baun put out a terse statement last weekend confirming that they had taken place.

One long-time actor friend of Chester-born Craig, who has worked regularly with him – and shared more than a few of the drunken nights to which the Bond star is occasionally partial – told the Mail this week: 'Frankly, I think it's a bit much he couldn't let his old pals know. I really don't understand why he feels the need for all this cloak-and-dagger silliness.'

Unofficially, those surrounding the new Mr and Mrs Bond were letting it be known this week that the pair had decided on a low-key event 'out of respect for their previous partners'.

Which does seem rather strange, given that according to the camps of both Craig and Miss Weisz they only began their affair after splitting with their respective long-term exes. Why, then, the need for such secrecy? Perhaps it has something to do with the whirlwind nature of their race up the aisle – at the first hint of hasty nuptials, many would assume that the bride was already expecting. Could that be why Miss Weisz was so eager to become Mrs Craig? Whatever the case, few can deny that things have been moving at warp speed for the couple who have only been officially dating for six months.

Craig's now ex-fiancée Satsuki Mitchell – a 32-year-old Hollywood producer – is said to be 'absolutely bewildered' at the pace at which he and Miss Weisz have formalised their fledgling relationship.

Her own six-year romance with him netted her nothing more permanent than the consolation prize of an admittedly impressive Cartier diamond engagement ring he presented her with in 2007. While some of her circle in LA were letting it be known this week that the Japanese-American Miss Mitchell had stoically moved on, her father Christopher confessed to the Mail this week that her emotions remain very much on the raw side. So much so, in fact, that she can't bear to hear mention of Craig's name.

'His sudden marriage came out of nowhere,' Mr Mitchell told us. 'We heard about it like everyone else, by reading the newspapers. She doesn't mention his name now and tells me off if I do. Satsuki has only just reached a happy place. She has since said, more than once, that the break-up was the best thing for her. She knew he was not the man she wanted him to be and there was something wrong in the relationship.'

Mr Mitchell said that Craig and his daughter had been house-hunting in New York when the relationship started to unravel early last year, although all must have appeared well when, a few months later in May 2010, the couple bought a £1million penthouse in Manhattan's trendy TriBeCa. Satsuki showed obvious strain after the split and her father says she was so upset that her weight plummeted, even prompting him to ask if she was suffering from an eating disorder.

'I have suggested to her on a number of occasions that she might have one,' he said. 'Yet whenever we're together she eats like a horse.'

Her devastation is hardly surprising, perhaps, given that she is said to have considered London-born Rachel a friend, after the two women spent time together on the Canadian set of the upcoming horror film Dream House last year, in which Weisz stars with Craig.

Satsuki, who also shared Craig's £4 million home close to London's Regent's Park, is said to have discounted rumours circulating on set that the leading man and lady had become close. Members of the crew were already whispering that 41-year-old Miss Weisz, the star of the blockbuster movie franchise The Mummy, had fallen 'head-over-heels' for her rugged-looking screen love interest.

However, Craig is said to have insisted to the willowy Satsuki that he was nothing more than good friends with Rachel, whom he has known for ten years.

While Rachel Weisz's spokesman was insisting her relationship with Aronofsky, director of this year's Oscar-winning Black Swan, had been over for several months, in an interview just weeks earlier he had given no indication that all was not well between the couple. The bespectacled filmmaker has since moved out of the five-storey townhouse the couple shared in New York's fashionable East Village — and it's reported he's gone from their London home, too — while Weisz has remained with their little boy.

Despite the split, sources close to Weisz and Aronofsky insist they are determined to stay on friendly terms for the good of their son, of whom they have agreed to share custody.

This week Rachel, who has recently been talking nostalgically about returning from New York to live in the UK, has had workmen refitting her £3 million North London home amid reports the couple are about to move in. They are also said to be looking for a six-acre property on the south coast as a holiday retreat. Just the sort of out-of-the-way place that would be ideal for the reluctant Bond, his new wife and the family they may be about to start.
[From The Mail]
Did you get all that? Satsuki is pissed and hurt. And whatever was going on between Rachel and Daniel, they were lying to their partners about it while they were working together, and everything fell apart shortly after the movie ended. While I have sympathy for Satsuki, I also tend to think… meh, whatever. She can claim that the split was the "best" thing for her and everything, but at the end of the day, she still got to nail Daniel Craig for five years, and that's got to be one of highlights of any woman's life. The more I read about Rachel and Daniel, the more I feel like they were just two forces of nature coming together, exploding with each other. HOT. Oh, and I guess the British papers are just out-right claiming that Rachel is pregnant too. Eh, she probably is!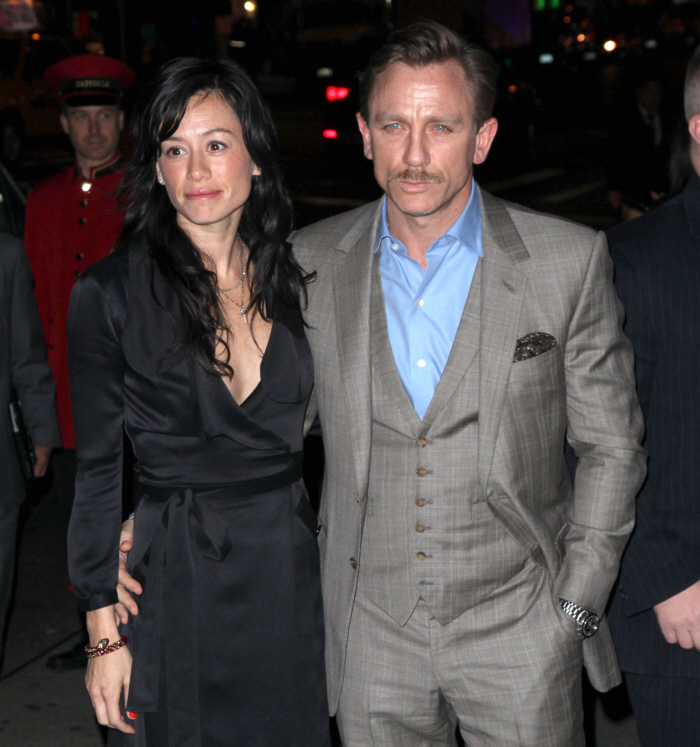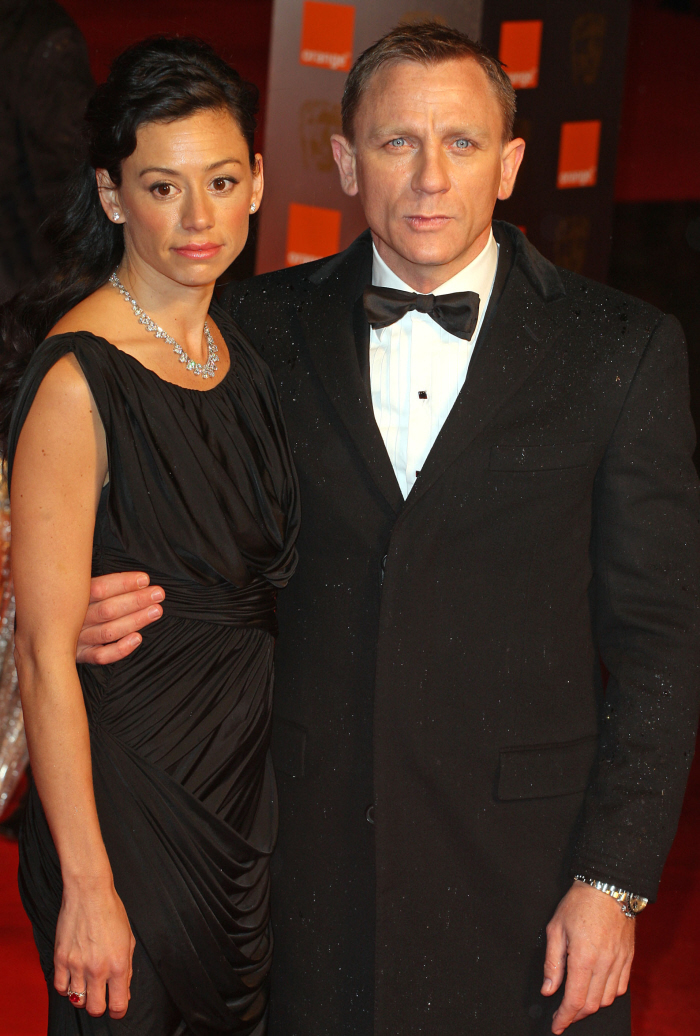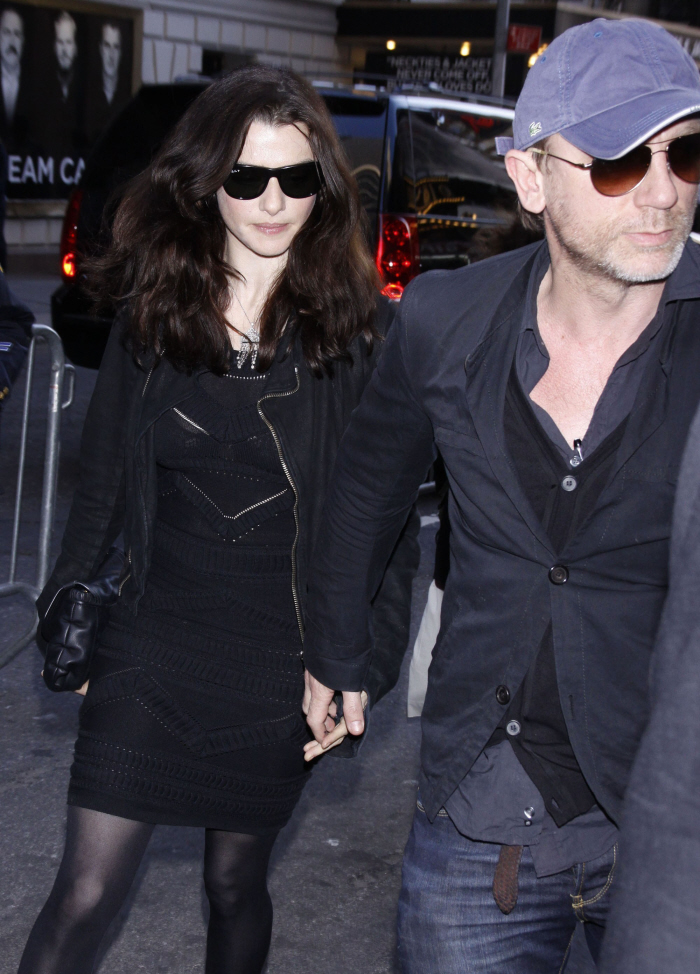 Photos courtesy of WENN.