Jake Gyllenhaal and Bear Grylls rough it on 'Man vs. Wild,' the photo evidence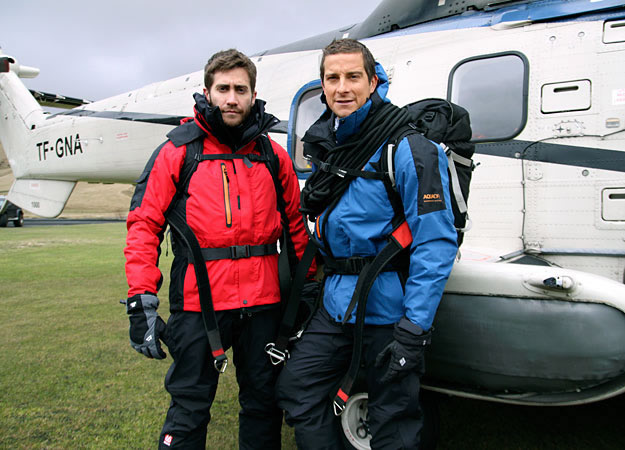 A couple of weeks ago, we were busily scratching our collective heads over why Jake Gyllenhaal, a.k.a. "He Who Cuddlefests," has decided to guest star alongside host Bear Grylls on the season premiere of "Man vs. Wild." Some of you thought that Jake was trying to prove his manliness, and one or two of you thought he was just a fan of the show. I'm inclined to hang with the former school of thought, however far-fetched the desired end result might seem.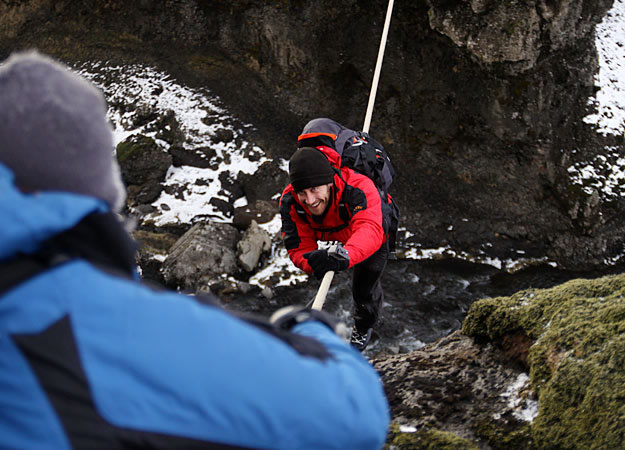 At any rate, the Jake episode will air next Monday on the Discovery Channel, but ET has a sneak peek of the duo as they defy death in the harsh, unfriendly Iceland climate. Naturally, the video is stuck on autoplay, so we're not posting it, but you can watch it here. It's pretty hilarious to watch Jake attempting to haul his body across the length of a rope that stretches over an enormous cavern, but I'll resist making any stunt wiring jokes. However, I'm certainly not beyond imagining that, once the harrowing experience concluded, Jake and Bear hopped into a luxury SUV and feasted upon White Bean Dip with Rosemary Olive Oil and Slushy Watermelon Mojitos as the vehicle sped along to its ultimate spa destination.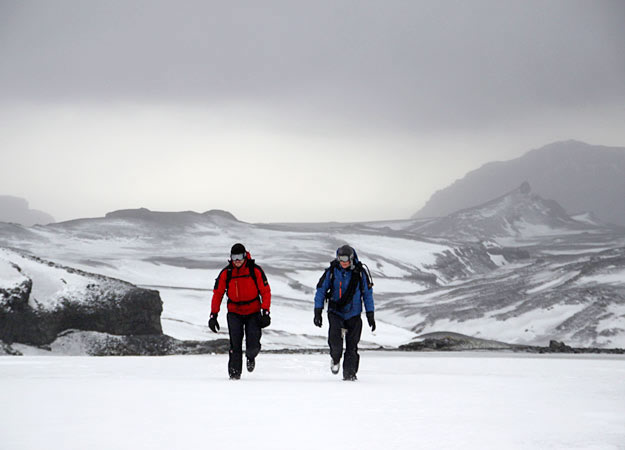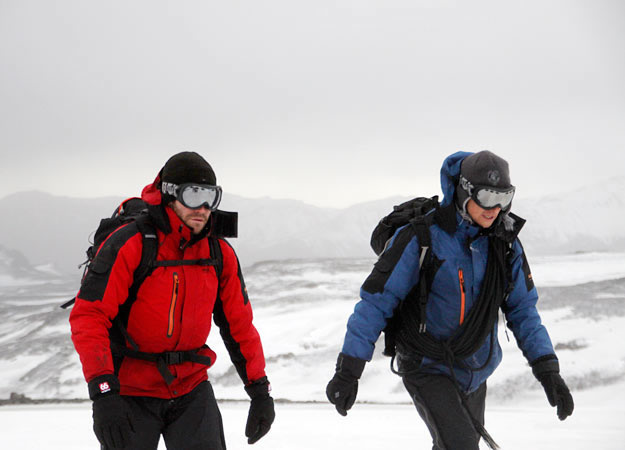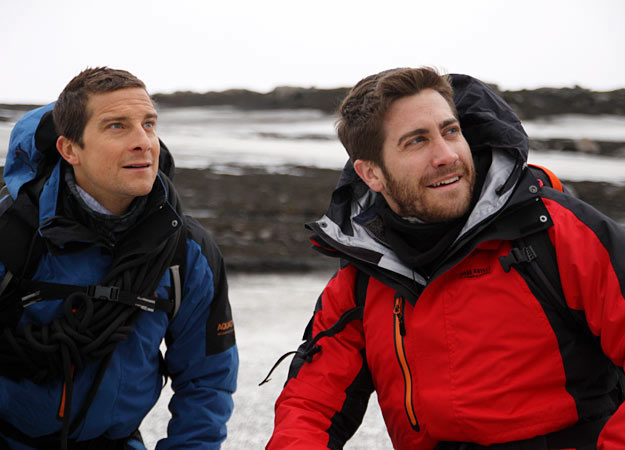 Once again and for those of you who think I'm being too tough on Jake (who I actually like a lot), here's a refresher on the process by which a "Man vs. Wild" can be faked:
Photos courtesy of Discovery.com
Written by Bedhead

Posted in Beards, Jake Gyllenhaal

- Zach Galifianakis is awesome [Buzzfeed]
- Prince at the Billboard Music Awards [D-Listed]
- Bieber's Billboard look [Go Fug Yourself]
- Married to Medicine recap [Reality Tea]
- Celebrity first marriages [Pajiba]
- The last Mad Men baffled a lot of people [Lainey]
- Karolina Kurkova's crazy hot dress [Moe Jackson]
- Jennifer Garner on set [Popsugar]
- Kitten vs. Lizard [CDAN]
- Doetzen Kroes' great butt [Celebslam]
- Shameless star Jeremy Allen White [OMG Blog]
- RIP Ray Manzarek [Bossip]
24 Responses to "Jake Gyllenhaal and Bear Grylls rough it on 'Man vs. Wild,' the photo evidence"