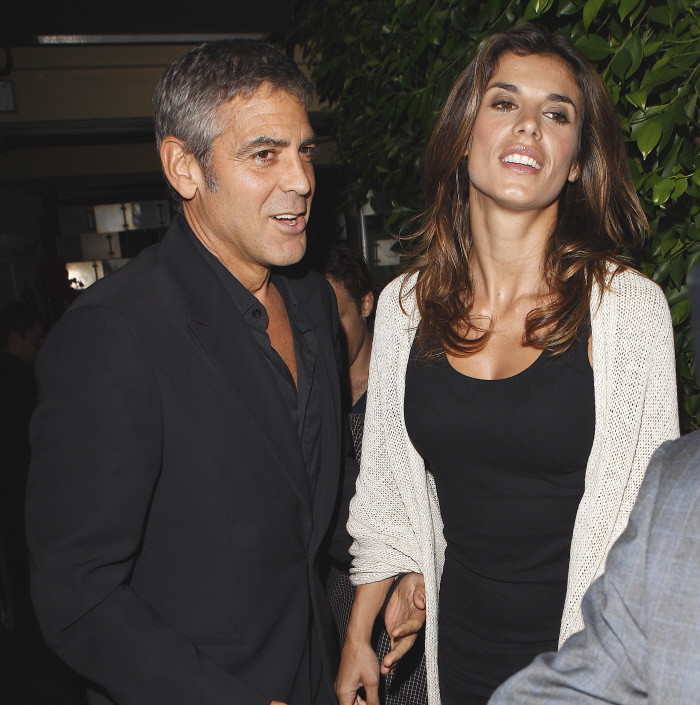 Yet another interview from another "insider" to the George Clooney/Elisabetta Canalis romance. This time, it's not someone on Team Canalis speaking it – the guy who is talking is named Manuele Malenotti, and apparently he's "friends" with boy Eli and George. In fact, he takes credit for introducing them, which… I don't know, it sort of sounds like he makes a lot of "introductions" for his older male friends who want the companionship of younger ladies. Anyway, this dude says definitively that Clooney isn't gay, he just doesn't want to be married or have kids, and he expects the girls he's with to be cool with that.
Newly single George Clooney's best friend in Italy has confirmed that he split from his girlfriend because the actor did not want to get married and have children. Manuele Malenotti, who introduced Clooney, 50, to model and actress Elisabetta Canalis, 32, at a dinner two years ago confirmed suggestions that had been swirling Hollywood since the couple split last month. Malenotti, who owns bike gear firm Belstaff, also dismissed rumours that Clooney was gay and that the relationship with Elisabetta was all just a publicity stunt.

Speaking to the latest edition of glossy Italian weekly Chi he said: 'I have known George for ten years. Of all the actors I know in Hollywood he is the one I see the most and we have done lots of charity work together. I know about their relationship because I was the one who got them together. George wanted to meet Elisabetta and he asked me to make the introductions. I did as he asked but inside I always knew that it wouldn't last – to be honest I was expecting it.'

'You will have to ask them for all the specific reasons. All I can say is that George, when it comes to love, has decided that he is not going to get married again and he is not going to have any children and he won't change his mind. Big stars like George need people by their side to help them and they are always under immense pressure. For a partner it's never easy because everybody has their own requirements. To suggest it was a publicity stunt is a lie. I introduced them, I saw them together and I can say that their love story was very intense. In two years they shared numerous moments. He opened the doors of his life to her, introducing her to his friends and family. I totally exclude that it was all made up.'

'I can also tell you that I have known George for ten years, I have spent a lot of time with him and a lot of women have passed through his life. You never know in life, and men are having an identity crisis but I can tell you George is not gay.'

The couple are said to have had a furious row at his lakeside home Villa Oleandra at Laglio near Como in Italy following an interview she gave last month which suggested marriage could be on the cards.

Addressing Clooney's reputation as an eternal bachelor, she said: 'I could never be with someone who every time he opens his mouth says he doesn't want a child with me or to marry me.'

Elisabetta had also been unhappy at the fact that she had been on holiday to Mexico on her own recently as well as attending the Cannes film festival and her best friend's wedding without him.

Elisabetta is believed to be spending time with her friends and family in her home island of Sardinia and has yet to speak publicly about the split with Italian reports suggesting she has signed a golden gagging clause.
[From The Mail]
OMG, "Golden Gagging clause" – yes, that sounds right up Clooney's kinky alley, doesn't it? Golden Gagging clauses, strippers, escorts, soft-core porn stars, Berlusconi's bunga-bunga parties, chicks with Adam's apples, and… LOVE. I honestly think Clooney's friend has it right – I'll have fun with Clooney and the gay rumors, but at the end of the day, I do think Clooney is just a (mostly) heterosexual dude who likes really trashy, budget women, and he doesn't want to ever settle down. I don't think it's an "identity crisis" either – Clooney has always been like this. It's just that as more time goes by, people are starting to notice that he has pretty awful taste in ladies, and that he NEVER goes for the "nice girls".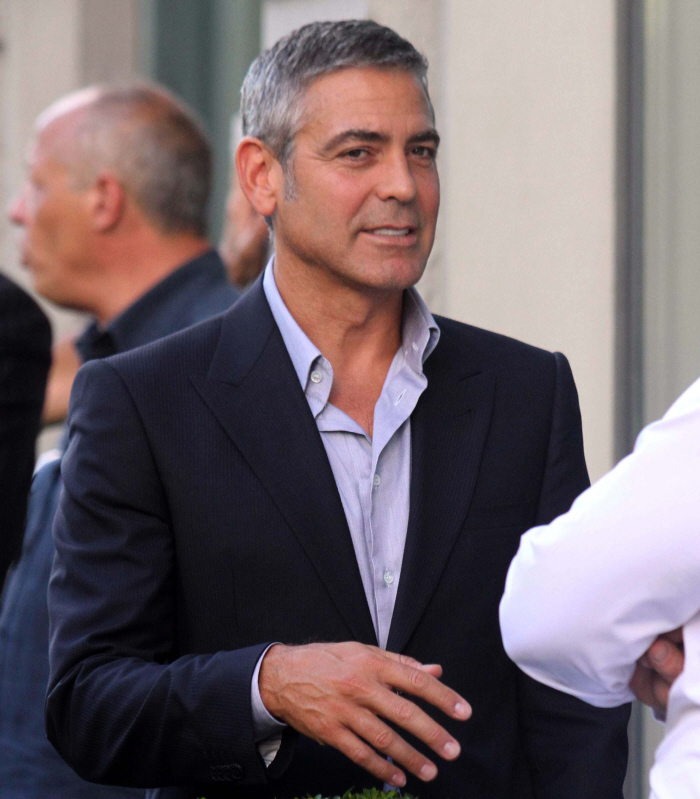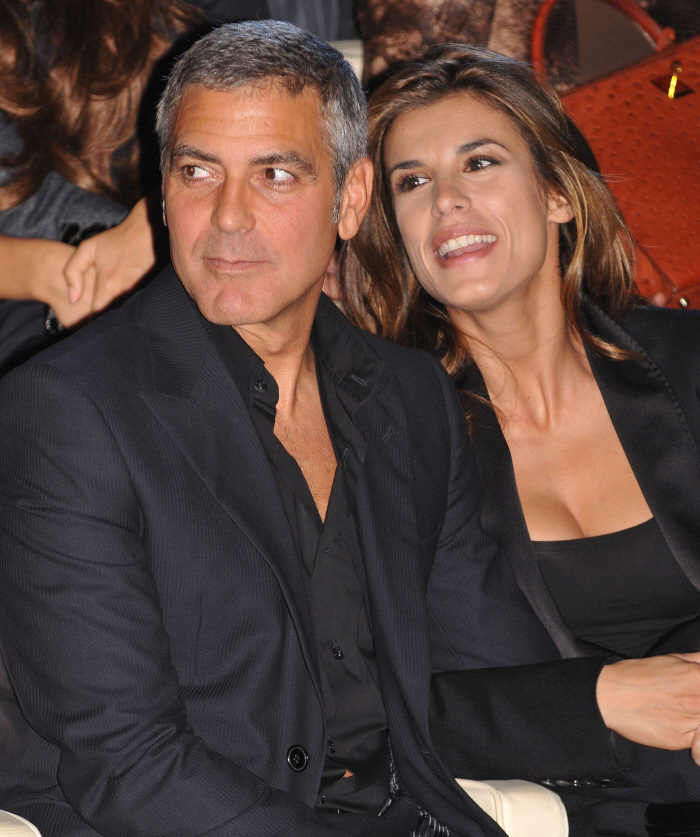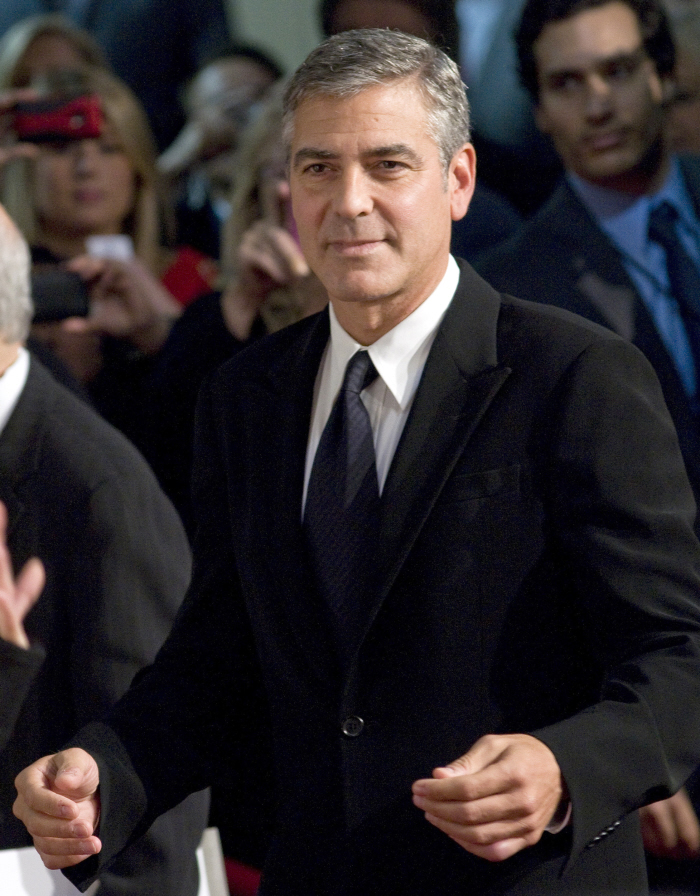 Photos courtesy of WENN.