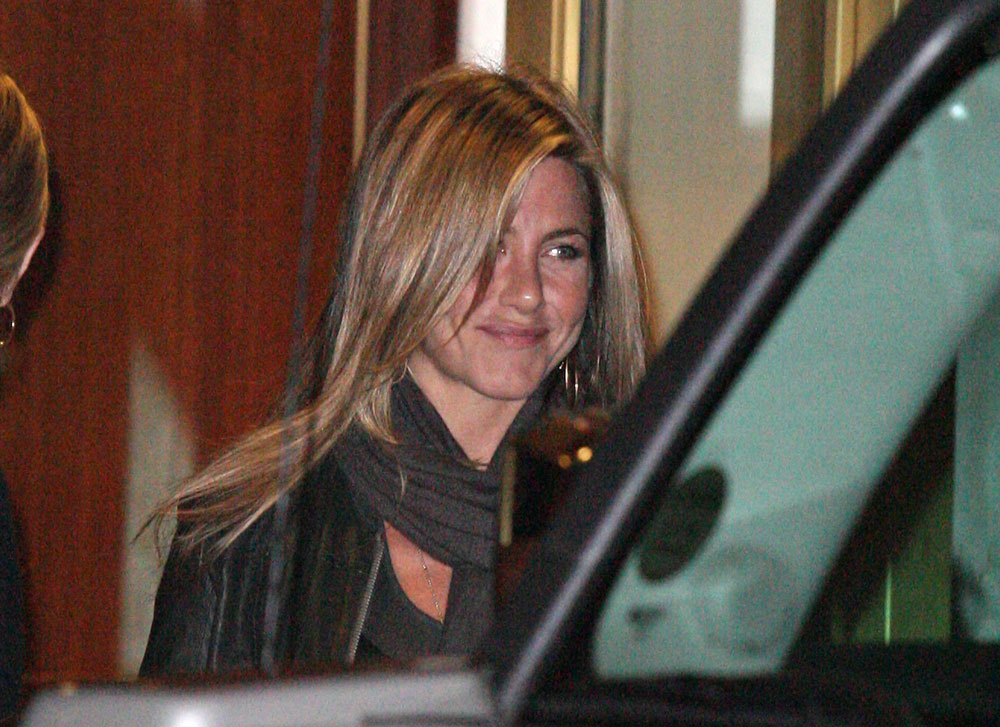 Jennifer Aniston's dreams may have just come true. Or maybe some less-than-ideal-but-she'll-make-the-best-of-it dreams. According to Just Jared, the real reason Aniston and John Mayer have reconciled isn't because he promised to be a good/non-douche bagging boyfriend – it's because she's pregnant with a little mini-player Mayer.
Jennifer Aniston has reunited with musician John Mayer because she's pregnant with his child, according to Australia's New Weekly.

That's the reason behind their surprise reunion???

It was reported just last week that Aniston took Mayer back! But after a string of secret dates, could this reunited couple be expecting a child together???

Aniston visited Mayer's home late Friday night. And you can also check out these pictures of Aniston taken just last night.

Does she look pregnant to you???
[From Just Jared]
Jennifer doesn't really look pregnant to me but that doesn't mean anything. There's a long period of time where you really can't tell on most women. And considering all the years of "poor sad Jennifer" gossip, I'm guessing she'd be baring her belly for anyone and everyone if she had even the slightest reason to.
I could go either way on John and Jen as a couple, but I think it's pretty obvious John's nowhere near ready to be a dad. He strikes me as one of those guys that might be mature enough for it in his mid-fifties or sixties. He's still at that clichéd "let's bang every waitress in the room because we can" stage that men go through in their twenties… and thirties… and maybe a little longer.
If they did just get back together for the publicity, I have to give John and Jen kudos for working it.
Here's Jennifer at Sacha Baron Cohen and Isla Fisher's daughter Olive's first birthday party this weekend. She is also shown yesterday outside the Sunset Tower Hotel. Her stomach looks pretty flat to me, but who knows. Images thanks to Fame.