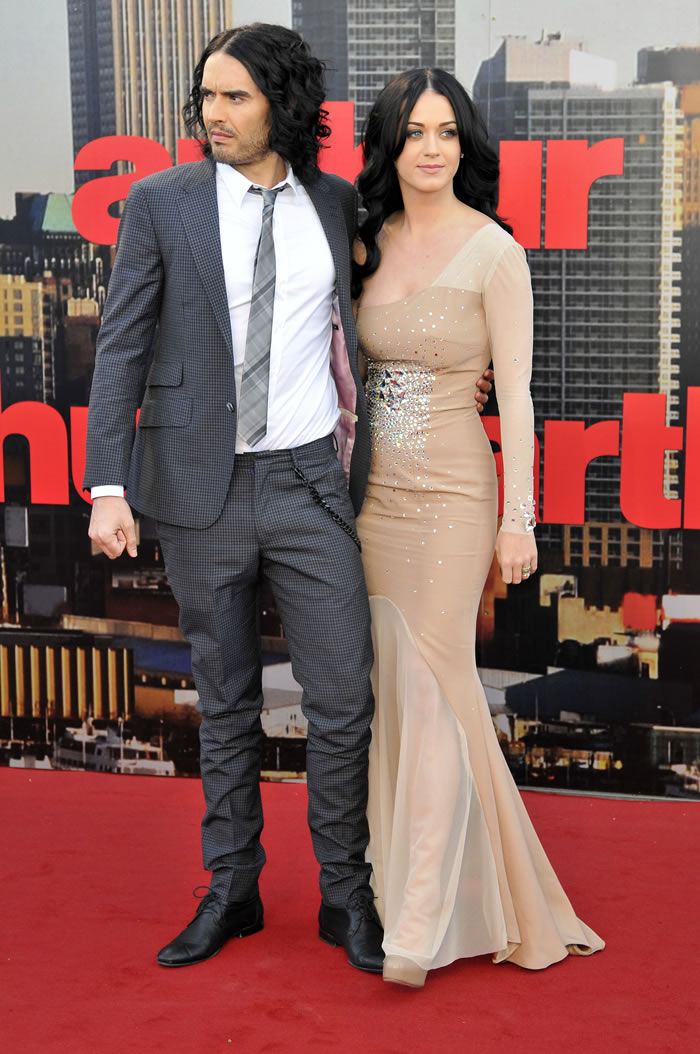 From the very beginning of their whirlwind courtship, Katy Perry and Russell Brand gave off vibes of knowing they were working against the odds of a successful long-term pairing. Still, they persisted in a quickie marriage before Russell returned to his movie star career, and Katy departed for a nine-month, candy-themed, pop-star tour. Naturally, subsequent issues have arisen. He doesn't like that she still smokes and parties without him, and she worries that he will cheat during her tour. Hence the rumors that they were already seeking couple therapy three months in because, essentially, they got married when they had a free weekend and then resumed their own respective life paths. Naturally, it didn't help matters that Russell got deported from Japan during one of their rare shagging opportunities. And perhaps it really was a bad omen when Katy developed a mysterious rash during their honeymoon. Whatever the ultimate cause (and I suspect that there are indeed many), Star predicts that tensions (and distance) between the couple are so high that they'll be divorced before their marriage hits the one-year mark.
Any long-distance relationship is hard. Now imagine photos of your far-away husband holding hands with a mystery blonde splashed around the globe! That's exactly what happened to Katy Perry when pics surfaced of her husband of eight months, Russell Brand, looking very chummy with a woman on the set of his new movie, Rock of Ages. The woman is reportedly a stylist on the film and a platonic friend, but it's just the latest issue for a couple who have seen each other only a handful of times during the past four months and are leading separate lives.

And things are not getting better. Katy and Russell will spend only four days together in the next six months, Star has learned. "Neither of them thought about the crushing reality of their demanding careers or the effect it would have on the marriage," a mutual friend tells Star exclusively. "They love each other, but they're barely ever together." That has raised questions about whether the marriage can survive.

Just recently, they managed to carve out a rare three days together in Miami, where Russell is living as he films his movie, costarring Julianne Hough and Tom Cruise. Katy's schedule is no less hectic. After performing in the Bahamas, she was thrilled to have a brief break in her grueling California Dreams tour, which began in February and has recently been extended through November.

Their blissful weekend was agonizingly short for the newlyweds, and their jam-packed calendars are only getting worse. Indeed, their marital home in Los Feliz, Calif., hasn't been occupied for along time, leading Katy to wonder if they even have a marriage at all, says a source. But neither Katy nor Russell is giving up yet — and they just purchased a $6.5 million mansion in the Hollywood Hills, despite the fact that they will rarely be there together. On top of that, there's the issue of that recent photograph. "Katy wants to save the marriage, but she is starting to think that if she's not physically there, Russell will be cozying up to other girls because he's a guy who needs human contact and reassurance."

Oceans and overseas concerts aren't the only things driving a wedge between the colorful couple. Many close to Katy worry that impulsive Russell rushed her into marriage, only to default on his promises. "It was all Russell's doing," a mutual friend says of Katy and Rusell's whirlwind romance. "He is a recovering addict and in love with the idea of being in love. He told her that they'd overcome any obstacle. Katy's actually very young and impressionable compared to him, so when he said, 'Let's get married! What could possibly go wrong, we're so in love!' she was totally taken in."
[From Star, print edition, July 18, 2011]
This story seems to piggyback upon all of the previous questions about this marriage with the flimsy fact that Russell was being platonically (for him) affectionate on the set of Rock of Ages. Do I think that he's banging this stylist? No. Do I think he'll eventually bang someone other than Katy? Yep.
Other than Russell's notorious shagging reputation (which, honestly, he seems to have curbed), the distance seems to be the real issue at hand here. While I don't think that the situation is extreme enough that Katy and Russell will divorce within the next four months, I think there might be some regrets on Katy's end. Certainly, they were both aware of the fact that they'd spend a great deal of time apart, but it's always different when you're actually going through it. If these two are right for each other, they'll work it out, but we all know that's probably not the case. Still, I think Katy's probably too stubborn at this point to reveal to the public that she married (the wrong guy) too quickly, so she'll probably hang on for at least another year or so. I mean, if they're already physically "separated," what use to her is a divorce at this point? Now, when (and if) they actually start spending time together, then they'll figure out whether or not they get along well enough to remain married.
Now, I'm going to go off on a slight tangent. To compare (in the very vaguest sense of the word) Katy and Russell's situation to a military marriage, a lot of couples can endure lengthy deployments and mobilizations, but it's the reunion period that causes even more marital tension. Similarly, Japan's so-called "Retired Husband Syndrome" also illustrates that a marriage can be tested by time apart, but the real definitive element exists in how the couple handles their newly acquired time together. And when this happens for the couple in question, perhaps it will then be time for Russell to realize that Katy is not so endlessly fascinating after all.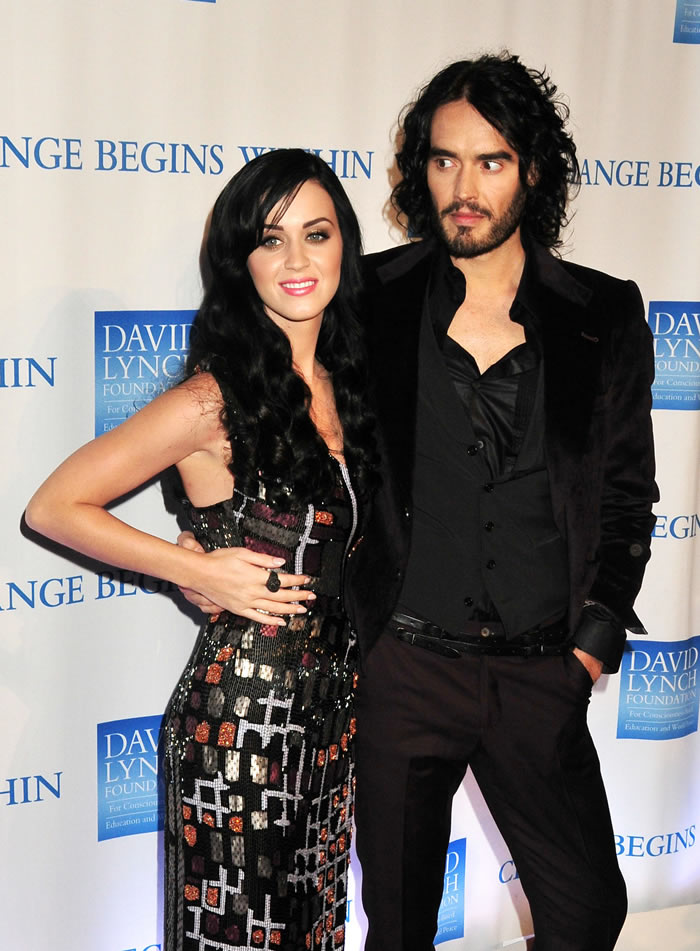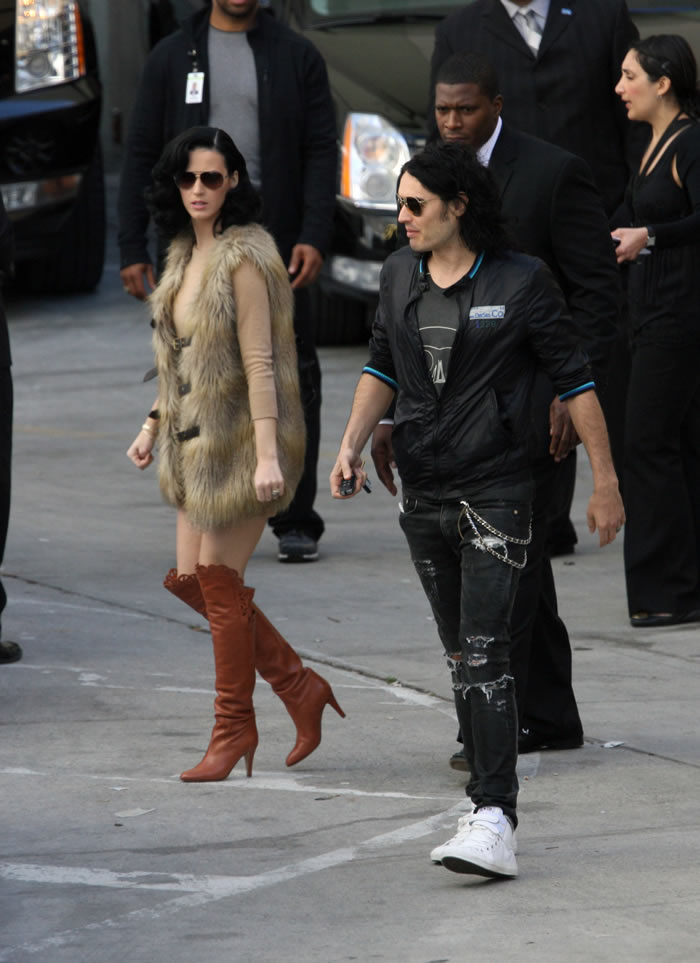 Photos courtesy of Fame Pictures