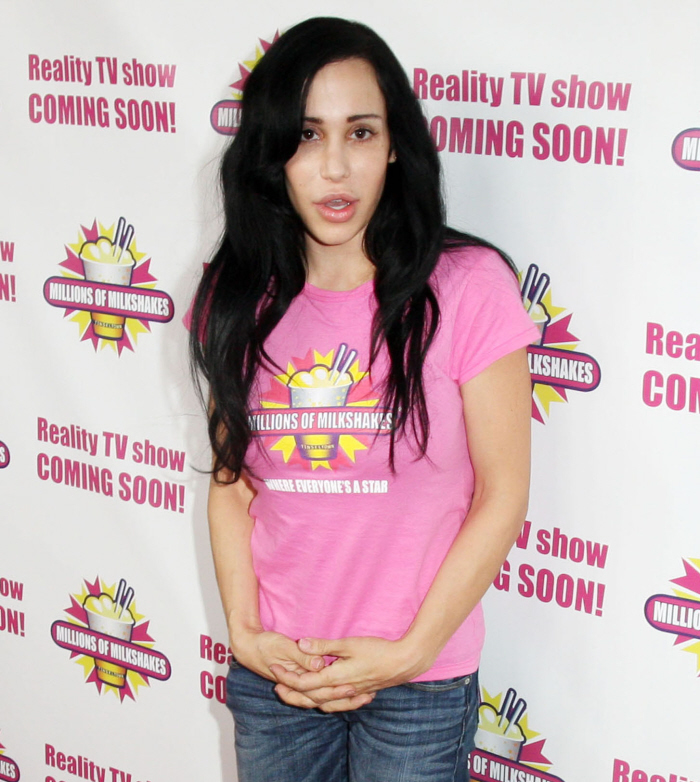 Oh, are you bitches in for a special treat today. I rarely write any of the Nadya "OctoMom" Suleman stories, so for a very special Friday gift, I shall share my thoughts. Those thoughts? "Can we stop paying attention to this bitch already?" Recently, it was widely reported that Nadya had said in an interview that she "hated" her babies and that they "disgusted" her. Nadya later claimed that those quotes were made up, but her credibility is absolutely zero, so who knows? This morning, Nadya appeared on the Today show and… well, I don't even know. I tend to ignore the "reality show" crazy of people like Nadya, Casey Anthony, etc, because my little brain can't even comprehend how these monsters can exist and function out there in the world. Nadya contradicts her story so many times in just a few minutes:
Visit msnbc.com for breaking news, world news, and news about the economy
Nadya Suleman has gotten her wish for a large family — but it has come with an even larger price tag. It costs a reported $15,000 a month for Suleman — also known as "Octomom'' — to support her 14 children, including the octuplets that brought her into national prominence and ignited a firestorm of criticism 2 ½ years ago. The single mother gave Amy Robach a look into her chaotic home life in a four-bedroom house in La Hambra, Calif., before bringing the octuplets and one of her older children for an exclusive visit with TODAY's Ann Curry in Studio 1A on Friday.

TODAY got a taste of the mayhem: Ann had one of the octuplets in her lap as another crashed off the side of the set, and another ended up in Matt Lauer's anchor chair while being watched by Natalie Morales. Suleman said that they are normally well-behaved but only had two hours of sleep while traveling to New York. After struggling to support the brood, Suleman secured professional management a month ago and said that she has since been able to generate revenue with appearances and celebrity boxing matches. She said she's also been a fitness trainer.

Despite her financial difficulties, Suleman said she would never opt for public assistance.

"I've never in my life been on (public assistance), and I never would," she told TODAY, though in 2009 her then-publicist said she was receiving food stamps. "I would feel like a failure as a mother and as a human being."

The cost of trying to meet that monthly $15,000 bill has led Suleman down some humiliating paths, including a fetish video. In the video, Suleman is wearing a black bondage corset and cracking a whip on the backside of a tattooed adult man who is outfitted in a diaper and clutching a baby rattle. What's worse: She claims she didn't even make a dollar off the spectacle, which quickly became TMZ fodder.

"That's one more thing on the laundry list of humiliation,'' Suleman told Robach. "I was a little late on the mortgage. "He said, 'You can make a couple hundred thousand dollars. You could pay off part of your house.' I'm thinking, 'I'll do it.' Well, anyway, he sold it. Total dollars earned? Zero dollars. Total lesson learned? Priceless.'' Declaring the fetish video "one of many things I got no money for,'' Suleman still reportedly made $28,000 in June, according to TMZ. She will also appear on HDNet's upcoming "Celebridate,'' a celebrity dating show in which three contestants try to win the heart of a celebrity or face elimination.

The dates on that upcoming show are the only ones on Suleman's calendar, as she confided in Robach that she has no plans on pursuing a relationship after having avoided one for more than a decade. All of her children were conceived via in vitro fertilization, and she said that her personal life consists of taking care of them.

Suleman admitted that if she were married or had a boyfriend it may have deflected some of the anger directed at her for being an unemployed, unwed mother who continued to conceive children artificially.

"If I had a mate, that would have defused a lot of the animosity,'' she said. "I'm the ultimate societal scapegoat, I believe."

Still, Suleman claims she raises her children without the benefit of nannies or other help, and says that's the way she wants it.

"I'm happier, and I feel more free than I thought I would,'' she said. "I'm so happy I don't have nannies. It's harder, but I feel so much stronger. I forced myself to pull out strengths I never knew I possessed.''

She also denied a report in a recent "In Touch'' magazine article that she said "I hate babies. They disgust me. My older kids are animals. I can't discipline them.'' Suleman told TODAY she is contemplating suing "In Touch" for the piece.

"I think they should retract it because it's all slander," she said. "I love my children. I would do anything for my kids."
[From Today]
And on and on. She talks a lot of self-help speak about how healthy she and the kids are and how she just wants to be left alone and how she's just a quiet person, blah, blah. She also said that she's working towards a license as a fitness trainer, because exercise is the way that she "self-medicates" for her "panic attacks". I have a question, and it's something I'm sure has been brought up before, with regards to Nadya's mental health: is she bipolar? That's my two-second, non-professional diagnosis of her. That, and she's a pathological liar. I still don't have a clear idea of exactly how she's paying her bills.
Photos courtesy of WENN.