Octomom says that In Touch made up quotes: is she lying as usual?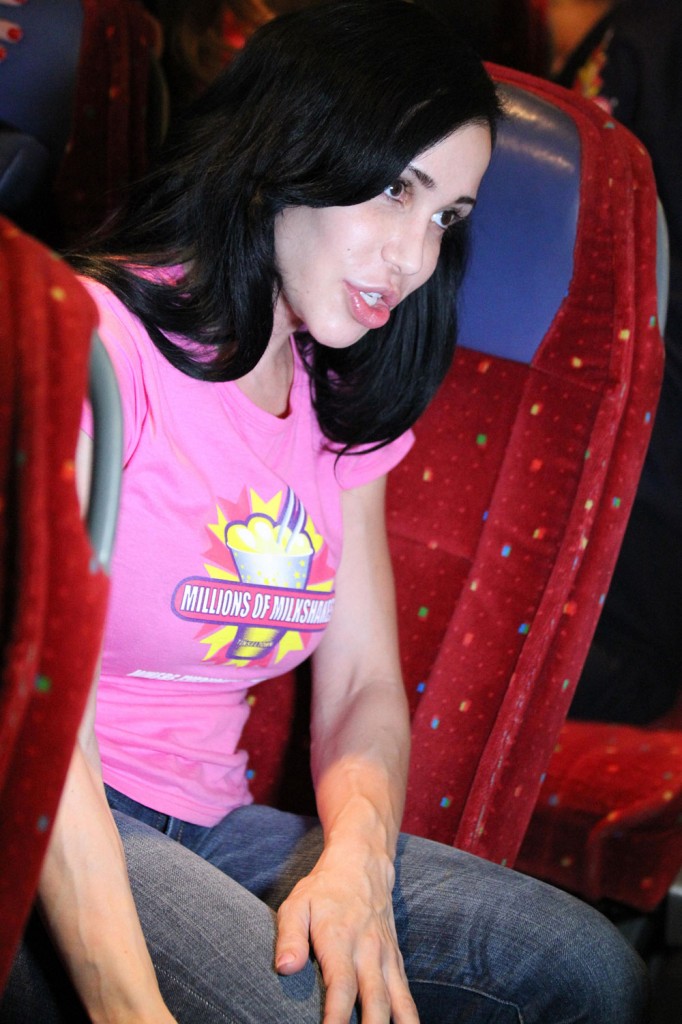 Look, we know that Octomom Nadya Suleman lies. She denies having any plastic surgery despite the overwhelming evidence. She denied being on welfare and seemed not to count food stamps, child disability, or her own disability payments as welfare. She claimed to have six embryos implanted with two splitting into eight, and in reality she had 12 implanted, a fact which came out when her doctor had his license taken away. She claims not to be in it for the fame, but people close to her say otherwise. She admits telling her mother that her repeated pregnancies were "tumors." I could go on. So we know that she has no qualms about saying whatever she wants to try and make herself look like less of a crazy baby collector.
Now Octomom is claiming that she never told In Touch she hated babies and found them "disgusting." This is despite the fact that In Touch had exclusive photos taken inside her home including one with one of her older children eating the drywall. So you'll excuse me if I find In Touch more credible than she is, which truly isn't saying much.
Quotes from Octomom flew all over the Internet this week — the most damaging being, "I hate babies, they disgust me" — the only problem is … Octomom says SHE NEVER GAVE THEM!!!

Nadya Suleman tells TMZ every single quote that was attributed to her from an interview with In Touch magazine is false … because she never even gave them an interview.

In another passage from the "interview," Nadya supposedly said she thinks her older children are animals and that she often locks herself in the bathroom and cries.

To that she says, "I hardly have 30 seconds to go to the restroom, I could never lock my self in the bathroom for hours. I Love ALL my children, I do not regret them and it's ridiculous that I have to continue to defend myself against these disgusting fabricated lies."
[From TMZ]
It's possible that In Touch made up those quotes or took them out of "context" or whatever. Octomom is skilled at sounding semi-coherent when she spews her psychobabble and she can be convincing in small doses. When you look at her life, and consider what we've seen of her over the years, it's clear that we can't trust a single word out of her mouth. That's good news though, because maybe she doesn't really hate her babies after all.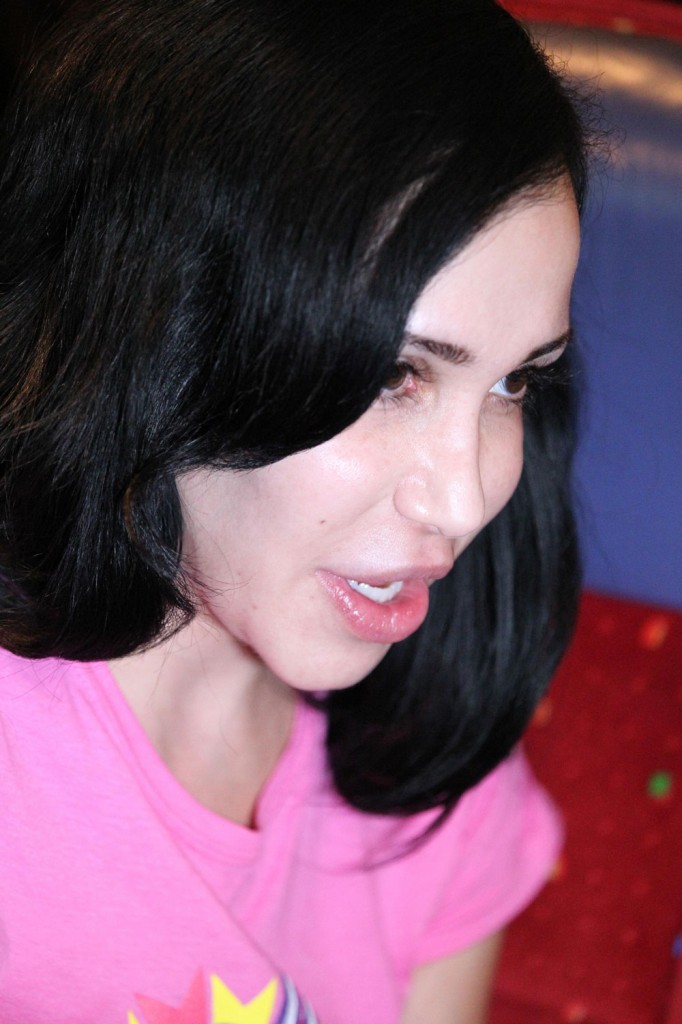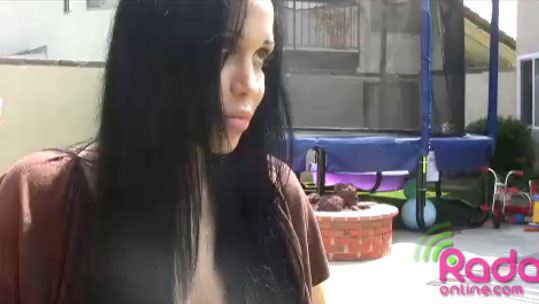 Written by Celebitchy

Posted in Nadya Suleman, Photos

- Mariah Carey lip synced on American Idol [CDAN]
- Colin Firth is looking good [Lainey Gossip]
- Internet celebrity charged with murder! [D-Listed]
- What is Paz Vega wearing? [Go Fug Yourself]
- New bachelors on The Bachelorette [Reality Tea]
- Goodbye to The Office [Pajiba]
- Bachelor Sean's fiance cheats on him [Evil Beet]
- Britney Spears out with her man [Popsugar]
- Nina Dobrev works it [Popoholic]
- Cindy Crawford needs to lay off the 'tox [Celebslam]
- Who said it: Carrie Bradshaw or The Dalai Lama? [Buzzfeed]
16 Responses to "Octomom says that In Touch made up quotes: is she lying as usual?"