Kim Kardashian had a few round spots on her legs that her sister Khloe told her was ringworm. She went to the doctor, who diagnosed her with psoriasis. Kim of course got indignant and wondered how it would affect her illustrious career.
She's known for looking fabulous and flawless, whether she's on the red carpet or on a jog. But Kim Kardashian could only complain about her skin on Sunday night's Keeping Up with the Kardashians.

After her dermatologist revealed she has a psoriasis, a treatable skin condition that her mom also has – and a different diagnosis than Khloé's theory that she had ringworm – Kardashian was told to take it easy and lead a "slower-paced life."

Her response: "It's just not possible."

"My career is doing ad campaigns and swimsuit photo shoots," the reality star, 30, explained on the episode. "People don't understand the pressure on me to look perfect."

She added: "When I gain a pound, it's in the headlines. Imagine what the tabloids would do to me if they saw all these spots?"
[From People]
I have mild eczema that causes an itchy visible rash, mostly on my upper arms. It gets inflamed after I exercise. I also have a huge spot on my foot that people mistake as ringworm too. Eczema runs in my family. When it's healing it gets silvery-looking and scaly, and when it's the worst it's red and itchy. It's very mild compared to a lot of other cases, I only treat it with over the counter topical steroids occasionally and am lucky that they work. (Right now it's not bothering me at all, but you can see it.) Both eczema and psoriasis can be very disfiguring and embarrassing for people.
So I hope it doesn't sound too dismissive of me to say that my first response was to not have much sympathy in Kim's case. Yes she has to do photoshoots and she gets photographed out all the time, but she always gets Photoshopped. Recent paparazzi photos show her legs looking completely smooth with no bumps. This just seems like yet another chance for Kim to get publicity for something. If she helps bring awareness to psoriasis this will be a good thing though.
A while ago I heard a heartbreaking interview with psoriasis sufferers on NPR. One woman described how humiliated she was when she was just nine years old and at a waterpark. A mother saw the huge lesions on her and pulled her daughter away, telling her to stay away as if it were catching. So in that context, of a little girl getting embarrassed in public and not being able to go swimming, I would feel for Kim if I didn't know all I already do about her. This isn't something she can Botox away like a wrinkle and it's a lifelong condition that can be very serious and can lead to arthritis. At least she knows a bunch of dermatologists already who can help.
Here's Kim out on 7/22. I don't see any marks on her legs. That dress is ridiculous though. Credit: Fame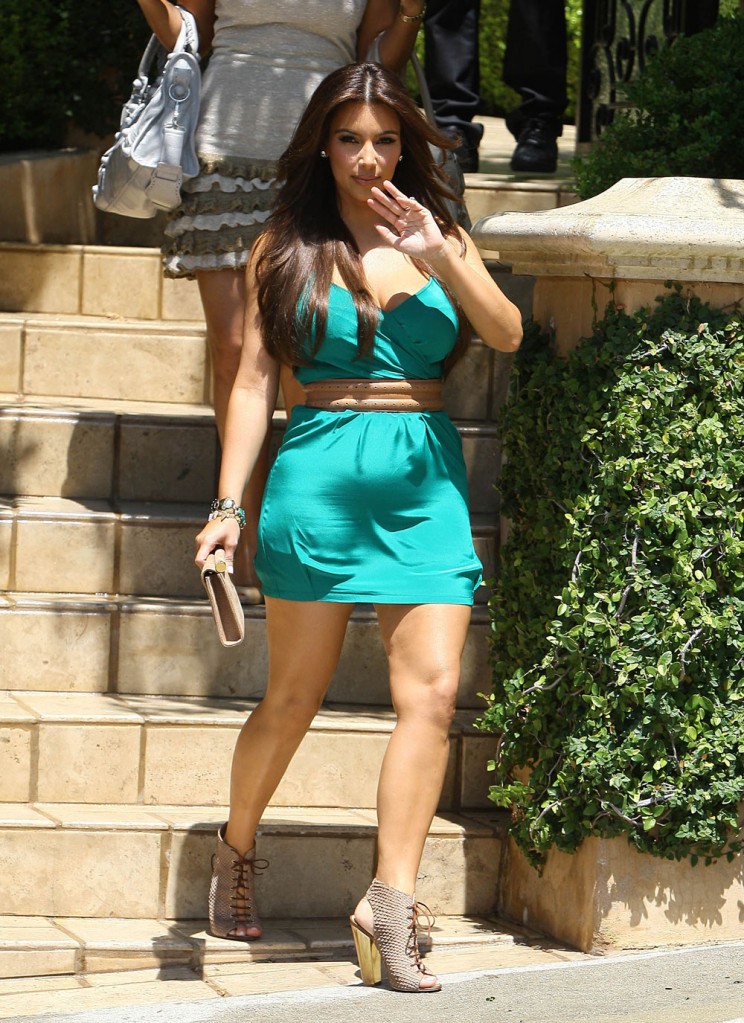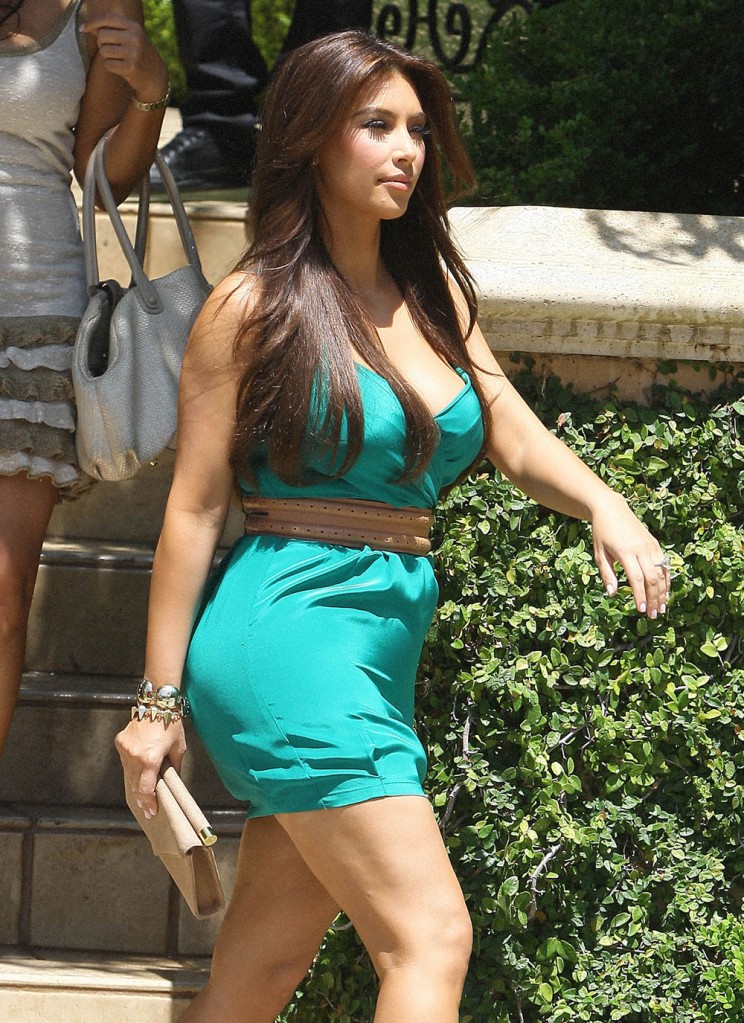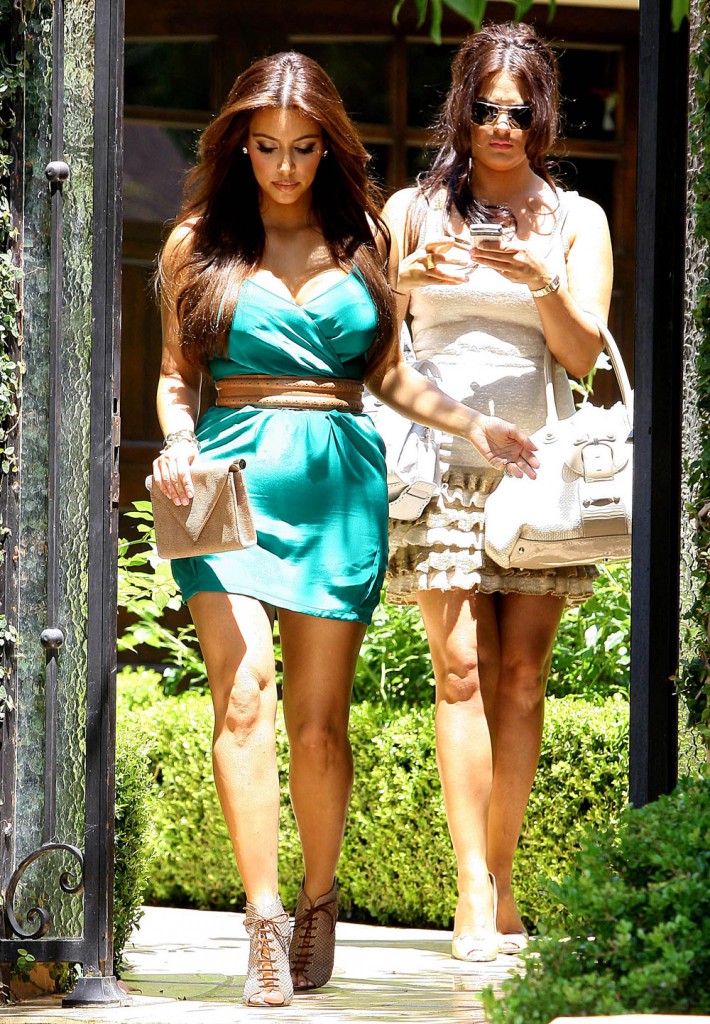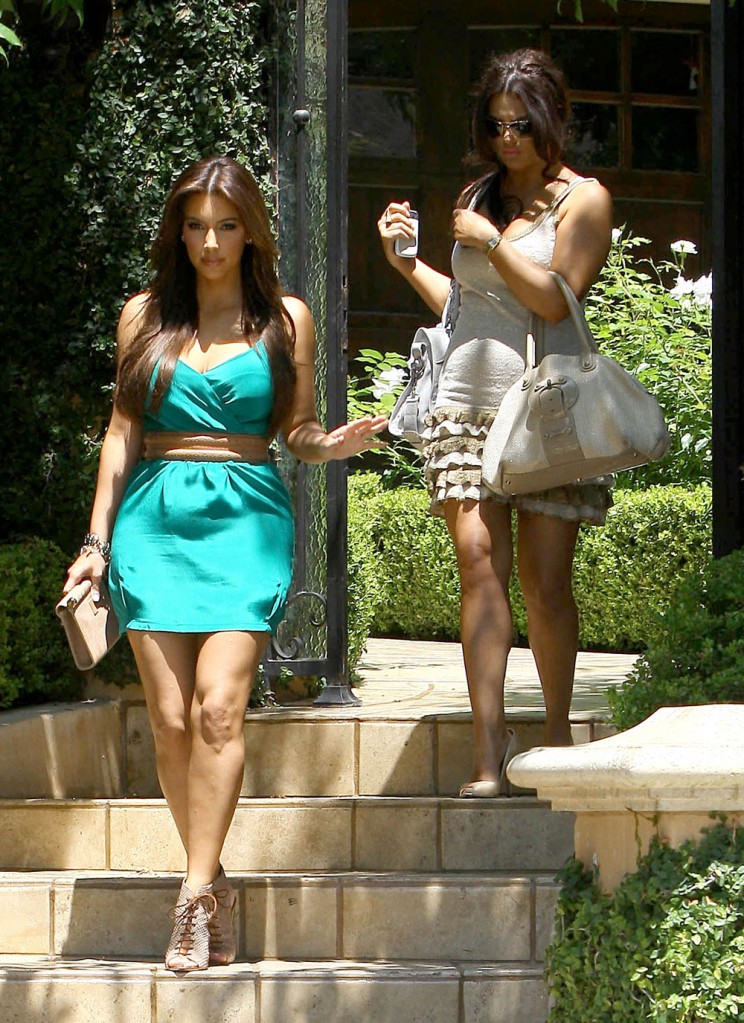 Here's a photo of her ridiculous engagement ring. (on 6/16/11)