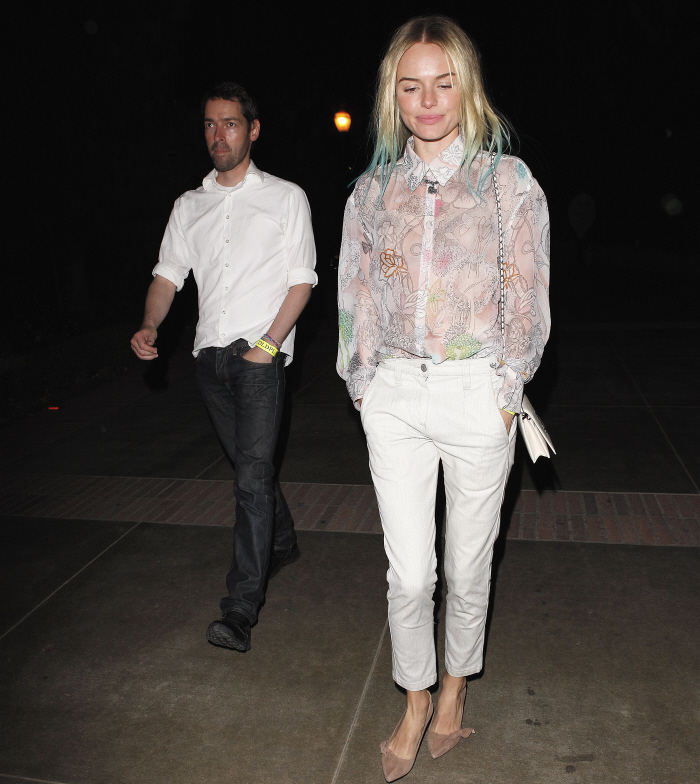 These are some new photos of Kate Bosworth leaving a Coldplay concert last night in LA. She's with a friend that, for my purposes, I'm assuming is gay. Because seriously, what straight guy is going to take Kate Bosworth to a Coldplay performance, right? Especially considering the history! What history? Ah, back in November 2009, Star Magazine had a surprisingly detailed and heavily sourced story about how Chris Martin, Coldplay's front man and husband of Gwyneth Paltrow, was having a public affair with Kate Bosworth. What's that? You want to read the original 2009 story? Of course! Here you go:
The witness says that since the backstage VIP section at the U2 concert on Oct. 23 was full of Secret Service agents keeping an eye on former President Clinton, perhaps Kate and Chris thought no one would notice them.

"They weren't even shy about it. There weren't too many regular people there, so maybe they thought no one would blab about them. But they looked really into each other – they held hands and kissed, and I saw Chris caress her cheek. It was pretty romantic."

Later, at an after party for Bono at The Palazzo's Carnevino restaurant, Chris and Kate kept carrying on, eyewitnesses report.

"Kate arrived around midnight with Chris and some other Coldplay members… they stayed until around 5 a.m. It was a wild party!"

When Kate and Chris first arrived, she went straight up to the hostess' stand and started rambling on about how she and Gwyneth were really good friends.

"Thinking about it now, it was like she was overcompensating," says an onlooker. "She said that whenever she's with Gwyneth in Los Angeles or New York, they always go to one of Mario Batali's restaurants. Carnevino is one of Mario's restaurants. It was so out of the blue that she was talking about her friendship with Gwyneth, like she was justifying why she was with Chris. And it's weird because Mario and Gwyneth are good friends too."

"Kate and Chris sat at a table towards the back of the room. They seemed pretty into each other," says an eyewitness. "They spent the entire time hanging out together, eating, drinking, laughing. Wherever Kate went, Chris would be right next to her. They sure looked like a couple to me."

Chris's hookup with Kate may not come as a shock to friends of the couple. Some say Gwyneth and Chris have been drifting apart for months. "It's like Chris suddenly realized he's a rock megastar and women throw themselves at him… he's become incredibly affected by female flattery. And Kate is just the kind of beauty who'll flatter him – bright, sexy and intelligent."

Whispers of trouble in Chris and Gwyneth's marriage have been around for a long time, but looked like they were making a go of it in August when they purchased a new house. But, "it didn't work. The marriage has major problems. They're at a crossroads and there's no knowing if the relationship can survive… they're leading separate lives. She finds him immature. He finds her pretentious."

Meanwhile, Kate Bosworth "has been chasing Chris for a long time," a source reveals. "All his friends think that there's something going on with them."

"Last summer, Gwyneth's ego was bruised when Chris told her that Kate was like a younger version of herself… he's had a crush on Kate since she starred in Blue Crush. Gwyneth knows that Chris flirts all the time on the road, but after that 'younger version of you' comment, Gwyneth is more sensitive and suspicious of Kate."
[From Star Magazine, print edition, November 16 2009]
So what does it mean that the newly single Kate Bosworth – fresh from being dumped by Alexander Skarsgard – is now fine with having her name mentioned in the same breath as "Coldplay". Is Kate trying to start up with Chris again? Is she trying to put Gwyneth on edge?
My opinion: Gwyneth is already on edge. After reading her Elle interview yesterday, Goop just makes me sad. I mean, of course, she's a terrible monster and I wouldn't mind slapping her, but also: she's just sad. Not that she would ever admit it, but her marriage is terrible and all of the Mrs. Elton humble-bragging is just to make herself feel better. When discussing her marriage, she said:
On the false rumors of a split: "Sometimes it's hard being with someone for a long time. We go through periods that aren't all rosy. I always say, life is long and you never know what's going to happen. If, God forbid, we were ever not to be together, I respect him so much as the father of my children. Like, I made such a good choice. He's such a good dad. You can never be relaxed or smug and think, 'I've got this thing.' That's also part of it: keeping yourself on your toes. I'm not going to take this for granted."

On keeping her marriage to Chris Martin out of the spotlight: "He makes music for his fans, and he doesn't want people to conjure a lame famous couple when they're getting into his music. I get it."
[From Elle, via previous Celebitchy story]
Can Gwyneth and Chris's marriage survive another Bosworth encounter? The last time, Chris's people made a big deal about it, denying it to whoever would listen and claiming that Chris was going to sue Star Magazine. He never did sue. Bosworth moved on to Alexander Skarsgard and it seemed like Gwyneth and Chris were damaged but they stuck it out. I wonder…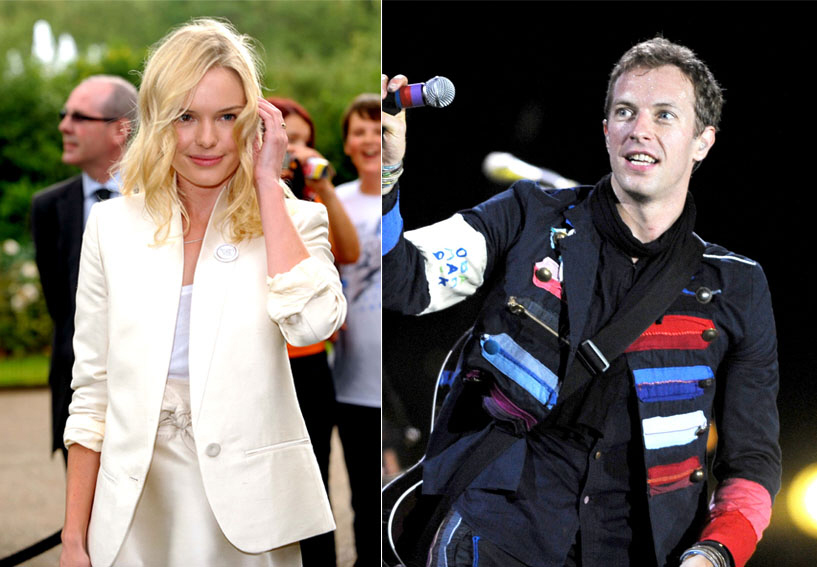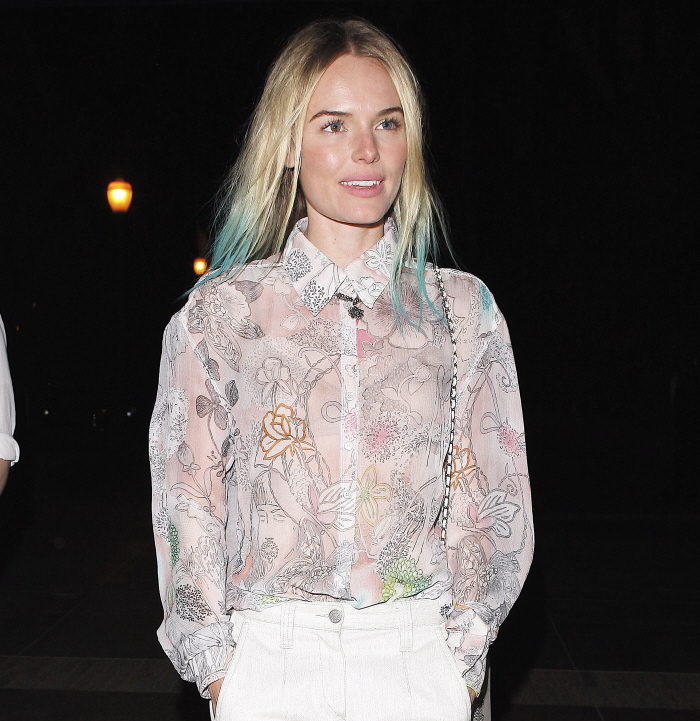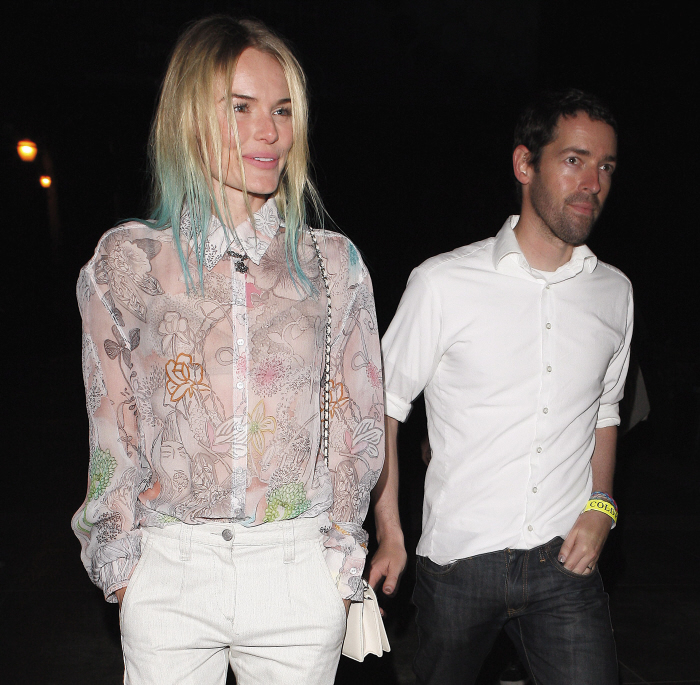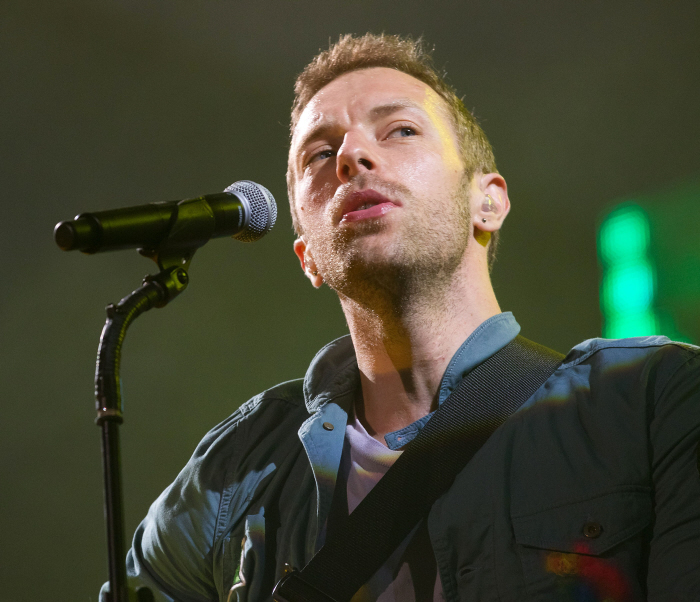 Photos courtesy of WENN.