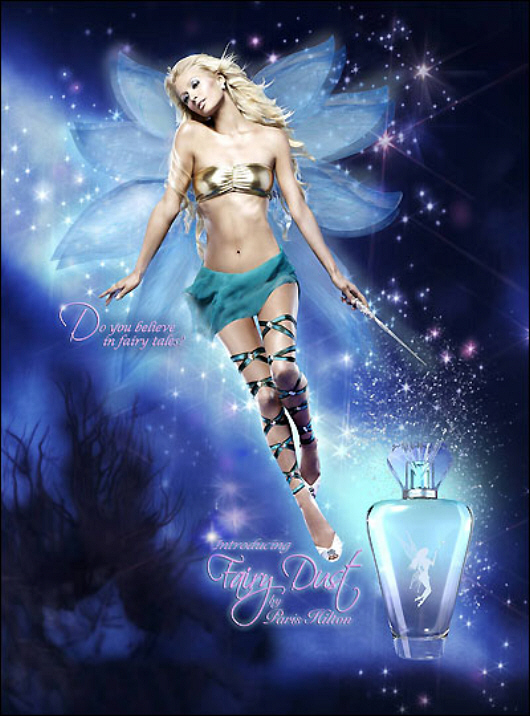 If you were to tell me that Paris Hilton ever worked, I'd tell you to quit lying and go to hell. But it turns out I'd be a major bitch for it, because once in a while Paris really does work. Though I'm sure she'd argue that just living her life is really hard work, Paris actually will put in some time, effort, and energy when required for a job. It's just that she'll only do it if it has to do with her vanity.
Watch out, Paris Hilton is getting all smelly on us again as she gets ready to debut another fragrance in her ever-expanding empire. The hotel heiress looks particularly thin in the upcoming campaign for "Fairy Dust" but we're told there was no airbrushing and that Hilton worked-out like crazy to don a barely-there bikini boob-tube and short skirt.

"Paris didn't want to be altered so as soon as she found out what she had to wear she went overboard with Pilates classes and exercise," said an inside source, with another pal confirming that the "My BFF" babe "went totally crazy toning up."

But the perennial party princess is no stranger to being ethereal and whimsical given her many appearances at Hugh Hefner's famed annual "Midsummer Night's Dream" soiree. At this year's party, Miss Hilton wore her wings with just a see-through nightie and thong, so perhaps she drew inspiration from the Playboy for the perfume.

After all, Hilton is reportedly more than just the face of the fragrance — she's also the brainchild behind the idea. She wanted to be able to wave a magic wand and bring some "fantasy" to her fans during these tough economic times. (Sweet, but isn't that name of the perfume her former best friend Britney Spears brought out over three years ago?)
[From Fox News' Pop Tarts]
Looking at the photo I guess I could possibly believe Paris wasn't airbrushed. I assume they mean in terms of her shape, because there's no way an ad agency would let anything out that hadn't been professionally retouched. No matter how good Paris looks, the perfume itself sounds horrendous, and no taut midsection can change that.
Paris Hilton will launch Fairy Dust, her latest fragrance for women, next month. The ad campaign will feature Hilton as a fairy, and will debut later in the year. Neil Katz of Parlux Fragrances (the company that holds the Paris Hilton fragrance license) noted that "Everybody hates Paris, but she is on the front page".

Fairy Dust is a floral fragrance developed by perfumer Cecile Krakower. The notes include "sparkling prosecco accord", pink peony, orange blossom, spring gardenia, water lily, peach nectar, sueded patchouli, cashmere musk and vanilla cream.
[From Now Smell This]
That's pretty similar to how I imagine Paris actually smells. Too many odors going on, yet remarkably uncomplicated and empty. Ironically I'm guessing the bottles of her perfume will remain mostly full. But at least we know Paris works for her money. Once in a while.
Here's Paris leaving Mr Chows in London after having dinner on Monday. Images thanks to WENN.