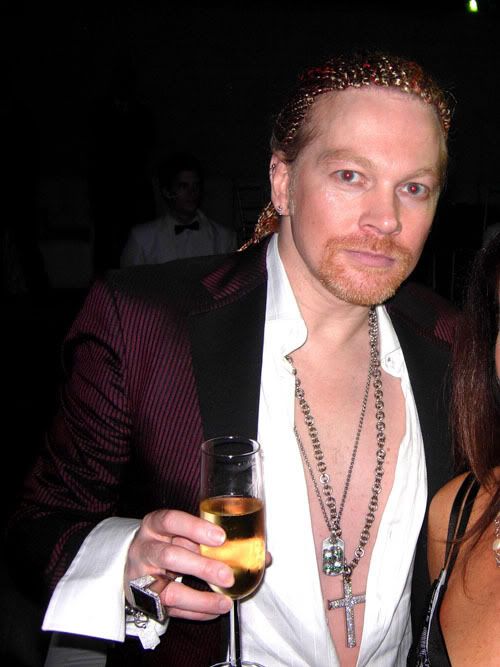 It turns out that since beginning the recording process in 1994, Axl Rose was actually working on his Chinese Democracy album, to be released under the Guns N Roses name. The album has a release date of November 23rd, which is nothing to get excited about until we see actual copies of the album available for purchase (pre-orders are available, if you like to gamble), but a single has been released, and played, on radio. Who thought this day would ever come? Do we still actually care?
According to The Times, the single is as produced and self indulgent and as 90s hair band sounding as you would have expected after 15 years of work.
Clearly, Axl is not a man in a hurry. There's 45 seconds of people talking while an orchestra tunes up before the snare drums crashes down and an understated guitar arpeggio joins the warm up. The actual power chord riff that signals that the band is ready to rock doesn't kick in till the minute mark, and Axl doesn't let out his trademark scream till 1 minute thirty seconds.

The opening line is "It doesn't really matter," which you might think was a bit defeatist after all that preamble, but the song itself is surprisingly lean, mean and to the point, verging on old school power pop with extra twiddling (it sounds like they might have spent most of the last two decades mixing guitars).

Linking onanism and politics, Axl rhymes 'masturbation' with 'rule the nation', but I couldn't actually work out what the connection was, or what the song is supposed to be about, but that's par for the course in the genre. There's a lead solo at 3.15, the purpose of which seems to be to set the record for the number of notes that can be played per bar. It's sparky but not particularly memorable. Slash is unlikely to lose sleep.

The song climaxes at 4.20 but then there's another 25 seconds of fading rumble, presumably while the band catch their breath. The whole thing lasts nearly five minutes, but I only make that about three minutes of actual song, the rest is just a kind of elaborate set of bookends, lending the whole experience an air of self importance. Still, after all that time, you can forgive them for making a meal of their comeback.
I'm guessing that talking about masturbation and politics together isn't going to catch on leading up to the election…
Dr Pepper will now have to pony up with their offer of a free can for every American if the album came out this year, and surprisingly enough they have. Of course, when they made the offer the economy was still good.
On the release date you can go to www.drpepper.com and for 24 hours register your details to get sent your coupon, which is valid for a free can until February. Former band members Slash and Buckethead are excluded from the offer.
The New York Times archives has a great article on the convoluted recording process of Chinese Democracy.
Here's the single:

Axl Rose is shown out at a Versace party on 9/2/07. Credit: Fame