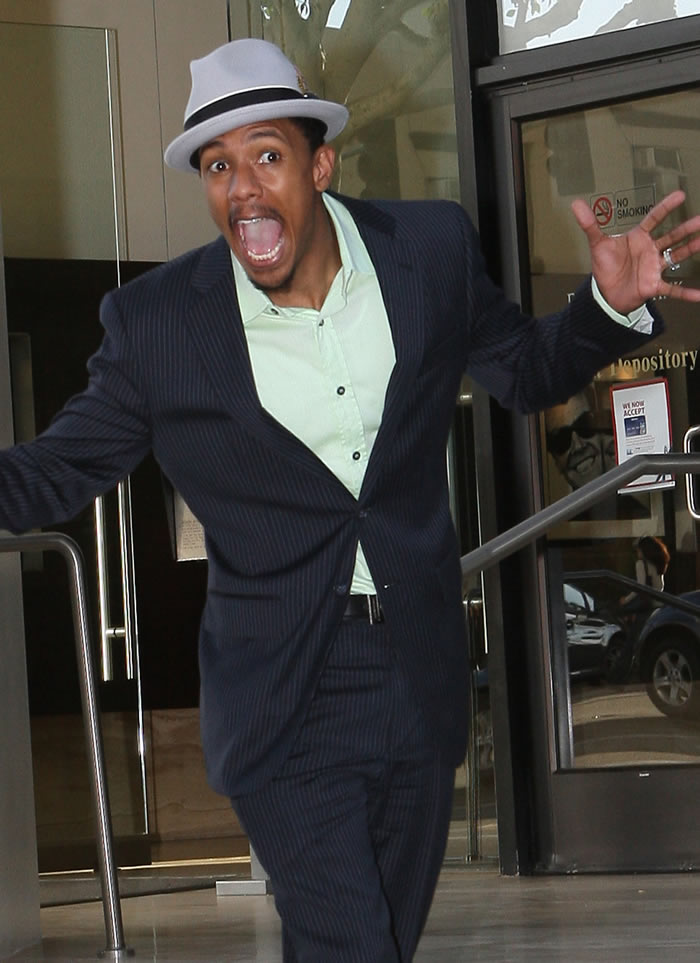 Mariah Carey seems really out of sorts since the birth of her twins, Monroe and Moroccan, with husband Nick Cannon. One only need to witness a few minutes of her recent HSN appearance to see the evidence of said loopiness. It's not entirely Mariah's fault, of course. As we recently from Tilda Swinton, the reality of becoming a mother is such a huge adjustment, and Mariah (being Mariah) probably romanticized the experience so much in her head that she thought babies arrived with translucent butterfly wings and pooped an endless stream of glitter. If you factor in post-pregnancy hormones and all of the associated "feeling fat" aspects of new motherhood, it's enough to drive a girl more than a little bit batty. And, if this story from The Enquirer is to be believed, Mariah might also be feeling quite paranoid about her husband Nick Cannon's marital loyalty:
A devastating cheating secret is threating to destroy the marriage of new parents Mariah Carey and Nick Cannon, say insiders.

Insiders say the 42-year-old diva fears that Nick — who earned a reputation as a womanizer before marrying Mariah — might be secretly angling to hook up with beautiful 27-year-old "America's Got Talent" competitor Lys Agnes.

Mariah and Nick, the 30-year-old host of the popular NBC talent show, ahve been plagued by reports of disagreements have have rocked their three-year marriage.

What's more, pals say the singer is "still feeling insecure about her excess baby weight" after giving birth to the couple's twins on April 30, and she is "almost beside herself with worry that Nick could stray," revealed an insider.

"I think she fears Nick's wandering eye — once a cheater, always a cheater — and she zeroes in on his infatuation with gorgeous Lys.

"Nick Raves about her constantly and talks about the fact that Lys' voice is nearly as beautiful as hers. He makes comments about how Lys reminds him of a young Mariah. Meanwhile, Mariah's struggling to shed her baby weight. She feels unattractive and needs more TLC from Nick. But it's as if he's too caught up in Lys and his show to even notice!"

Lys, who currently works in retail, quit singing for two years after her fiance was tragically killed in a car accident. But now she's become an "America's Got Talent" favorite, performing soaring versions of opera classics.

Nick seems to be the Denver-based beauty's biggest fan.

"I think Mariah has always been uncomfortable with his Lothario reputation and worries more than ever that he might be tempted into the arms of another woman."

Mariah's fear over Nick's attraction to Lys comes at a terrible time — when pressures on the married couple's relationship are mounting, say insiders.

"Mariah and Nick seem to be struggling under a mountain of problems," said the close source.

"They're both adjusting to the demands of new parenthood – and Nick's escape from all the stress is his work. Meanwhile, I think Mariah is feeling old and overweight, and she's almost consumed with fears that Nick isn't as interested in her as he once was. Their once-fairytale romance is in danger of unraveling because of Mariah's fears and insecurities."
[From Enquirer, print edition, August 22, 2010]
A lot of this story sounds like made-up garbage, for only a true schmuck would tell his wife about the so-called "younger version of herself" (like, say, Chris Martin). Although Nick does indeed have a past reputation of being a ladies man, I have a hunch that he's quite infatuated with his new role as father and husband. Furthermore, he really seems to worship the notoriously carpeted ground that Mariah walks upon and would probably swim through shark-infested waters just to bring her a bottle of Pellegrino.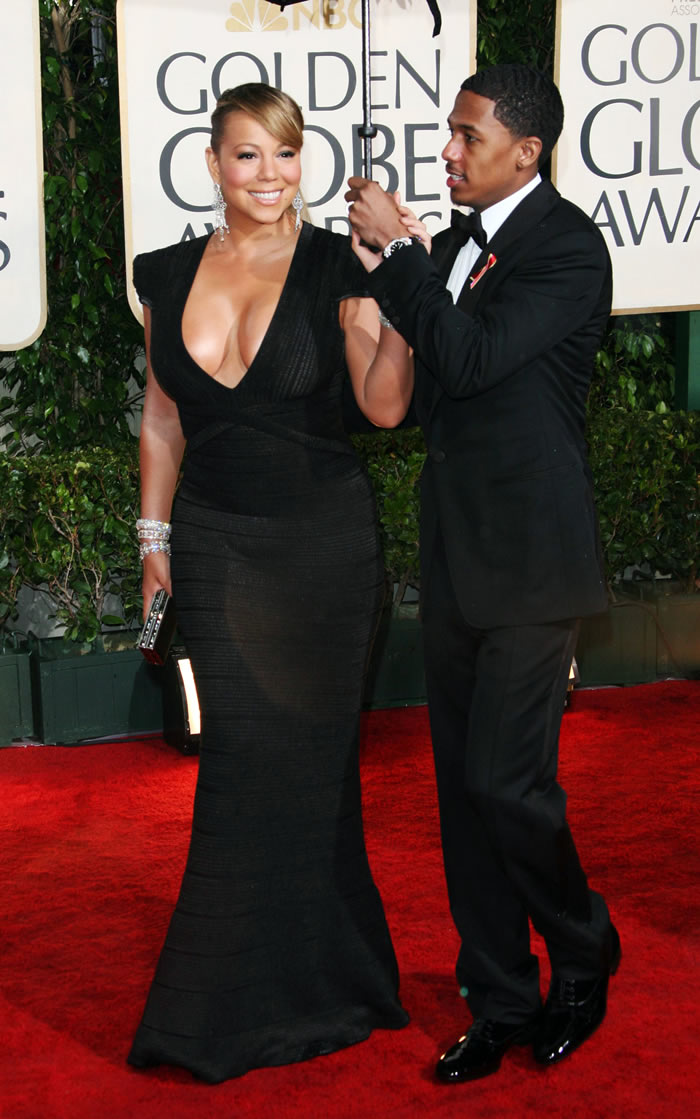 After all, for the past three years, Nick has acted as if he hit the jackpot when he found Mariah, and I'm not even intentionally referring to her bank account, but there's also that unavoidable consideration as well. Does anyone really think he'd give all of that up (and probably his twins too) just for a go at this? I don't think so.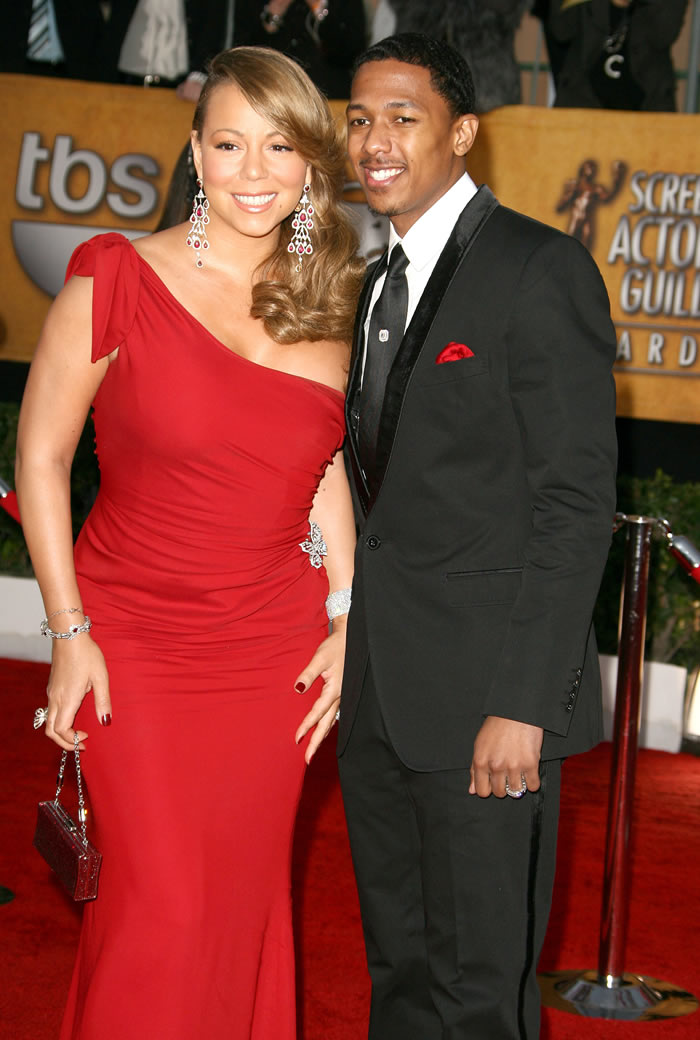 Photos courtesy of Fame