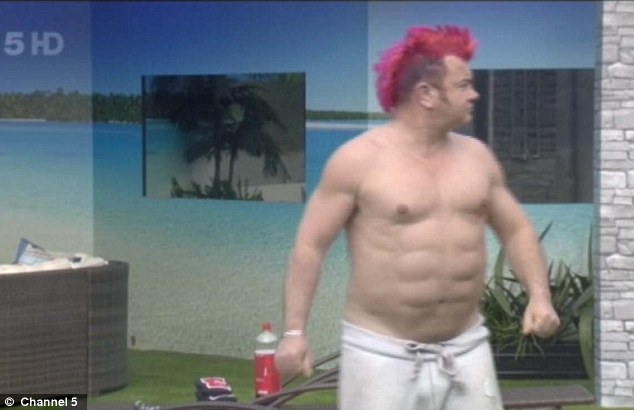 Holy crap. I saw this photo yesterday and just assumed this dude was just wearing one of those superhero-style muscle shirts that give average-to-plump people the illusion of defined abs. That's not the case though and this Celebrity Brother Contestant had those fake six pack muscles surgically implanted under his skin. I'm not kidding and my mouth is hanging open as I type this. The guy is a 46 year-old Australian paparazzo and he's chub with "six pack abs" thanks to a process known as "contouring." I would assume his arm muscles are enhanced as well. I guess it's better than a beer gut, but it still looks like one with some balloons under the skin. Here's more on this story, from The Daily Mail.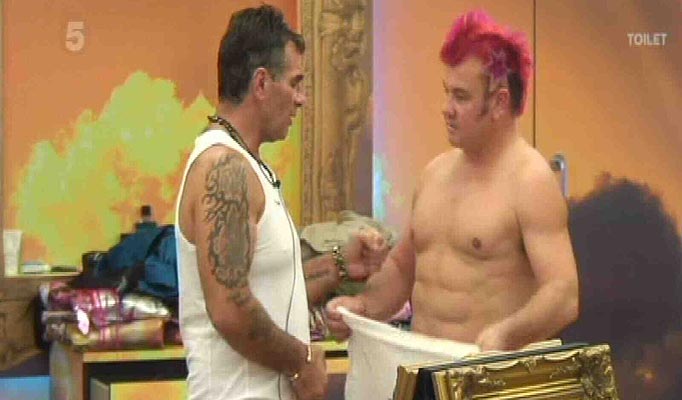 It seems Amy Childs and Tara Reid aren't the only surgically-enhanced celebrities in the CBB house.

Australian paparazzo Darryn Lyons has revealed that he had an appointment with a surgeon to create a set of abs.

Instead of sweating it out at the gym, the 46-year-old underwent the surgical procedure known as 'contouring', which gives the illusion of a washboard stomach.

The pink-haired housemate confided in co-star Paddy Doherty, 52, and bared his torso in the bedroom to reveal the transformation.

Talking about the procedure, Lyons said: 'I had contouring done to my body.

'I had to get really fit and lose a fair bit of weight. It takes away all the fat around it and actually lets your natural abs be there.

'Basically it's the male version of a boob job.'

An impressed Paddy called Lyons' new look 'the bees knees', as photographer Lyons added: 'I'm over the moon with it.'
Lyons' torso has something of the superhero look about it and is quite obviously superficial. Indeed, he could almost be wearing padding.
[From The Daily Mail]
The Mail has more on the procedure, which involves liposuction to the stomach along with those implants. The Sun quotes a cosmetic surgeon who estimates that it cost around £6,000 or around $9,900 USD.
Overall the effect is totally ridiculous, but it probably fits this guy's personality well. He says he loves it, after all.