Dita Von Teese in a casual, flowery dress: beautiful or too "garden party"?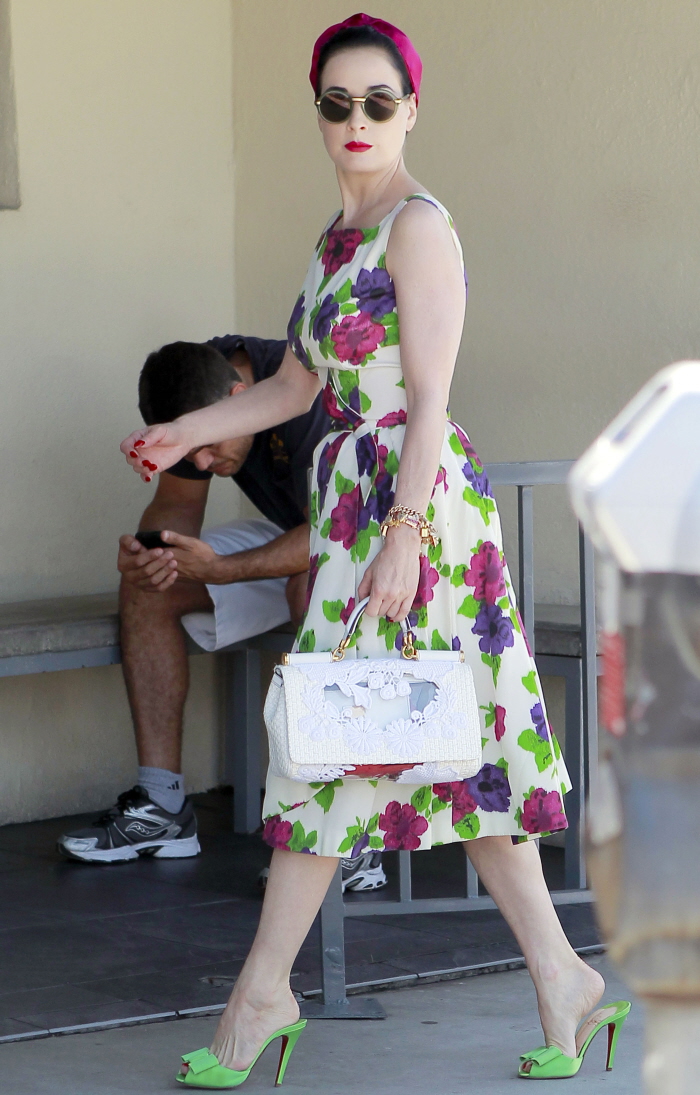 And now for my continuing devotion to how Dita Von Teese dresses for casual, non-red-carpet outings. I think I like her so-called "casual-wear" more than her formal-wear. This is honestly how Dita dresses when she's out, running errands or going to lunch. I would probably hate this whole look on anyone else – but much like Cate Blanchett, who brings an elegance to even a humble hoodie, Dita's natural glamour (with a dash of kitsch) gives even "garden party" ensembles a little something extra.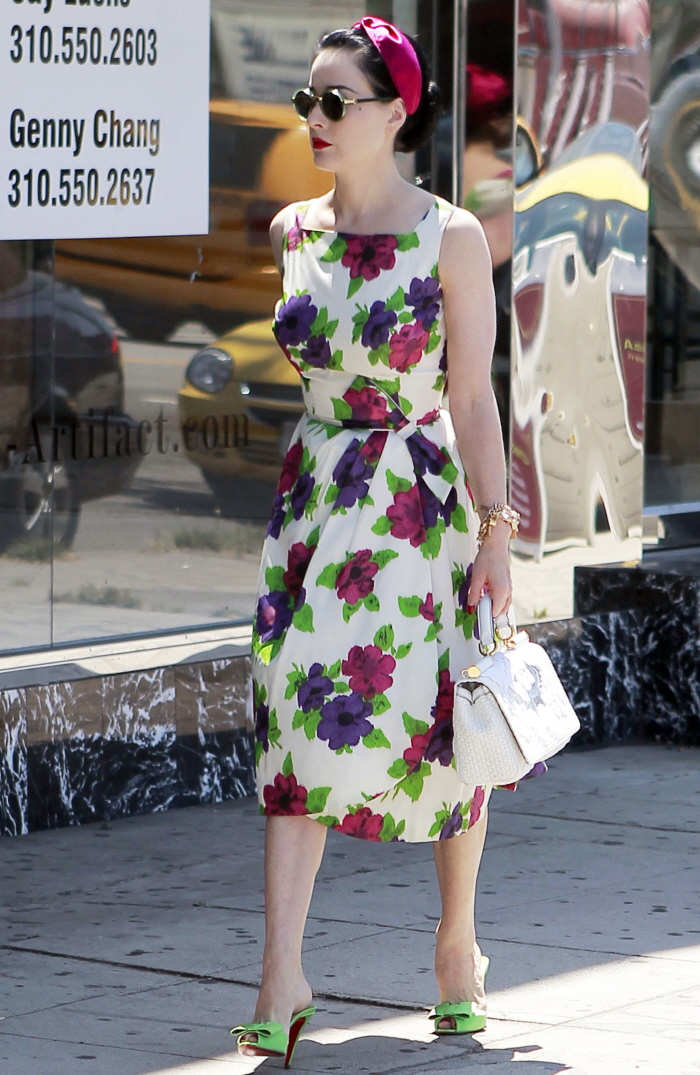 You know what I appreciate? Dita does matchy-matchy very well. Dita's style rule seems to be: Don't match every single item to each other – you wear a beautiful print, and you pull different colors out of the print in your accessories, and it looks fabulous and pulled together. The green shoes, the purple-fuchsia headscarf, both mimicking the color palette of the dress without being overkill. And red lips, always and forever. Thankfully, Dita knows how to work a red lip like few others.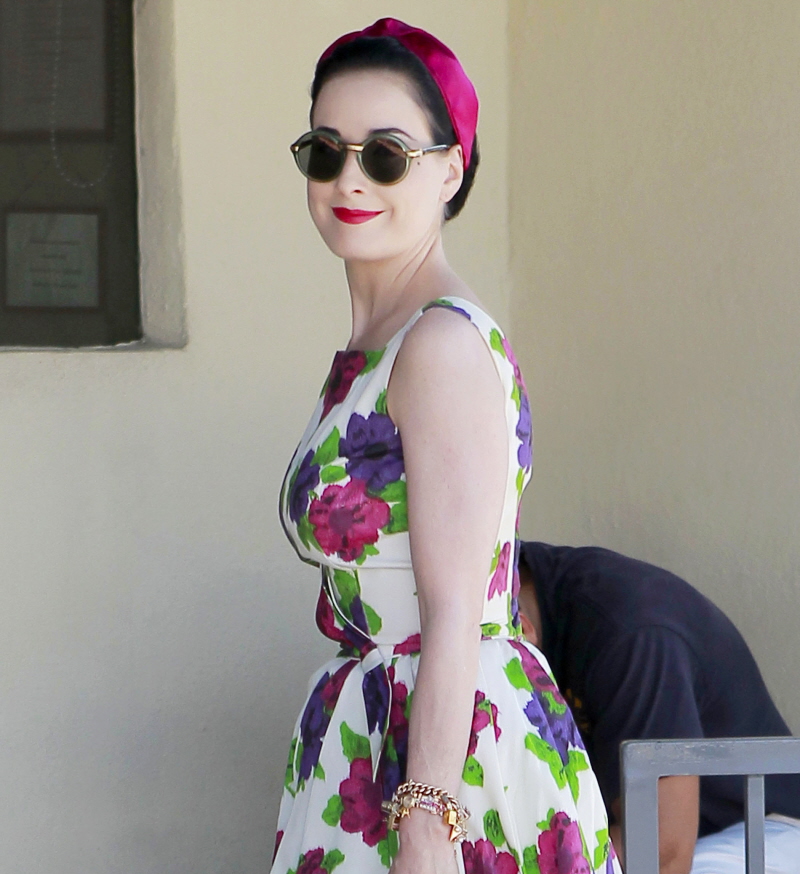 By the way, Dita is launching her first fragrance. She's not going to put her name to just anything, though. She's been working with Luxesse for months to launch a perfume and a lingerie collection simultaneously, and Dita says the scent includes, "Bulgarian rose, tiare, peony — and there's a sexy wood." What isn't in the perfume? "There's no fruity vanilla bull—t. I'm sorry, but you know what I mean? A lot of celebrity fragrances are fruit, vanilla, and I wanted something for grown-up girls." Haha "vanilla bulls–t." Classic.
Unfortunately, Dita had to stop wearing her previous signature scent because her hot boyfriend's mother wore the same perfume: "My signature fragrance that I've been wearing since I was 14 is Quelques Fleurs, and I had to stop wearing it because my boyfriend's mother wore it. So that was a perfect time to develop my own fragrance." Her boyfriend? Count Louis-Marie de Castelbajac. His mom? The Marquise Catherine. Can you imagine wearing the same perfume as your dude's mom? That's totally wrong, right? Gross.
Oh, would you like to see Dita's hot-ass boyfriend again? Sure! WHY NOT?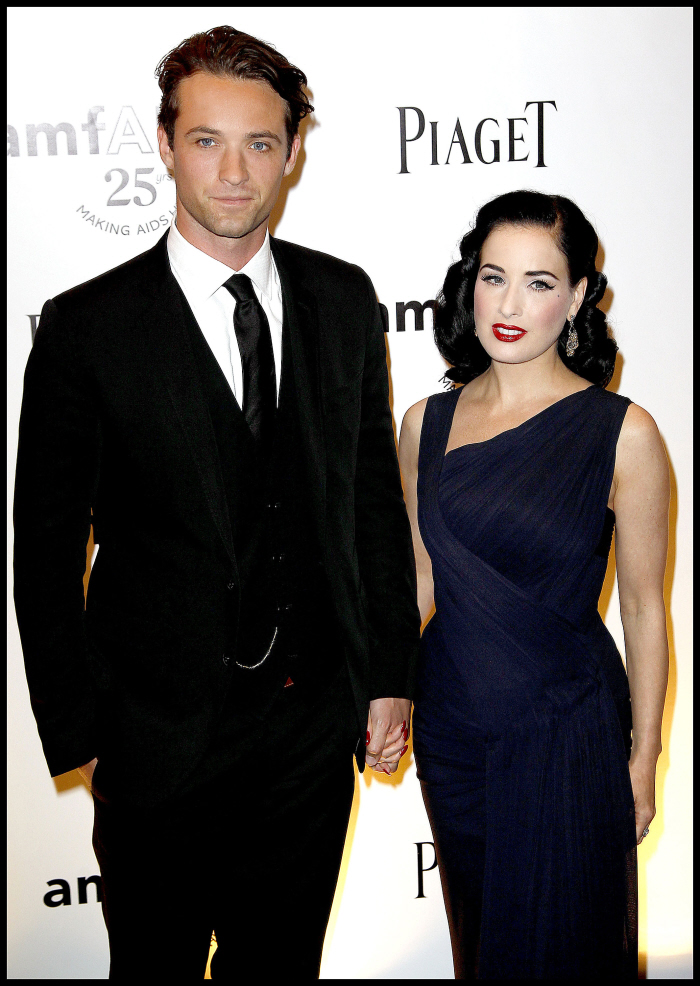 Photos courtesy of Fame & WENN.

Written by Kaiser

Posted in Dita Von Teese, Fashion

- Harry Styles & Kimberly Stewart going strong [Lainey]
- Demi Moore's new man is gross [D-Listed]
- Fug or fab: Emma Stone [Go Fug Yourself]
- Arrest warrant issued for Jenelle Evans [Reality Tea]
- Only God Forgives review [Pajiba]
- Hugh Jackman, scooter master [Buzzfeed]
- Who does Drew Barrymore call her sister? [Evil Beet]
- Cannes couples past and present [Popsugar]
- Arrested Development supercut [CDAN]
- Lea Michele's see through skirt [Celebslam]
- Cheating wife's lover escapes out of window [Movin925]
- Joe Francis is crazy [Starcasm]
70 Responses to "Dita Von Teese in a casual, flowery dress: beautiful or too "garden party"?"