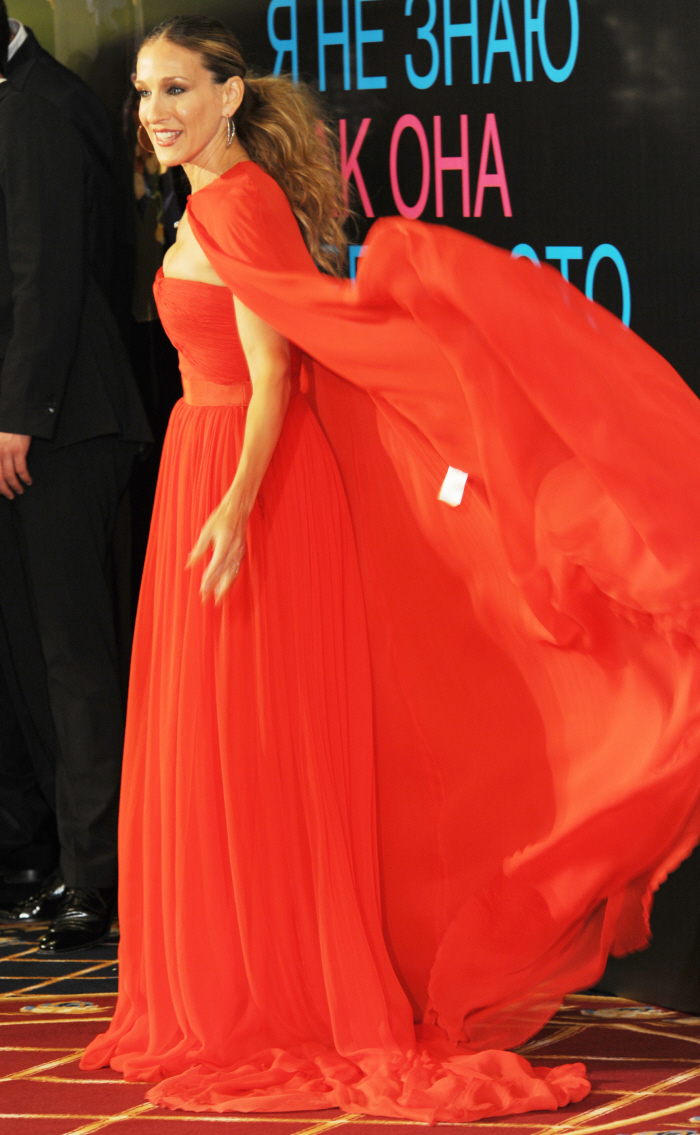 These are new photos of Sarah Jessica Parker at the Moscow premiere of I Don't Know How She Does It. SJP is wearing Giambattista Valli – which is okay. I don't really think it's her color, but I like the dress a lot. It would have looked great on SJP in a blue or purple, not this orange-red. Also: I dislike her hair here – she looks so much better with soft hair, and I have no idea why she scrapes everything back like this. And the cape is a bit much, but I think I know the reason for it, which I will get to in a moment. First, SJP wants us to know that all of those rumors about a third Sex and the City film are just that – rumors. Nothing more:
Sarah Jessica Parker may have recently said there's more of the story to tell for "Sex and The City," but as of right now, there are no plans to share that vision wide with a third big screen installment.

"I don't know of a movie in the imminent, or near, or even distant future," Sarah Jessica Parker told Access Hollywood on Thursday in New York City as she promoted her upcoming box office feature, "I Don't Know How She Does It."

Sarah Jessica said she and the "SATC" team would know when the time is right.

"I've always trusted that we've had a sense of when that timing, what is the right timing for a movie," she said.

"Honestly, I'm not being cagey," she continued. "There is no discussion currently of a 'Sex and The City 3. Do I hold it out in my future in some way as a possibility? Of course."

As for when it might take shape, Sarah Jessica had no answers, but she does know when it won't happen.

"I don't see it within the next year or so," she said.
[From Access Hollywood]
So, we can all breathe a sigh of relief on that one. Hopefully, nothing will happen and we'll be spared another cat-faced monstrosity masquerading as feminism.
Which brings me back to SJP and why she's wearing a cape. A few days ago, paparazzi got shots of SJP in a sleeveless top, and HER ARMS. The photos are below, but just beware: you cannot un-see this. Whatever is happening with her arms is much, much worse than Madonna. And Angelina. And whoever else you're thinking of. Now, I'm not saying every woman over a certain age should cover her arms – I'm seriously NOT saying that. I'm just saying that for SJP, she might think about wearing sleeves more consistently. And putting on a little weight too.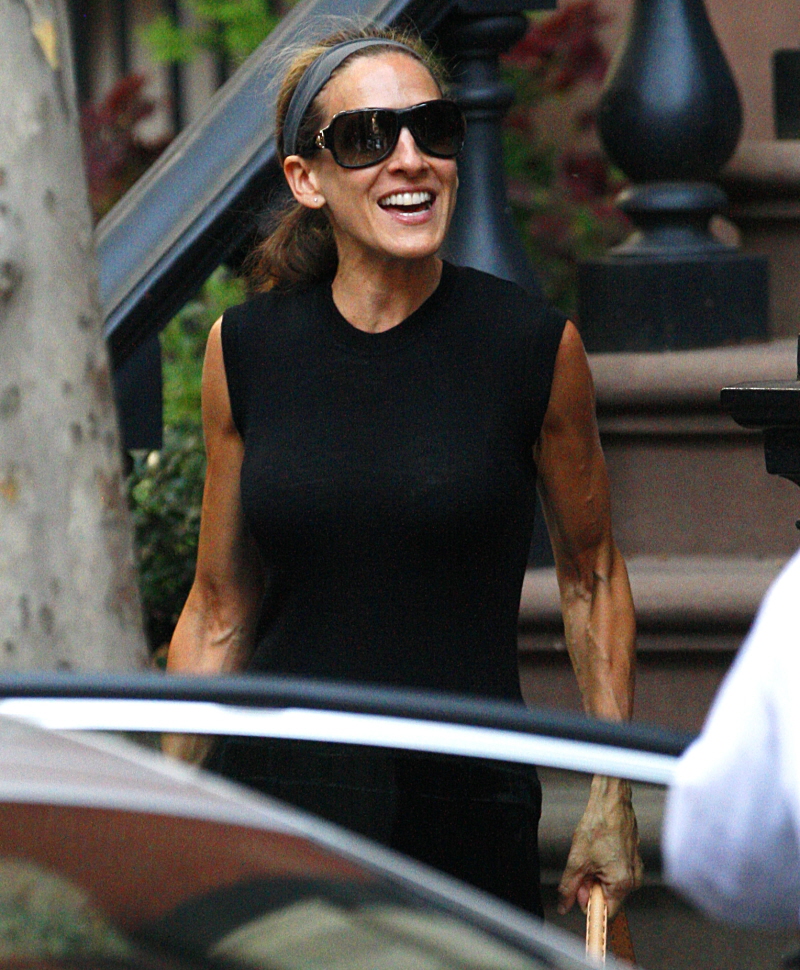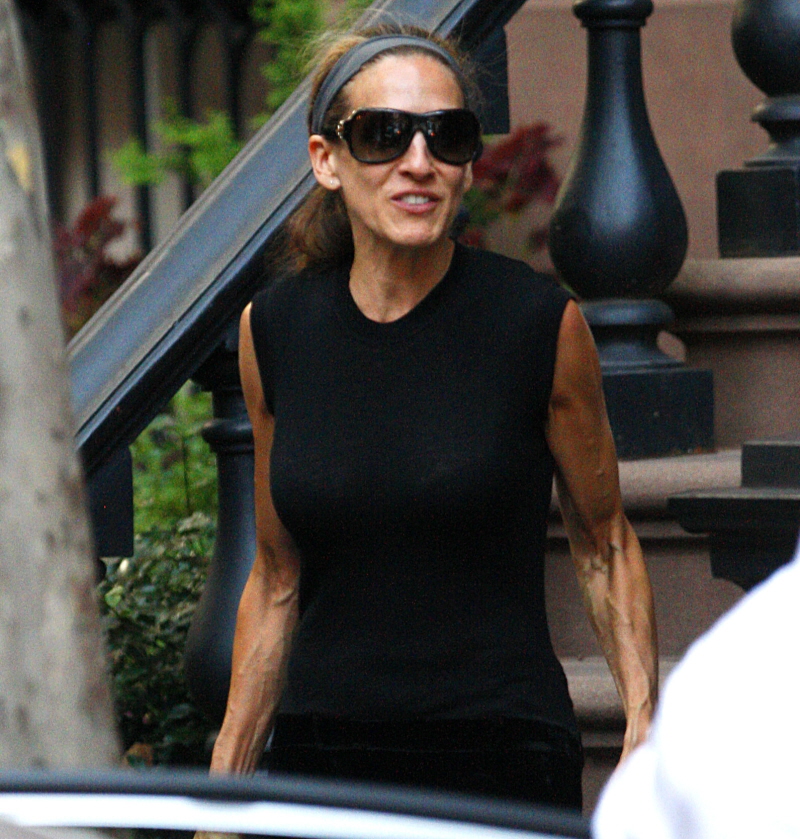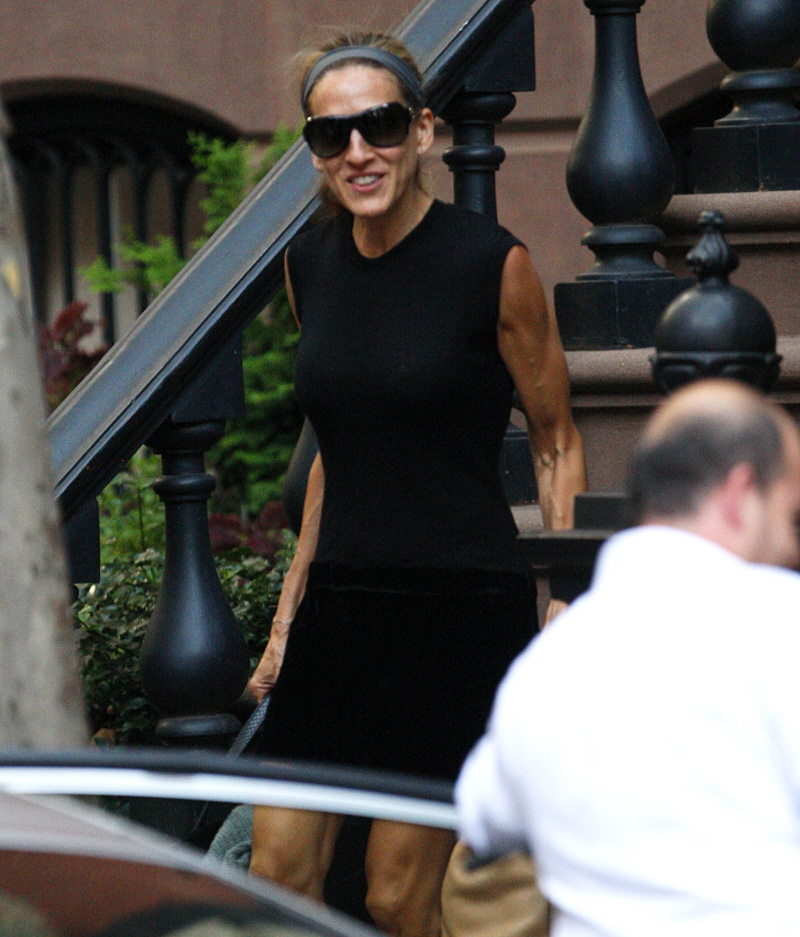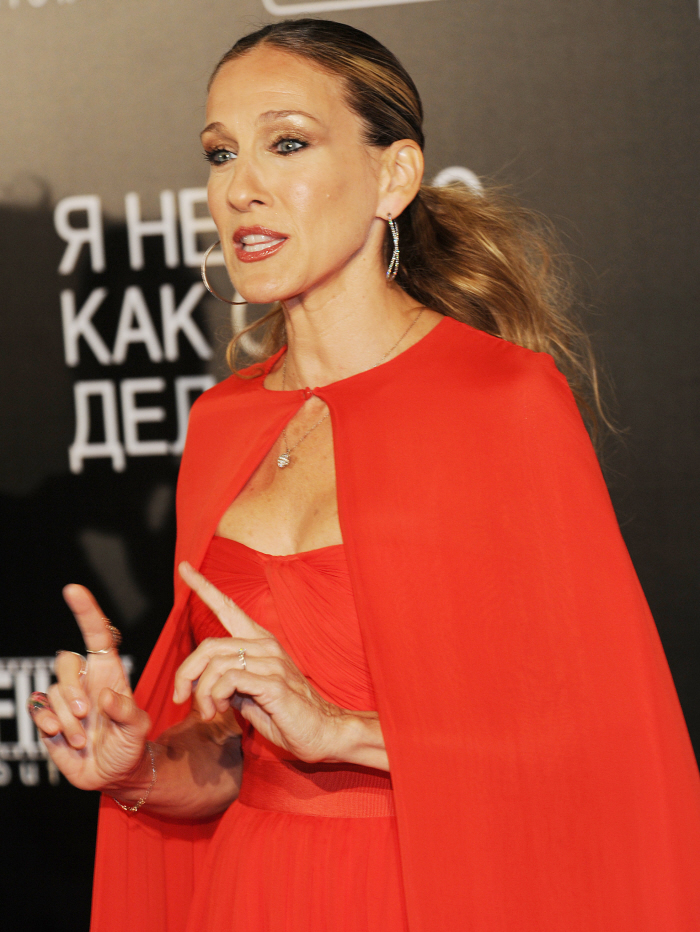 Photos courtesy of Fame & WENN.