True Blood finale: has it jumped the shark or left you anxious for more?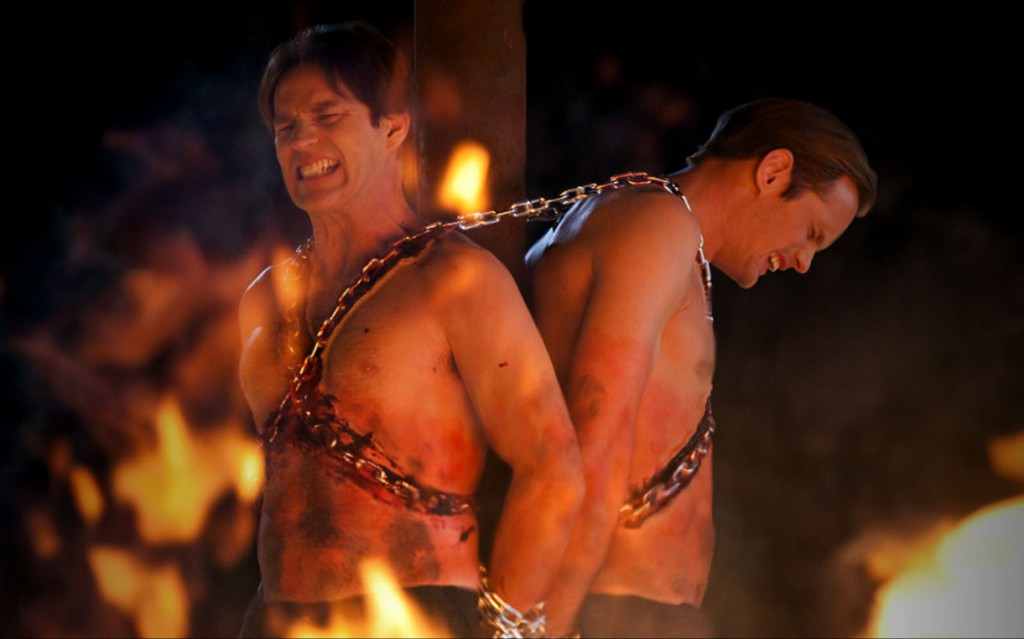 This week's True Blood, the season four finale, was chock full of plot. More than that it had plenty of clever one liners that provided some excellent comic relief for the more serious moments. I kind of felt like most of the plot was rehashed from past seasons, and that the Marnie witch character was too similar to the Maenid nonsense we saw in season two. It was basically a "when will this bitch die?" plotline, with Marnie's ghost hanging on way too long to wreak havoc. I'm going to do a half-assed recap here. Instead of going over every detail, I'll just focus on the awesome lines that cracked me up and added the campiness of this show. I love it, basically, but I see it for what it is, and I feel like producers are letting us know that's ok, and that they'll continue to deliver it for us. They did that with some of the best lines this season. Here are some of my favorites from the finale: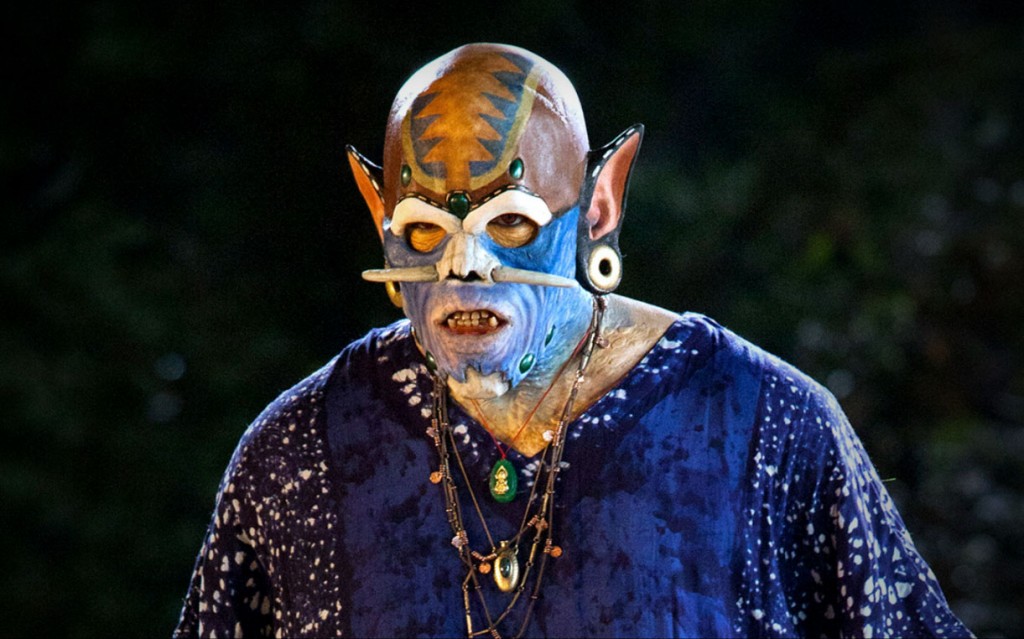 The best lines from the True Blood finale (SPOILERS)
Hoyt to Jason on his admission that he slept with Jessica, "How?"
Jason to Hoyt "If you really want to know, missionary then doggy then her on top. It was nothing too kinky."

Arlene to Sookie on her Halloween costume: "Zombies are the new vampires."

Jesus to Lafayette possessed with Marnie's ghost. "I agree with you. Vampires suck!… You can't trade magic like f*ckin Pokemon cards!" He then proceeds to do just that, and give up his evil demon self to the Marnie ghost, dying in the process.

Arlene to her kids on Halloween. "You better start behaving yourselves right now or you're going to be Trick or Treating down at the trailer park again. Now do you want a bag of empty coors cans and food stamps or do you want candy?"

Scott Foley is introduced as a new character, an old war buddy of Terry's. Terry says to him "I heard you were dead." He answers, "I heard you were crazy."

"Well yeah that's still true."

Sookie asks Holly if she's ever cast a serious spell like the one she's going to attempt to save the vampires from Marnie's ghost. "Goddess no, usually I just light a candle and ask the spirits to make sure my boys don't end up in jail or knock somebody up, but so far that's worked out ok."

Bill to Eric when they're strung up silvered on the stake by Marnie. "I liked you better when you were brain damaged."

Lafayette as Marnie in a muumuu, "What goes around comes around, bitches."

Eric to the group after Marnie is sent to the spirit world and Tara is tending to Lafayette. "Excuse me, we're feeling a little crispy up here."

Jessica to Jason. "I don't want to be your girlfriend… I just got out of a serious relationship… I'm not ready to commit to you."

"I kind of wish you would have told me that, before I took an ass kicking."

Pam on losing Eric to Sookie: "I'm so over Sookie and her precious fairy vagina and her unbelievably stupid name. F*ck Sookie."

"I've been with Eric for over 100 years. I've watched him seduce supermodels and princesses and spit on their bones when he's finished. How can someone named Sookie take him away from me?"

Sookie breaks up with Eric and Bill: "There's only one way I see this ending, and it's me walking away with neither of you."

Jesus' ghost to Lafayette: "Dude I'm dead, you're a medium. I'll always be with you."

Jessica to Jason on the sex they just had. "I liked it, I liked it a lot. Maybe next time we could try oral? Hoyt was kind of shy about that, because of my fangs."

Jason understands why Jessica is reluctant to drink his blood. "You know, it's kind of like a hooker with kissing…

"You're like no other woman I've been with, and I've been with a lot of women. "

Eric to Nan Flanagan and her posse "Hi Nan, and gay stormtroopers."

Nan Flanagan on being fired from the American Vampire League. "I've been alive for 816 years. I refuse to be retired like a fat first wife."

Eric, after he and Bill kill Nan. "What a bitch."
The stuff where Eric and Bill offed Nan reminded me of when Bill killed the Vampire Queen of Louisiana, Sophie-Anne. Also, there weren't any quotable lines at the end when Sookie accidentally killed what's-her-face, Debbie, and that's probably for the best. The episode ended with Sookie holding a gravely injured Tara and screaming out. "somebody please help us, somebody!" In the parallel scene in the books, it's just Sookie and Debbie, with Tara having nothing to do with it and Sookie cleaning up the evidence and secretly burying Debbie. (With Eric's help, if I remember right.) It makes you wonder if they're going to kill off Tara's character, which I wouldn't mind, honestly, or if one of the vamps is going to whisk in and save Tara. I think Eric gave Tara his blood in the books in some other incident, but I don't remember it too clearly. I'm pretty sure she's still alive in the last book.
Also, there were some nice scenes and lines in this episode about trusting your heart. Alcide made a really lame plea for Sookie's love by saying he wanted to go with his head instead of his heart. He said "People always say follow your heart… What if our hearts can't be trusted? What if it's our brains we should be listening to?" Then when all the spirits in the cemetery got resurrected by Holly's spell, Sookie's grandmother came back temporarily from the other world and told her that "[The] answers where it always is, your heart. Being alone ain't nothing to be afraid of, my Sookie. We're all alone at the end." Maybe that's why they're killing off her best friend, so we can see Sookie truly alone for once, but we'll have to wait for next season to see. True Blood has been renewed for a fifth season, so there's sure to be more obnoxious one-liners and campy plots for us to enjoy.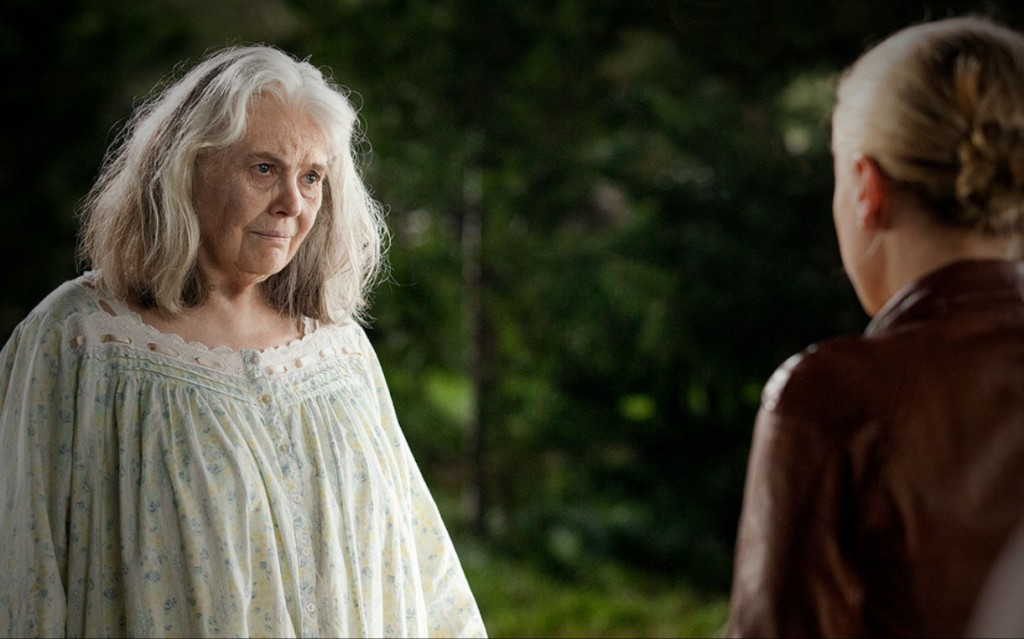 Written by Celebitchy

Posted in Photos, Television, True Blood

- Mariah Carey lip synced on American Idol [CDAN]
- Colin Firth is looking good [Lainey Gossip]
- Internet celebrity charged with murder! [D-Listed]
- What is Paz Vega wearing? [Go Fug Yourself]
- New bachelors on The Bachelorette [Reality Tea]
- Goodbye to The Office [Pajiba]
- Bachelor Sean's fiance cheats on him [Evil Beet]
- Britney Spears out with her man [Popsugar]
- Nina Dobrev works it [Popoholic]
- Cindy Crawford needs to lay off the 'tox [Celebslam]
- Who said it: Carrie Bradshaw or The Dalai Lama? [Buzzfeed]
70 Responses to "True Blood finale: has it jumped the shark or left you anxious for more?"