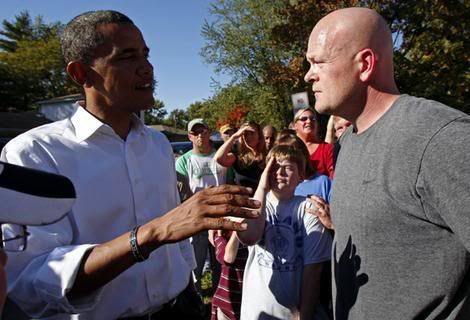 In effort to connect with voters, Senator John McCain has highlighted the plight of Sam Wurzelbacher, AKA – Joe the Plumber, an Ohio man who dreams of his owning his own plumbing company. McCain's strategy has not had the poll results he was hoping, mostly because of reports from liberal blogs that Joe the Plumber was not exactly what he claimed to be. Turns out he was not a licensed plumber, was not going to buy a business worth over 250K, and wasn't really concerned about paying taxes in the first place.
McCain has complained in the past that Barak Obama is too connected with Hollywood elites, but if McCain's campaign was a little more in touch with show biz, perhaps he could have avoided the strategic error of throwing his chips in with Joe The Plumber. Because, as one of the great adages of the entertainment industry says – Don't trust anyone whose middle name is "The."
The most glaring example of this adage is self-described comedian "Larry the Cable Guy," best known for his semi-literate catch phrase "Git R Done." But before donning the baseball cap, country goatee and sleeveless shirt, "Larry the Cable Guy" was Dan Whitney, a sexually ambiguous stand-up hack best described as a cross between Paul Lynde and Jay Leno's slow brother. I don't know if a comedy skit can ever be considered "unintentionally funny," but watch for yourself and see.
Here is a partial list of other shady characters claiming "the" as their middle name, along with the reasons they can't be trusted
Jimmy the Greek: Problem gambler, real name Demetrios Georgios Synodinos
Cedric the Entertainer: Not particularly entertaining
Hank the Angry Drunken Dwarf: Dressed up in fuzzy bunny suit to hide his violent temperament
Krusty the Clown: fathered love child during the first gulf war, also a problem gambler
Gandalf The Grey: His love of the halfling leaf has clearly slowed his mind
Pliny the Elder: claimed to be a man of science, yet didn't have the sense to flee an erupting volcano
Alexander the Great: Invaded Mesopotamia
Hagar the Horrible: Despite his nickname, was in fact kind of cute and totally whipped
Kermit the Frog: strung Miss Piggy along for years, despite his attraction to Fozzie Bear
Herbie the Love Bug: took Lindsay Lohan for a ride, didn't call afterward- she hasn't been the same since!