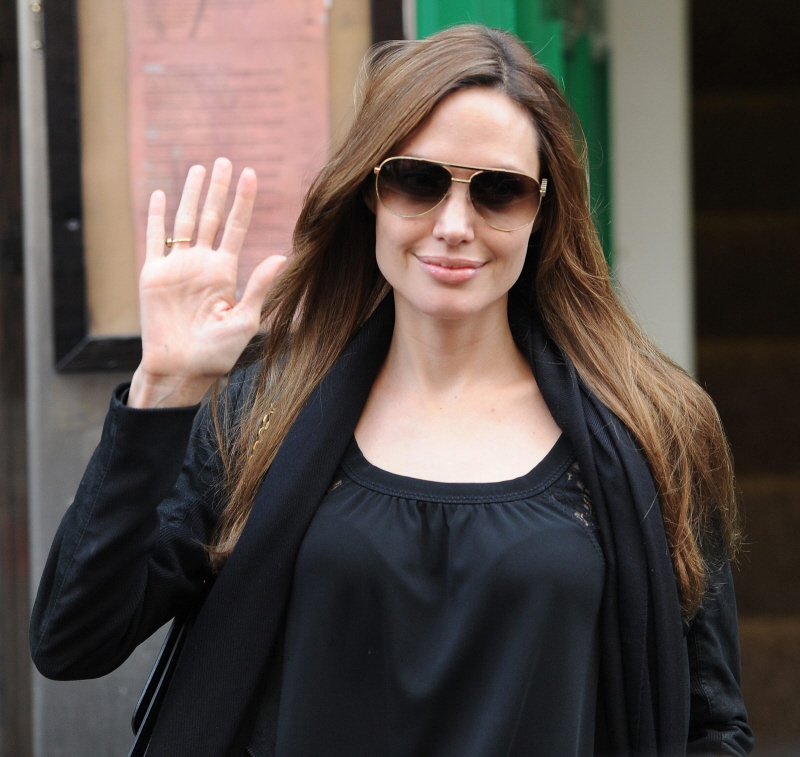 Here are some new photos of Angelina Jolie, leaving a studio in London. Um, look at her boobs. I swear, she looks pregnant to me. Jennifer Aniston does too, but I can easily pass Aniston's ever-so-slight weight gain to the fact that she's been in NYC, eating a lot and being loved up, rather than her doing her usual exercise routine. Angelina has no excuse other than pregnancy. Maybe I'm wrong. Maybe she's just been wearing sacks for the joy of sack-wearing. Or maybe she has another Jolie-Pitt in the oven.
Since I've already covered a lot of junk today (here and here), and I already put some of this stuff in the links, I'm just going to do some highlights from the continuing adventures from the Uncool Bermuda Quadrangle for now:
*Angelina FORCED Brad to talk smack about his marriage to Aniston because, in the words of a "source" to ITW, "That is her exact opinion of Jen. She thinks she is a boring person. It's as if Angelina specifically told Brad to say those things in the interview." Angelina forces Brad to do this stuff because Angie is "calculating" so "she gets Brad to do her dirty work."
*OK reports that Angelina was pissed that Brad offered a clarification to his Parade interview, with a source saying: "In her mind, he had no business groveling and apologizing to Jen. It's clear that he still loves her. Why else would he go on and on about how wonderful she is? If Angie has one vulnerable spot, it would have to do with their staying in contact. Angie's very cut and dry. When she moves on, she moves on. She doesn't speak to [ex-husbands] Billy Bob Thornton or Jonny Lee Miller. And she expects Brad to do the same with Jen… Brad and Angie are not in a good place."
*In Touch also claims that Justin Theroux is seriously pissed at Brad for making those comments about Jennifer: "Justin couldn't believe what a coward Brad was," so last week, Justin called Brad late at night and "He said he should keep his mouth shut about his life with Jen." Justin also "bad-mouthed" Brad to a studio executive, calling Brad a "wimp" and a "loud-mouth bully" and Justin wants to get into a fist-fight with Brad too: "Chivalry is not dead in Justin's world, He wants to defend the woman he loves." Angry douche hipster is mad, homoerotic. This is the most exciting thing to happen to Justin in months!
*Last thing: Brad sat down for a Today Show interview with Matt Lauer, which will air tomorrow. Today has already released quotes from Brad, re: the Parade interview:
"All I know is that my point was, the best thing I'd done as a father is be sure that my kids have a good mother. … That's all I was, or am, trying to say. It has no reference to the past. And I think it's a shame that I can't say something nice about Angie without Jen being drug in. You know, she doesn't deserve it."

"I don't wanna be encumbered by any of that. I know my intentions, and I know what I believe, and I know things get misconstrued, and I know there's a good cycle and a good story to say we're splitting up. And then when we don't, they say we've come together again, it's another new cycle, and then there's a secret wedding. 'No, that was put on hold because they're upset.' It's, you know, that's– I live outside of that, and it's much healthier."

When Lauer asked Pitt about the statement he released to The Hollywood Reporter and other outlets clarifying his comments, Pitt says, " I don't want them to say anything bad like that about Jen. She's a dear friend of mine."

He denies that Aniston called him after his quotes came out. "She's also a seasoned veteran and she knows. You know, and she's a valuable person. We spent seven years together. Come on."
[Via The Hollywood Reporter]
Like, I understand the mindset, the "everybody is overreacting, I'm the peacemaker in this situation" talking points, but I think Brad is coming across as rather naïve, or like he thinks that we aren't paying attention. Of course everything is not hunky-dory between Aniston and Pitt, not to mention Angelina. Their official line is that it's everybody else who overreacts, but they've all given enough grist for the tabloid mill, so I don't know who Brad thinks he's kidding.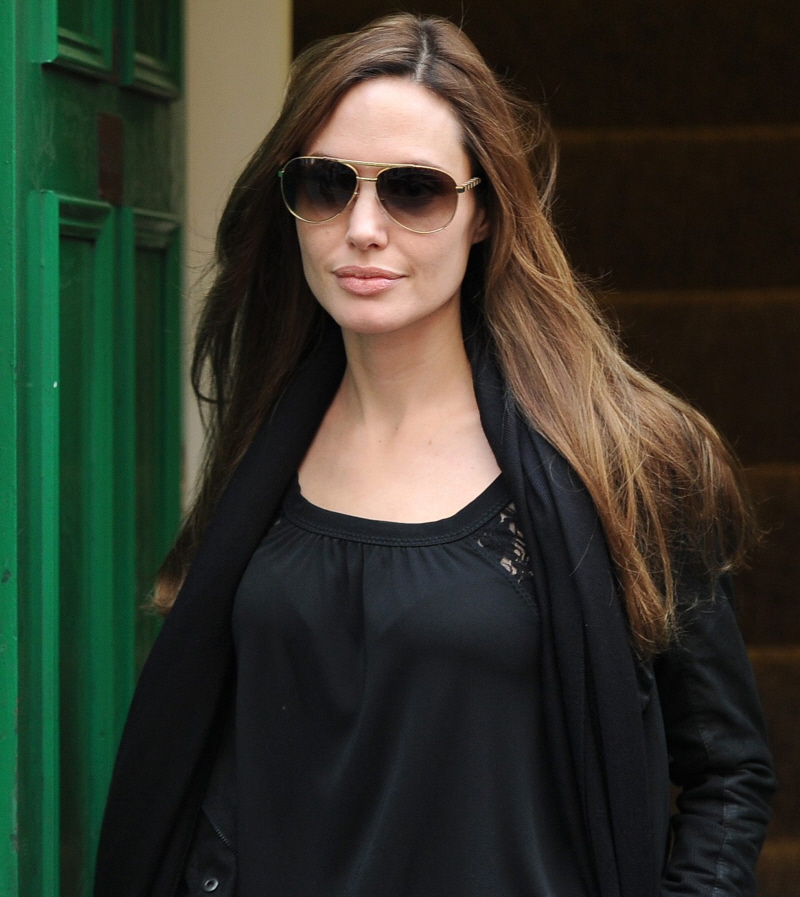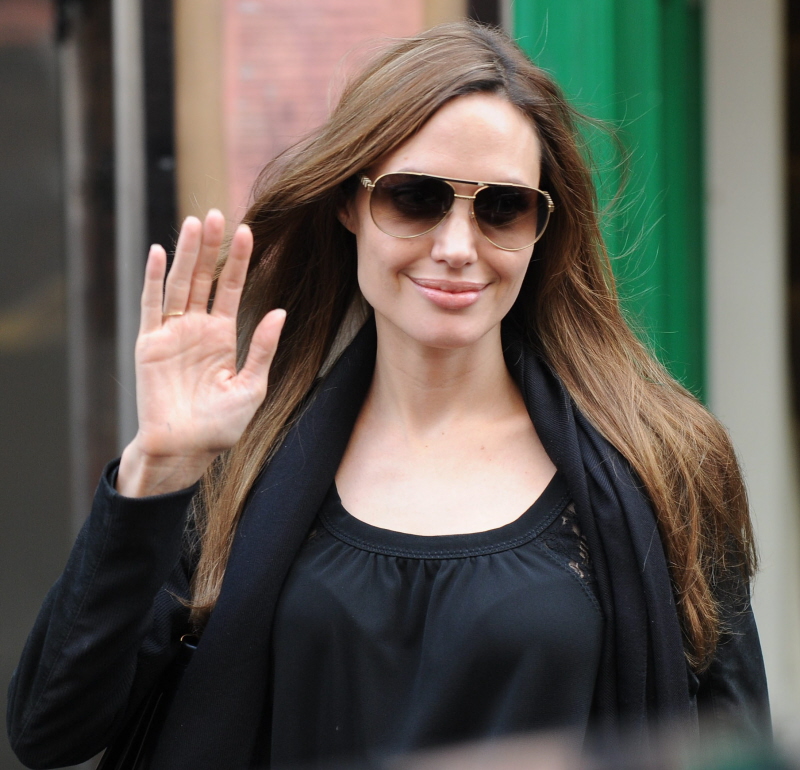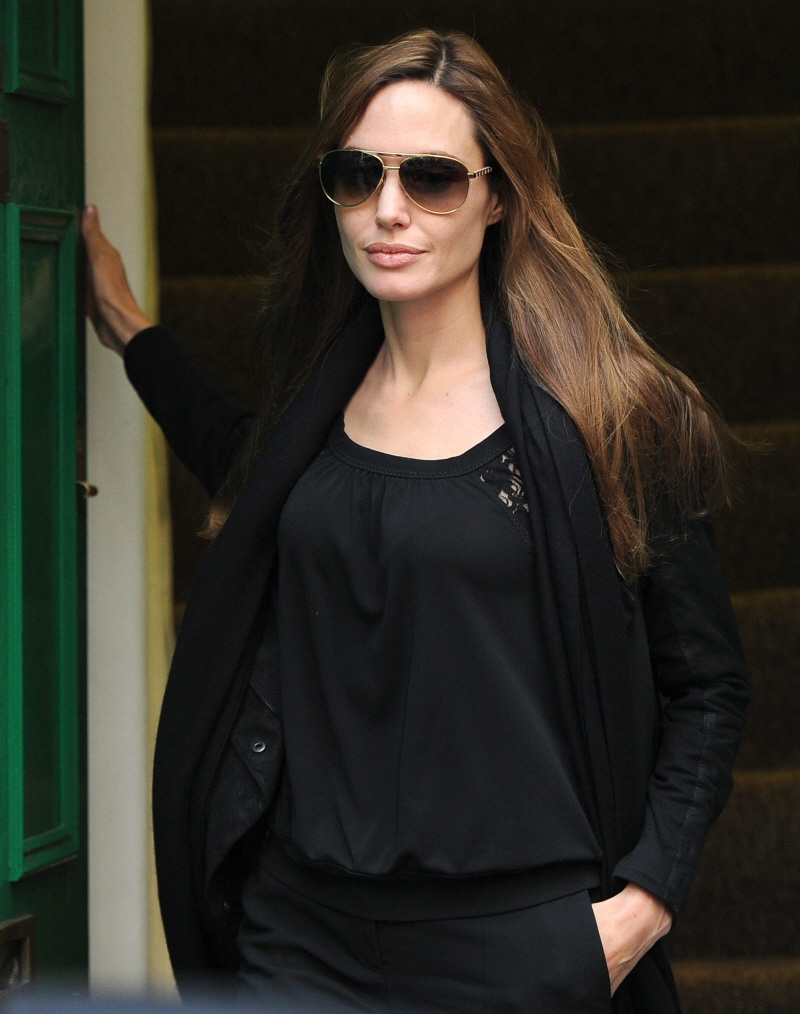 Photos courtesy of Fame.