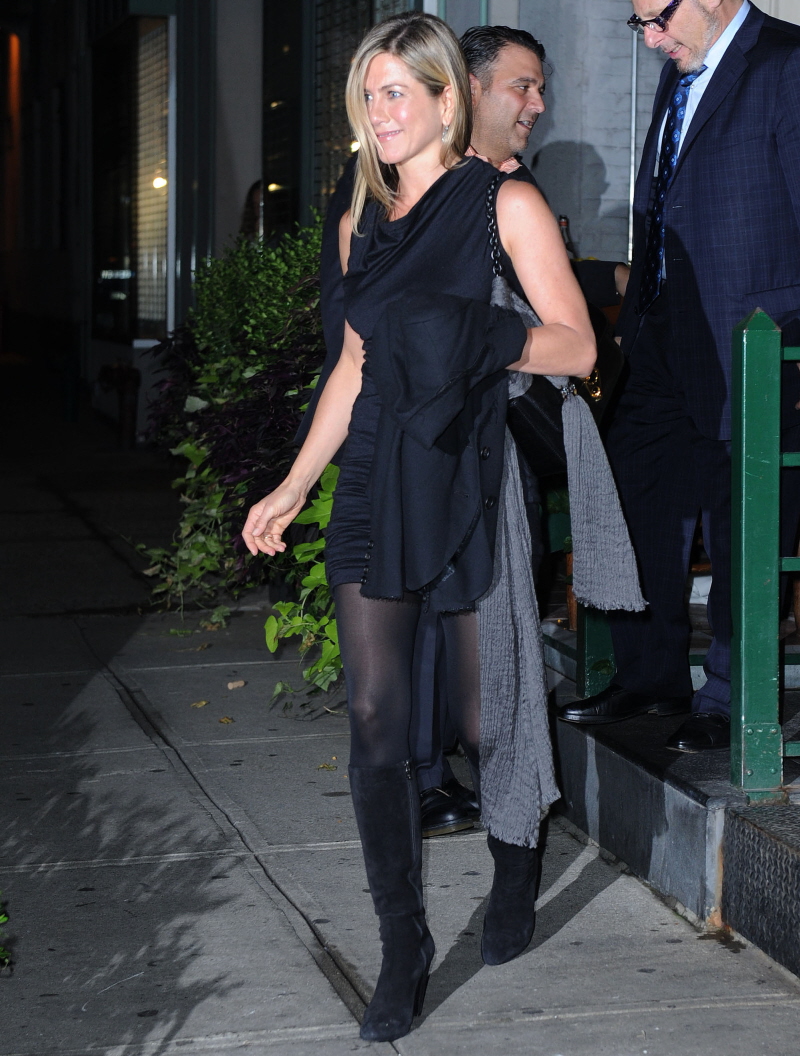 These are photos of Justin Theroux and Jennifer Aniston in NYC last night. Apparently, they went to dinner and went to an art auction for "Artists for Haiti". You can see additional photos of them here. To my eye, Justin seems to have a little bit of an odd look, right? I'm not talking about his only "fancy" outfit, basically the only thing he wears when he wants to "dress up" – black skinny jeans, white dress shirt, skinny tie. Seriously dude, you're 40. It's time to invest in some nicer "fancy clothes" – especially considering that you're dating a woman who loves luxury. Why hasn't Aniston bought him some better clothes? Instead, she seems to have changed her dress style to mimic his hipster threads. Anyway, the "odd look" I was talking about on Justin is the slowly-processing look of panic. Is he starting to feel like he's in over his head? Come on, Justin! You're the white knight for America's Sweetheart! You're one half of "Hollywood's hottest couple" – no joke, that's what Radar calls them:
Hollywood's hottest couple, that's Jennifer Aniston and Justin Theroux to you, got all gussied up and took New York City by storm Thursday, and RadarOnline.com has photos of the dashing duo.

It appears the couple has already started to dress alike, rocking his and her versions of minimalist chic as they headed out on the town.

The Friends beauty donned a clingy black jersey dress with her sleek blonde hair framing her face, while her hunky beau looked ever so dapper in an Italian cut black suit and what looked like freshly dyed black hair, slicked up and back.

Jen, a west coast transplant, seems to have already gotten the hang of dressing for the seasons, preparing for a chilly east coast Autumn night with a bulky grey sweater in her hands.
[From Radar]
Yeah, I actually like Aniston's outfit, but I have literally no idea why Jennifer looks like the cat who got the cream. Yes, her dress is cute and the boots are especially good, but she's still with a balding hipster who cheated with her when he had a girlfriend of 14 years. What's that? Are you going to tell me that there's no actual "proof" of that? There's as much "proof" that Aniston is a homewrecker as there is with Angelina Jolie. And I will continue to point it out – she's no victim. Stop treating her like one. Look at her – she's fine. She's happy. Stop making her into a relationship martyr.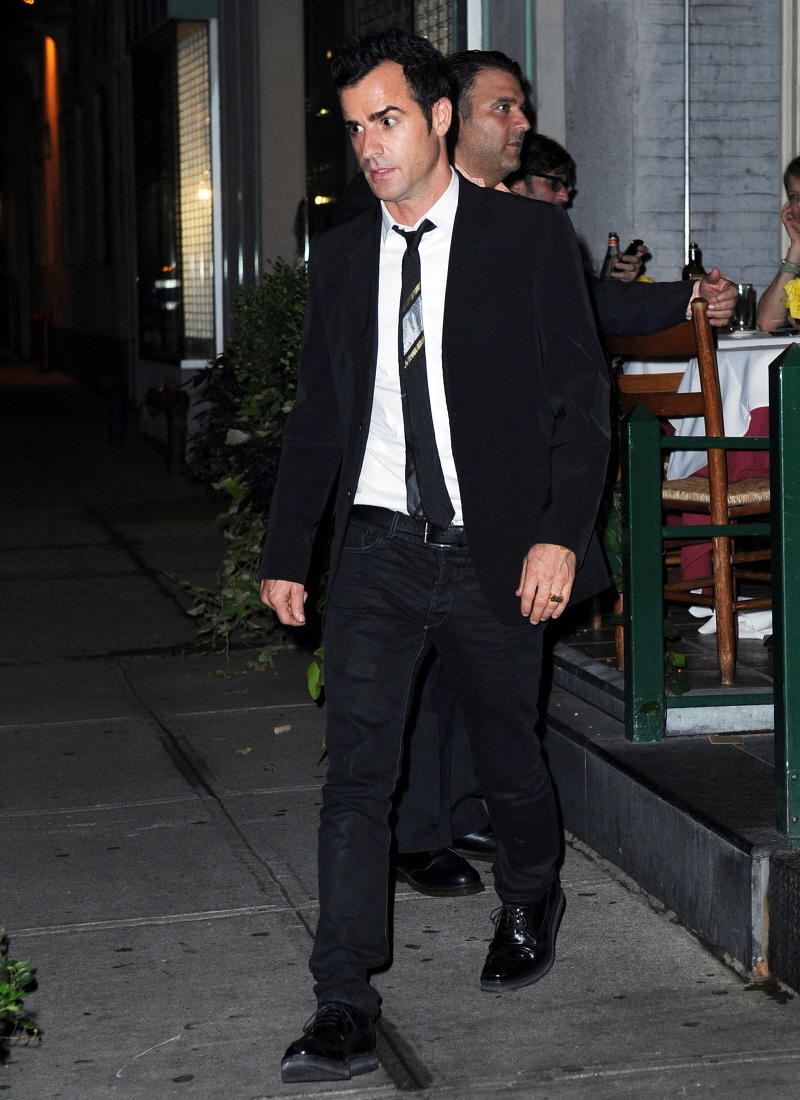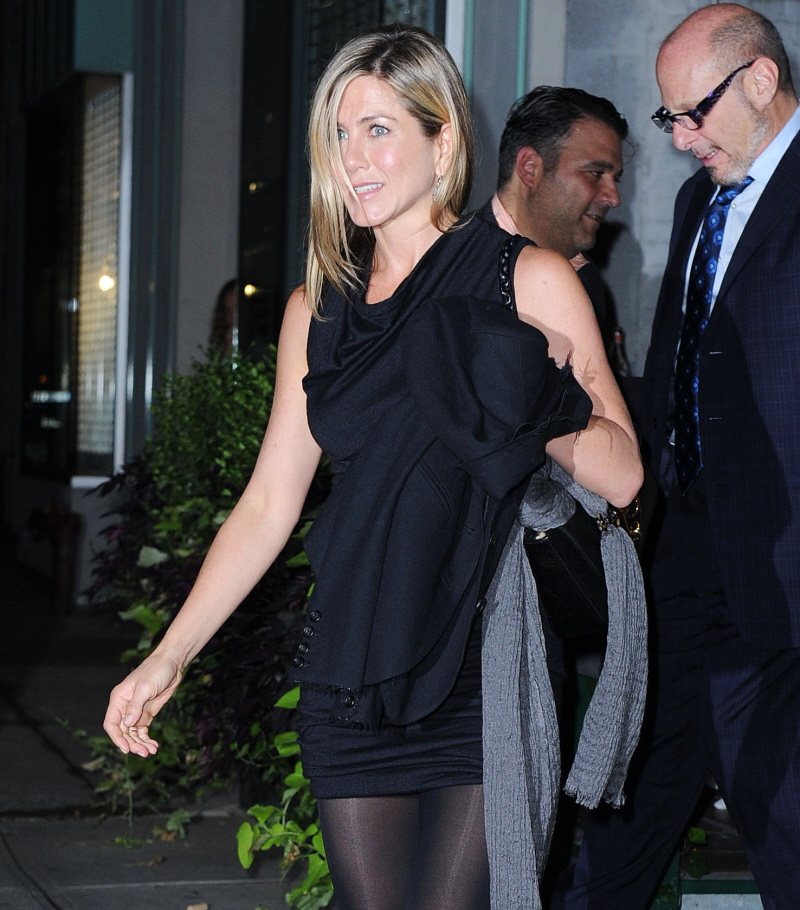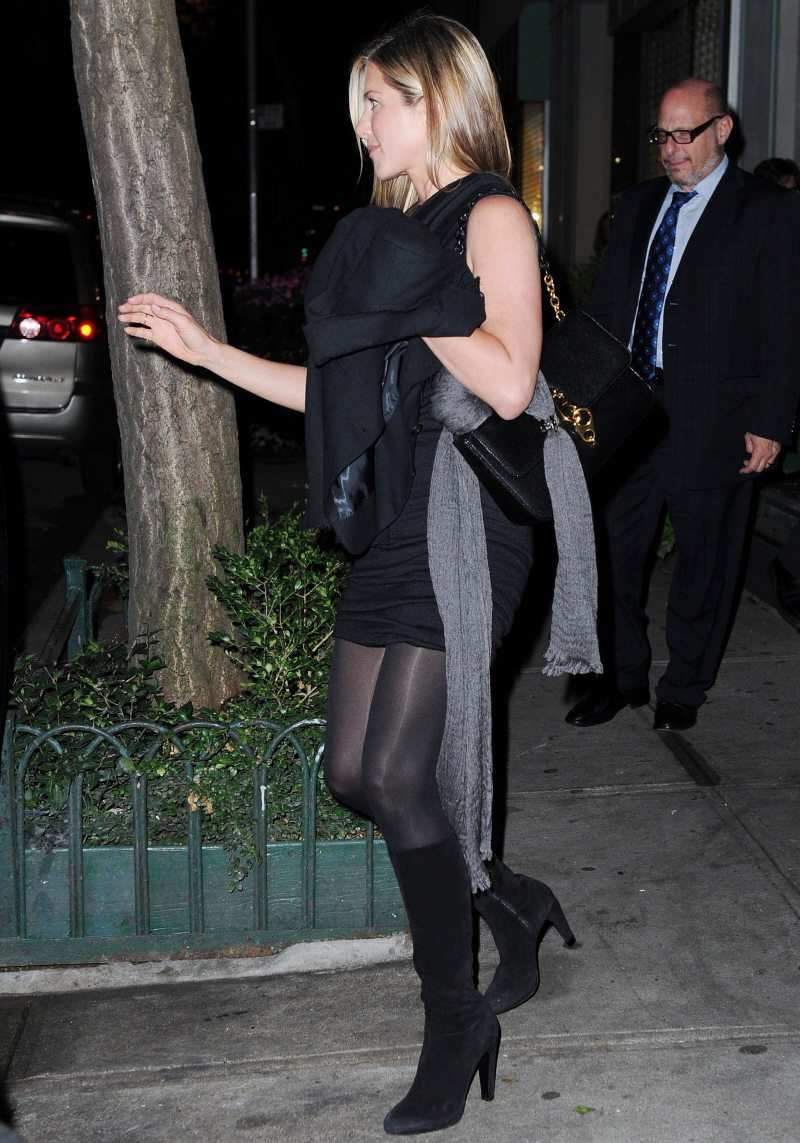 Photos courtesy of Fame.