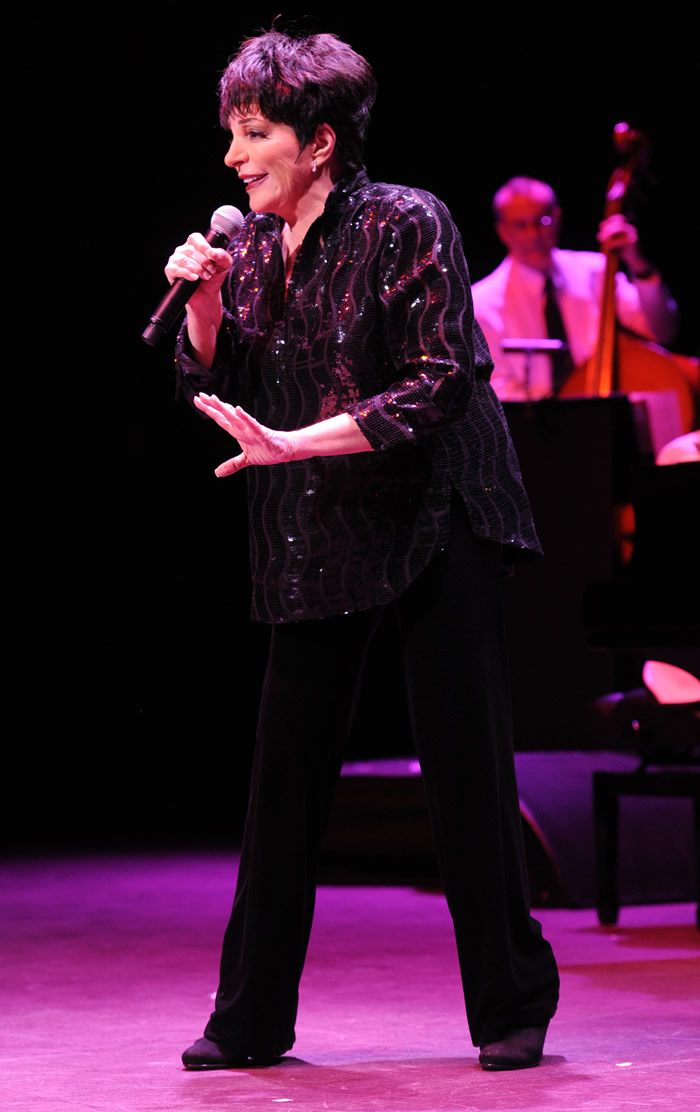 For some unknown yet impossibly momentous reason, Liza Minnelli chose to sit down with the Daily Mail for an interview. In doing so, Liza doesn't really come right out and talk about herself, but she does deliver a bevy of opinions about others. In short, Liza clearly enjoys a good deal of great gossip just like the rest of us do, and she shovels out mountains of tidbits about a lot of people. Here are the best excerpts from the interview, although I left out a ton of stuff about Michael Jackson, so if you're interested in that topic, the full piece is worth reading. In the meantime, Liza's statements generally stand on their own, and she's got a ton of stuff to say about her ex-husbands, Gaga, Madonna, Liz Taylor, and her own mother.
On Judy Garland: One day, I said to her: "Mama, why are you always so sad when you sing Over The Rainbow?" She looked at me. "It's what they want," she said. "Now let's go get a hamburger." Forget anything you've read. That's how I remember her. That's my reality.

On Liz Taylor: Elizabeth was just a regular girl. The glitter and the glamour and the gutter [as she witheringly dismisses it] were all in the photographs and the way stars like her were presented. The reality was that she was part of an era when movie stars were working actors. She went to the studio. She did her job. I remember calling her one day. I was crying about something awful someone had said about me in the press. There was a pause. "You read that stuff?" she said. She told me she never read a single thing about herself so I stopped, too, there and then, which meant there was never anything lousy going round and round in my brain. I thought that was good advice.

On Lady Gaga & Madonna: I love Lady Gaga. Not long ago, I went to see her show, she says. "Someone came up to me at the end and asked if I'd come backstage. Lady Gaga wanted to meet me. There she was, her hair normal, no weird costume. Just a simple dressing gown. She looked like a nice kid. She said: "You're my favourite. You're my hero." There were photographers who wanted a picture of us together so she turned towards them and opened the front of her dressing gown. I immediately closed it. I laughed. She's into the Madonna thing: shock value. And it works. But the girl has a big talent. Gaga and Madonna have realised the value of shock. But why not? You need to do anything you can in this business to get noticed. And they've both done it brilliantly. In a way, I started that with the Sally Bowles look, the cropped black hair, the lashes. It was a look that became important. It went round the world.

On Why She'll Never Marry Again: Well, look at the history. Come on! But it wasn't the fault of those poor guys – minus the last fool. When you do what I do, when you live how I live, it's difficult to be married. [David Gest] always did talk up a great show. And he could be very, very funny. But look, I married him when I was recovering from encephalitis. My head was all over the place.'

On Her Hopeful Sex Life: I've decided I want three lovers. The first would be enormously rich, with one foot in the grave and the other on a banana skin. The second would be someone who's passionate about something – science, painting, anything, I don't care. Passion is so sexy. And finally, I want someone who comes to see me twice a week. I don't even have to know his name.
[From Daily Mail]
You know, I always wondered why Liza married the reprehensible Mr. Gest, but I guess encephalitis is as good an excuse as any, right? It certainly puts that era of Liza's life (which seems so fittingly distant from her Cabaret days) into a bit of perspective. Although I'm not altogether uncertain that Gest wouldn't mind a bit of green nail polish in his own way. Poor Madonna though — she'll be positively crushed to learn that Lady Gaga's obsessions with her only go so far and that Liza is Gaga's true "hero." Also, that bit about wanting three lovers doesn't sound like such a bad idea, so maybe I'll look into the possibility myself.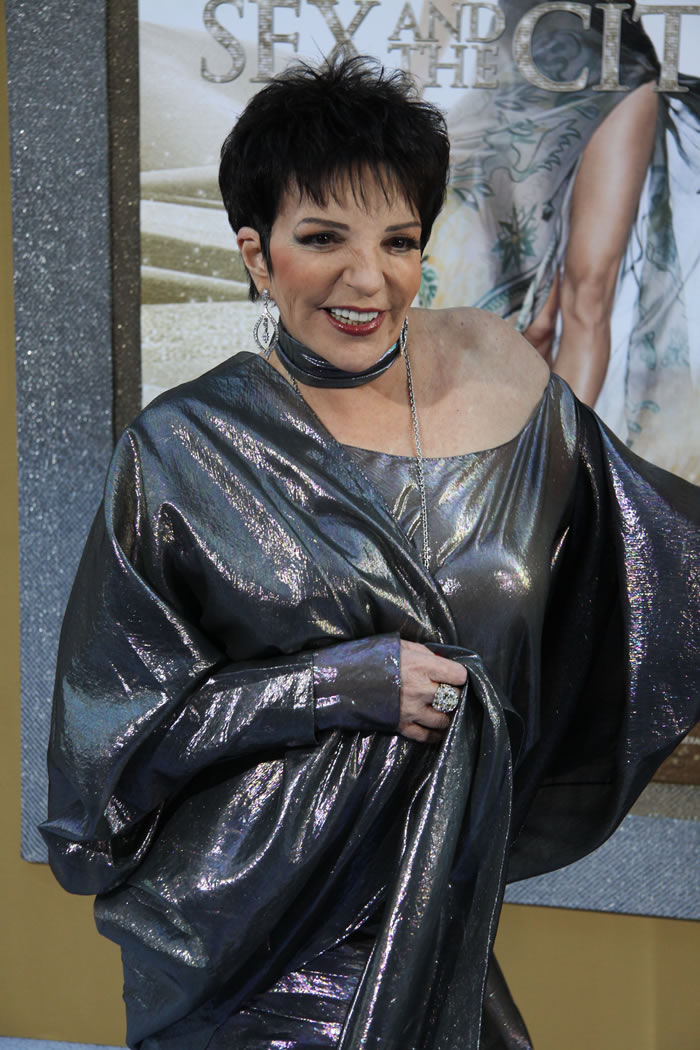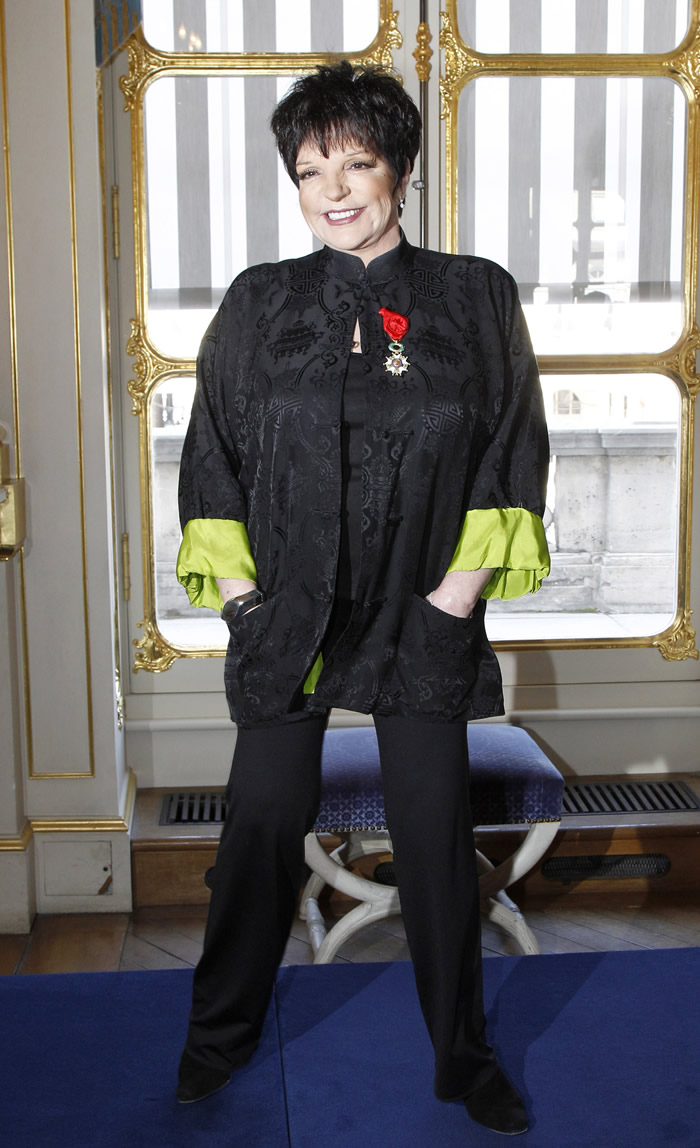 Photos courtesy of Fame