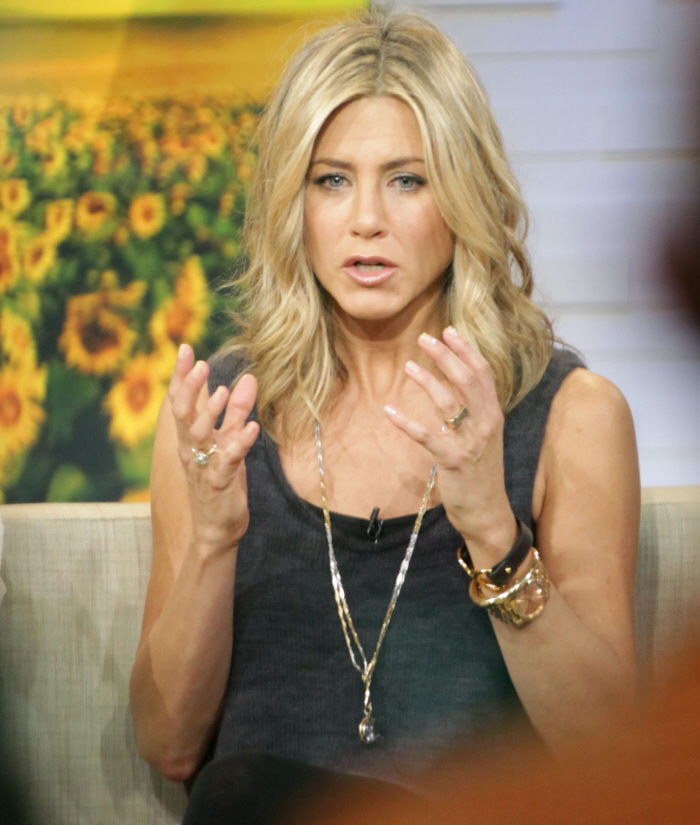 There are twenty-million new Jennifer Aniston stories, but none of them are very significant. Meaning she's not gushing about Justin or bitching about Brad or saying anything huge. I think most of the interviews are from the Five red carpet two nights ago, and must have been quick little soundbyte interviews Aniston did on the carpet. People Magazine had an interesting piece, only because someone else mentions that Justin was on the set while Aniston directed her part of Five… which makes me wonder when Aniston shot her part? Was it when Justin was still technically "with" his girlfriend of 14 years? Does anyone know when Five filmed?
Jennifer Aniston says her directing debut was "a challenge," but she was able to turn to her beau Justin Theroux for moral support on the set of the Lifetime movie Five.

Though Theroux shied away from walking the red carpet at Skylight Soho with Aniston Monday night at the New York premiere of Five – a collection of five short films about breast cancer by female directors including Aniston, Demi Moore and Alicia Keys – he spent a lot of time hanging around the set of the movie, according to Penelope Spheeris, one of Aniston's co-directors.

Spheeris, who also directed Wayne's World, said the couple were "lovey-dovey" on set – though she still didn't know who Theroux was until they were officially introduced.

"She introduced [Justin] to me and I'm like, 'Who?'," Spheeris recalled. "Someone was like, 'That was her boyfriend!' "

Walking the red carpet after Theroux went straight into the event space Monday night, Aniston, 41, was asked what she loved most about her life now. Her answer? "Everything!"

Despite its difficulties, Aniston said directing was a wonderful experience nonetheless.

"There's not one thing I didn't love about it," she told reporters.

At the afterparty, where Aniston chatted and took photos with fans, Theroux, 40, brought her a drink before the pair left together through a back door, stopping for a fan's cell phone snapshot on their way out, according to an onlooker.
[From People]
"She introduced [Justin] to me and I'm like, 'Who?' And she got a little bit hysterical and she was like, 'OMG, he's only the most famous, attractive, gentlemanly artist/screenwriter/actor out there, I can't believe you don't know his name by now!' And I was like, 'Oh, that dude who played the premature ejaculator on Sex and the City. That dude.' And then Aniston hugged him from behind."
Let's see, more stuff…Aniston said directing again was "like a dream come true, honestly, and such an important piece that we all were invested in. It was like working with, not only our best friends, but they're also incredible producers, and all of us coming together. We just can't believe that we're actually here. It's amazing." She also said that she "hopes" to direct more: "That's the plan. I'm not sure what or when or where, but yes." Oh, Aniston told Access Hollywood that her move to NYC is only temporary: "It's literally like a month or two, just bits and pieces here. LA is really where work is. But I just had to have a little place to lay my head." And regarding Brad Pitt's Parade comments, Jennifer said, "Oh, lord, it's not even worth discussing on a night like this." Meaning that she will discuss it, but she'll wait a few months until she's promoting Wanderlust, I guess.
Meanwhile, Jennifer's BFF (and longtime hachetwoman – Aniston sends her out to do a lot of dirty work in the press) Kristin Hahn went to In Touch Weekly to discuss Aniston and BABIES. Of course. Hahn says, apropo of nothing, "She'll be an adoring mom… She's very big on boundaries with kids, and respect. She would have boundaries, but the adoration would be big!" Hahn also "likes" Justin "very, very much" and when ITW asked about Aniston's alleged plans to marry at the beach, Hahn said, "She loves the sun and moisture and heat. That's her element. And she looks great in a bikini!" Well done, Kristin Hahn.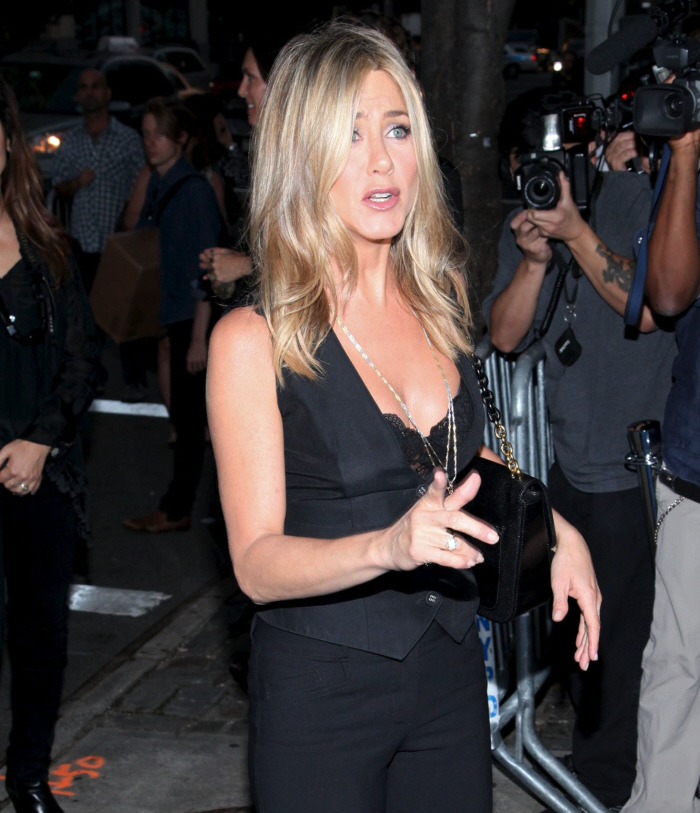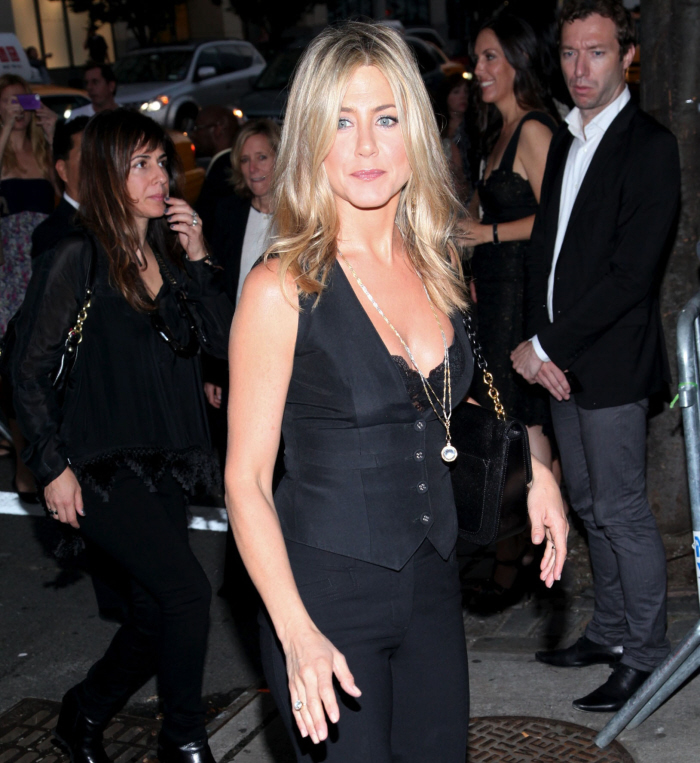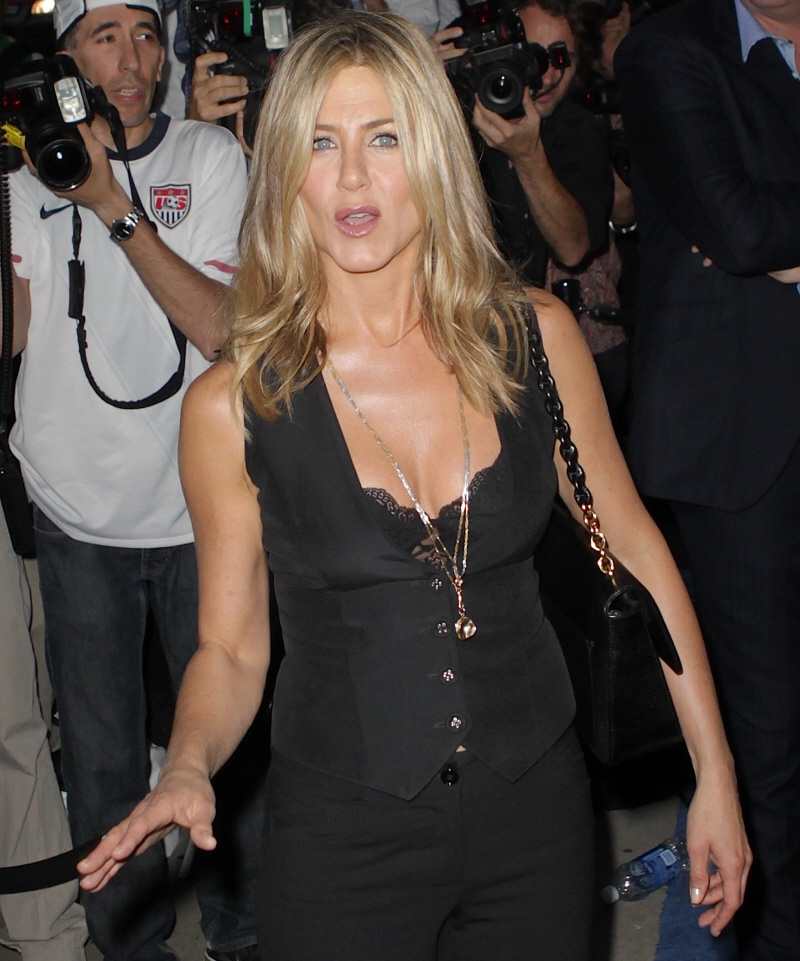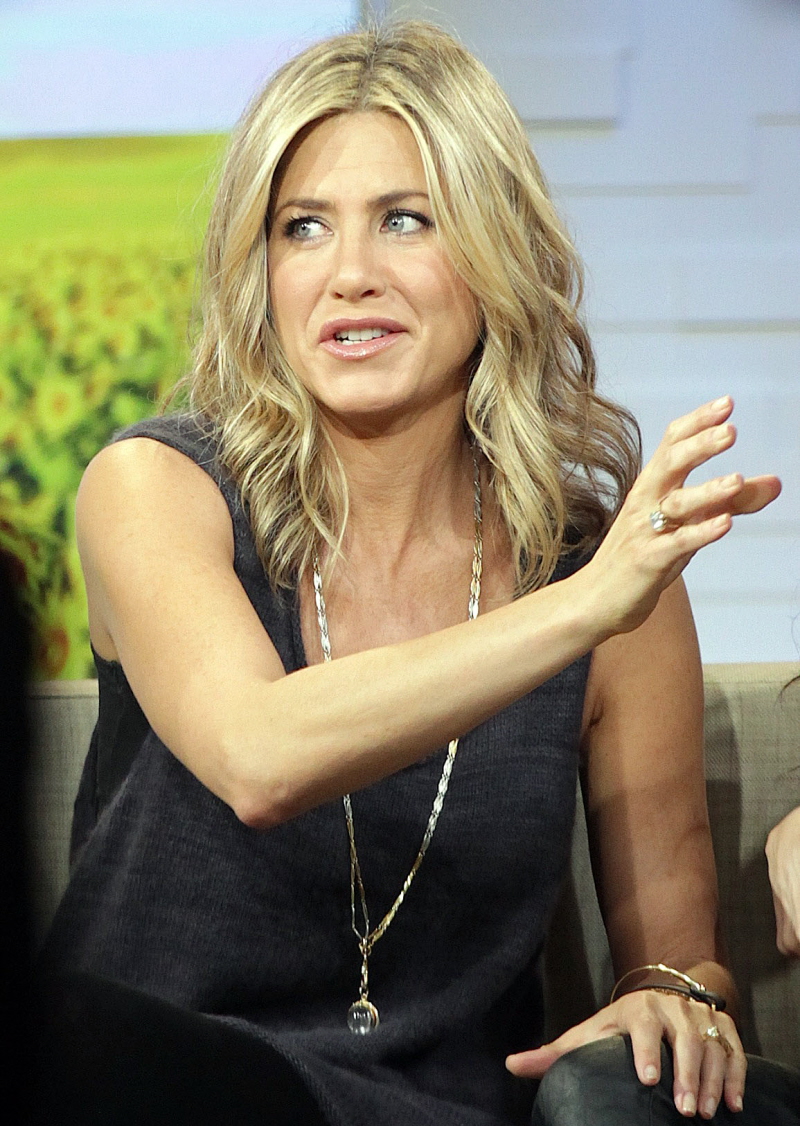 Photos courtesy of WENN.