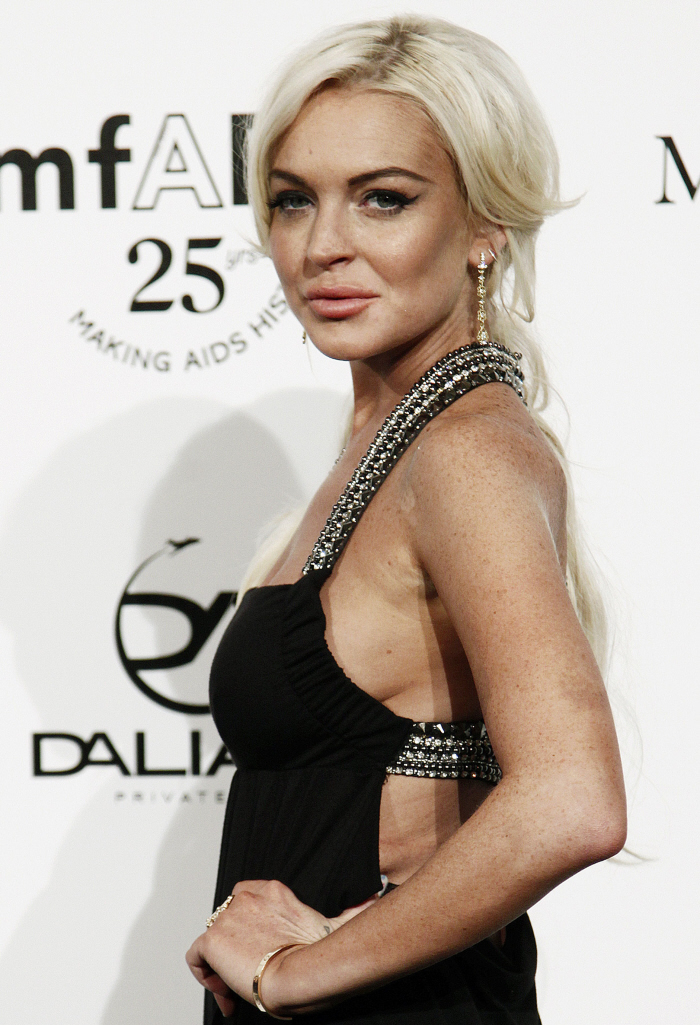 I didn't get a chance to mention this on the last Linnocent post, but did you hear that the Cracken is being sued? Again. This time, she hasn't paid her limo bill. She changed more than $90,000 with Elite Transportation, and she hasn't paid a dime on it. Incidentally, that's almost the EXACT amount Linnocent paid for her new Porsche! Shocking, I know.
Lindsay Lohan is being sued for not paying her limo bill … but here's the fun part. She racked up a $90,000 bill!

Elite Transportation Limo and Security Services claims Lindsay rode with them from February 2009 to May 2009. Elite claims Lindsay also booked limos for her friends and family. Some of the payments show a $6,000 an hour rate, which also includes security.

As for payments … well, Elite says she pulled a Lindsay. And with penalties and late charges, the $33,978 bill has now swelled to $90,585.79.

That's how she rolls.
[From TMZ]
$6000 an hour, even with security, sounds really, really steep. I mean, I bet Linnocent doesn't even charge that much for her hourly services. Still, my default position is "Linnocent is in the wrong" so I'm willing to buy the limo company's charge. The Cracken really needs to work on paying her bills regularly, especially if she's going to spend so much time crying poverty in between Porsche shopping sprees and shopping in boutiques.
Speaking of Linnocent NOT making that money, Radar has a report today about her still-tenuous association with that Gotti film:
The John Gotti biopic starring John Travolta and Al Pacino is still a go, despite stories that circulated last week saying the project was dead due to financial problems, RadarOnline.com is exclusively reporting.

"The Gotti film is very much moving forward and we are still expecting a late 2012 theatrical release," Steve Honig, publicist for Fiore Productions, tells RadarOnline.com. (Fiore Productions is producing the movie).

As RadarOnline.com previously reported, Pesci, 68, filed a lawsuit against Fiore Films in July, claiming he had gained 30 pounds for the role of Angelo Ruggiero, considered to be one of Gotti's closest confidantes and one of the film's most important characters. His suit alleges that the producers then told him they wanted him for a lesser role, at one-third of his original $3 million salary.

Marc Fiore, CEO of Fiore Films, extended an olive branch to Pesci last week, "For the record, I am extremely fond of Joe, I think he is a terrific actor and very much want him to be in the Gotti movie. It's unfortunate we have become embroiled in a lawsuit, however I am hopeful that we will resolve our differences and Joe will accept an offer from us to be in the film."

"Everyone is still attached to the film. I am not commenting on anything to do with financing though," Honig tells RadarOnline.com. However, Lindsay Lohan still hasn't officially signed her contract.

Filming is scheduled to begin in New York City in January 2012.
[From Radar]
When is Linnocent's next court date? It's soon, right? Like, in another week or two… let me look it up… it's next Monday. Oh, that should special. As far as I know, Linnocent still has, like, 95% of her community service hours left to do, and she's been flying all over Europe and New York, partying her ass off. And when the judge tries to say something about it, Linnocent will cry crack tears and claim that she's just got to WORK on the Gotti film, and that's why she hasn't done the community service. And Dawn will roll her eyes and the judge will laugh and then everybody will go home and do some lines to celebrate.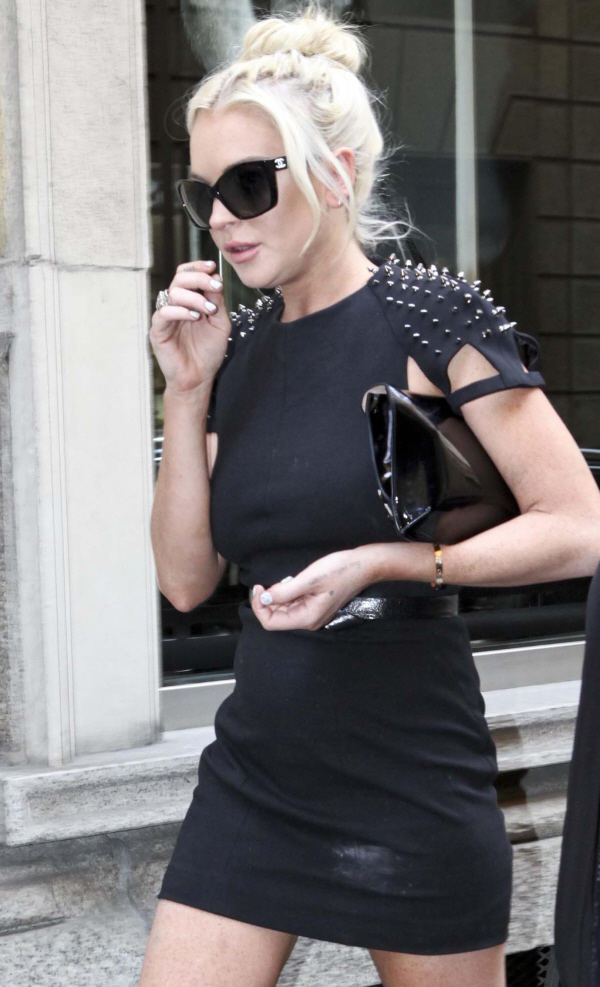 Oh, here are some just-released photos of Linnocent going on a "shopping spree" at the Chanel store in Paris: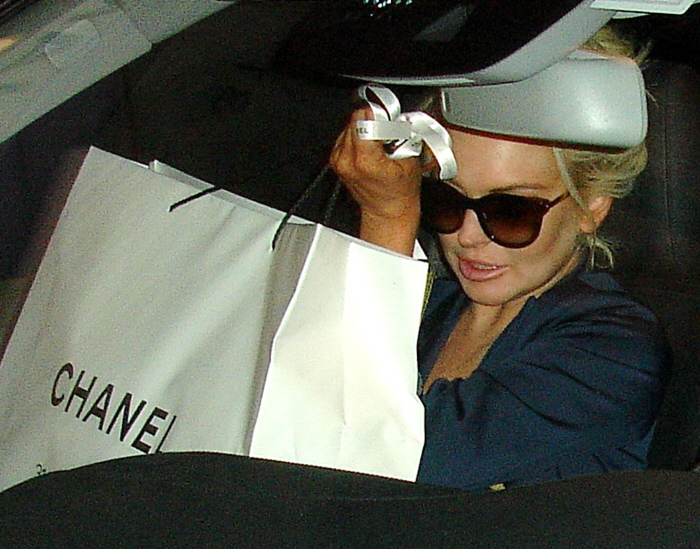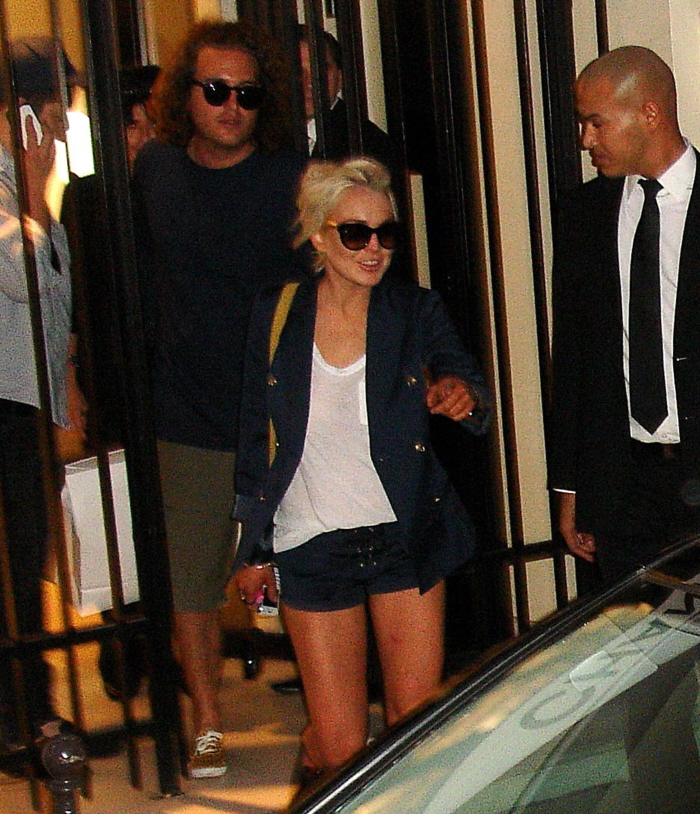 Photos courtesy of WENN.