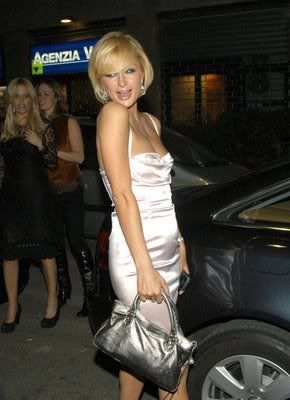 One can only wonder what celebrities carry in their thousand dollars handbags, and this weekend Paris Hilton accidentally gave the paparazzi a peek inside her silver Balenciaga motor bag. While she was innocently trying to reapply some tacky pink polish to
her nails, the photogs started snapping away at her open purse, and guess what they found? Amongst a myriad of items, including a Blackberry, a lollipop, and a tube of MAC Lipglass, there was a conspicuous little plastic bag that looked like it contained…..cannabis. Or in other words, pot.
Her spokesperson, Elliot Mintz swears it's not pot, but rather, loose tobacco. Paris likes to roll her own cigarettes. However, in the past her homemade cigs have looked too much like doobies for people to believe otherwise.
So here's an enlarged photo of the contents of Paris's purse. You be the judge, is it pot or is it tobacco? I'm guessing if it's not pot, it may be betel nuts. Betel nuts are chewed in many Asian countries as a snack, and although they have a mild stimulative effect, they are not yet a controlled substance.
But Paris never struck me as the betel nut chewing kind of girl.