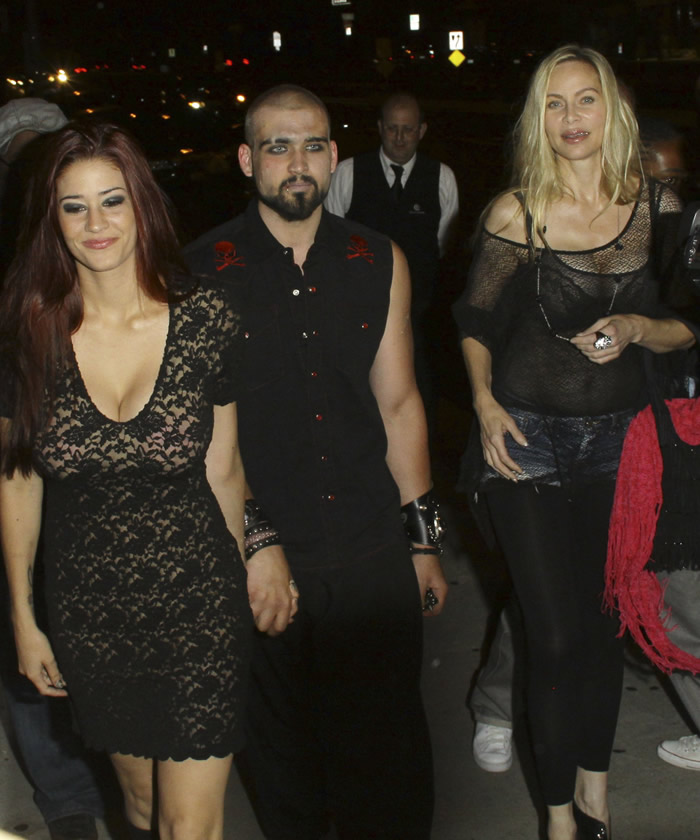 In retrospect, we should have seen this coming — Weston Cage has scored a reality show — but let's recap the situation anyway. In June of this year, Weston publicly flew into a physical rage and tried to beat the crap out of his personal trainer, who had made the mistake of telling him to not order an unhealthy dish for lunch. After a quick hospitalization, Weston was out on the streets and proceeded (one month later) to get himself arrested on felony domestic violence charges. During this incident, his pregnant wife, Nikki Williams was also arrested after she got blazingly drunk and threatened to jump off a balcony. One week later, Weston went to dinner with Nikki and his scantily-clad mother, Christina Fulton, and showed off his roundhouse kick for the paps. Then the next week, Weston was arrested again on fresh felony domestic violence charges. In late July, Weston checked into rehab where he's remained until this day.
For her part, Nikki has "stood by her man" and refused to press charges; she has also admitted that she was drinking while pregnant on the night she was arrested, saying "That was the only occasion I consumed alcohol since I found out that I'm pregnant and I really regret my decision to do so." Nikki also added, in regard to herself and Weston, "We may be passionate, but we are not crazy." Well, that last part is definitely debatable.
Also over the summer, Nikki signed a recording contract with J Records (the label of Alicia Keys and Pitbull). Exactly why they signed her is a mystery because a quick check on her MySpace page reveals that Nikki screams instead of sings, especially in a song called "Get Back in Your Cage," the title of which simply cannot be a coincidence. J Records has since shuttered; most of its artists were absorbed by RCA records although Nikki's fate under the label is undetermined. She has removed "J records artist" from her Twitter profile. In addition and if her tweets are to be believed, she's either no longer pregnant or still drinking while pregnant because she's tweeted about drinking alcohol on many occasions and as recently as Oct. 18 ("Happy Hour Happily.") and Oct. 14 ("Beer thirty!"). Certainly, all of this will add to the drama of the impending reality show that will also star Weston and Christina too:
Nicolas Cage's son Weston and his mother Christina Fulton are to appear in a new reality TV show called "Uncaged."

Nicolas Cage's ex-girlfriend and their son are to star in a new reality TV show.

Christina Fulton and 20-year-old Weston Cage – who checked into rehab in July and was arrested twice on suspicion of domestic violence following a fight with wife Nikki –have agreed to be followed by cameras for "Uncaged," a new VH1 programme.

A source told America's Star magazine: "Christina said the show will be like a modern-day Addams Family. Weston just wants to show the world he's not mentally ill."

News of the show comes after Christina revealed plans to release an album, also called Uncaged, which features lyrical attacks on her ex-partner.

Speaking about the record, she said: "This has been a cathartic experience to help me move forward from the past."

Her first single, "Thank You," features the lyrics: "You stood there and you lied right through your teeth / You gave me your word you promised everything – You're not the guy that I fell for, you're the monster I left / Such a snake, my worst mistake, yea, all you made was a mess. I learned to hate what you stand for, can't believe I was blind / But you'll get yours and I'll be fine, honey, all in good time."
[From Contact Music]
In an interesting cross between trainwreck universes, Christina's "Thank You" apparently premiered on "Jersey Shore," Season 4, Episode 9 (otherwise known as "Three Men and a Snooki"). About a month ago, Christina also appeared on CNN to talk with Dr. Drew about her son's drug and alcohol addictions. My question is this — Christina and Nicolas haven't been together in almost two decades, so why did she wait until now to really start talking smack about him? My best guess is one (or both) of the following reasons: (1) Weston didn't really lose his sh-t until recently, since mental illness often reaches its peak in early adulthood, and now is the time to capitalize on those problems and also blame some crap on Nicolas too; (2) Since Weston is 20-years-old now, she's probably recently ran out of child support money.
At any rate, we can now look forward to watching Weston, Christina, and darling Nikki doing their "modern-day Addams Family" routine on television. The really sad part is that I probably won't be able to stop myself from watching.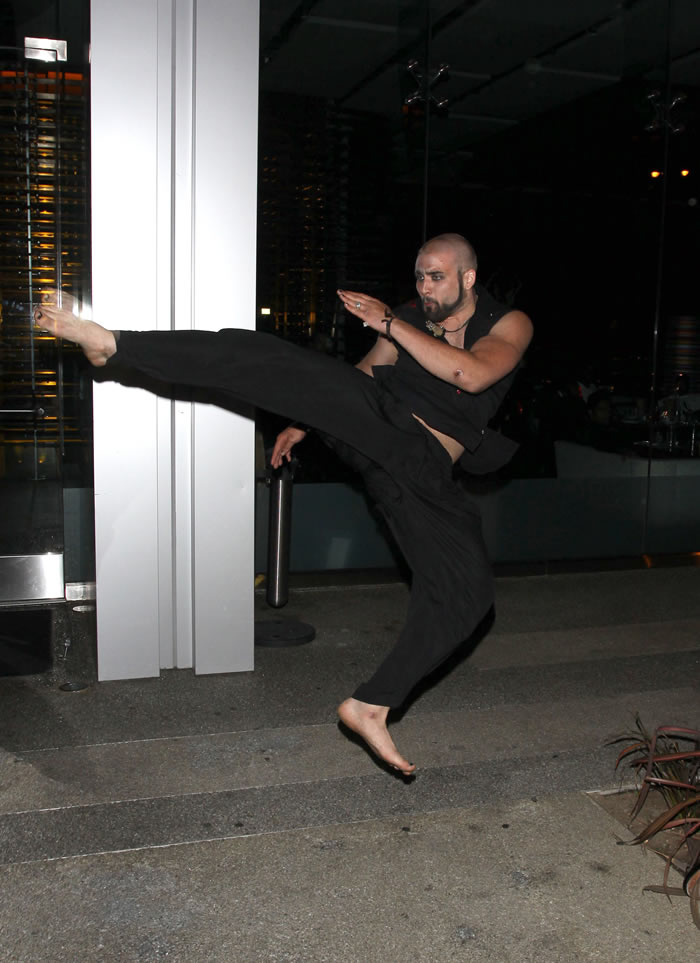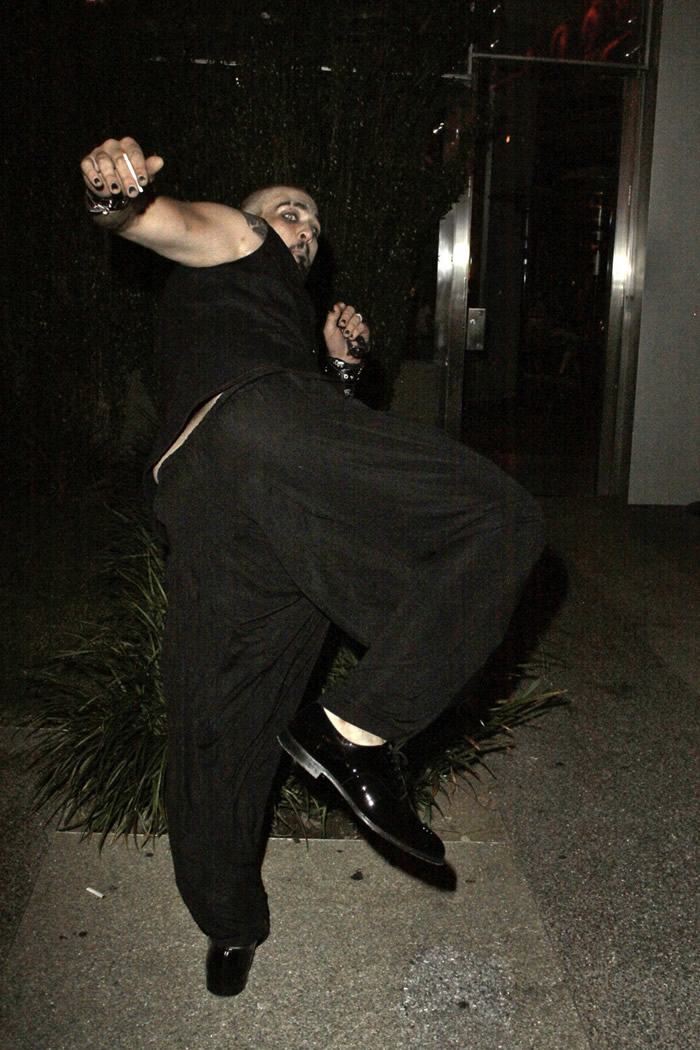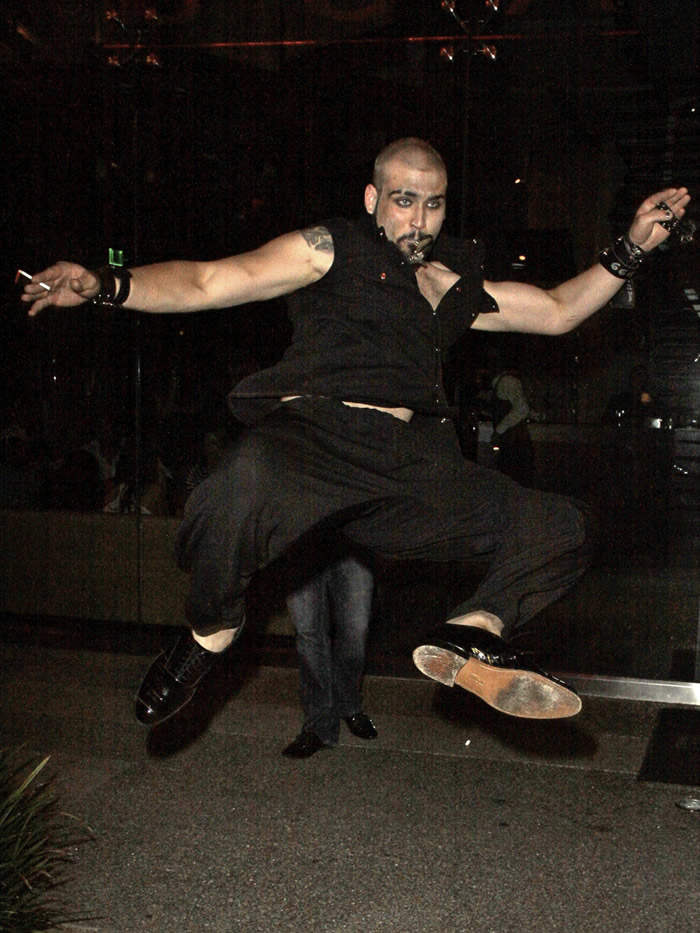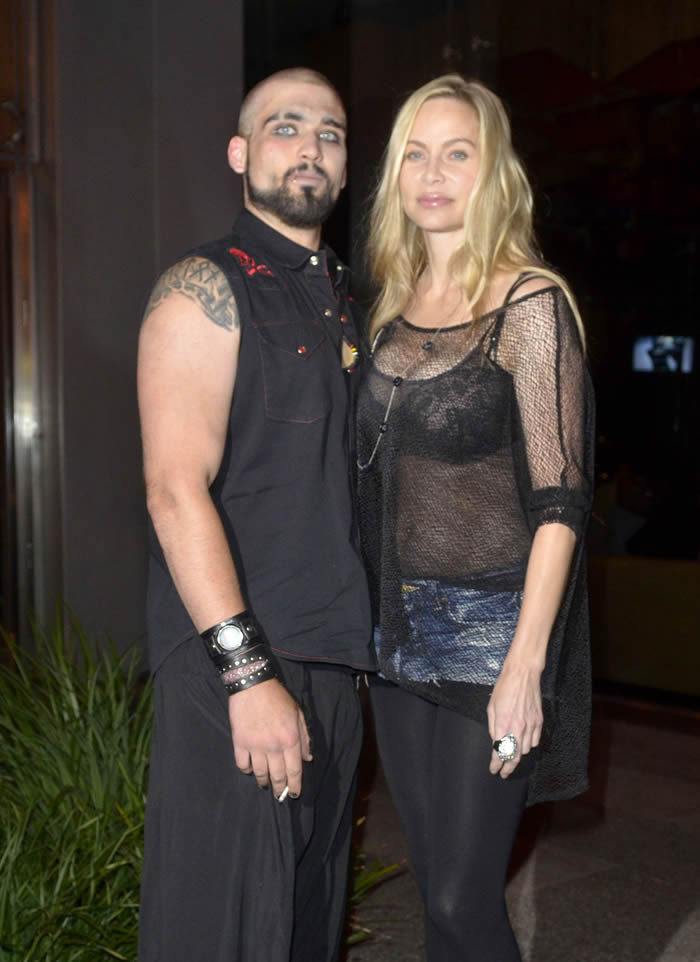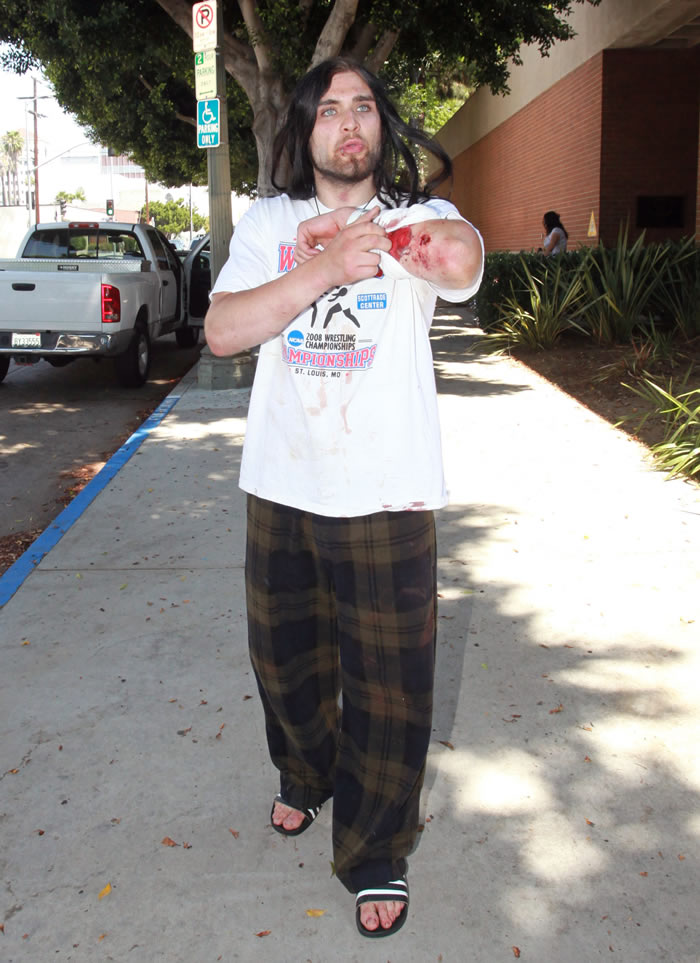 Photos courtesy of Pacific Coast News and Fame