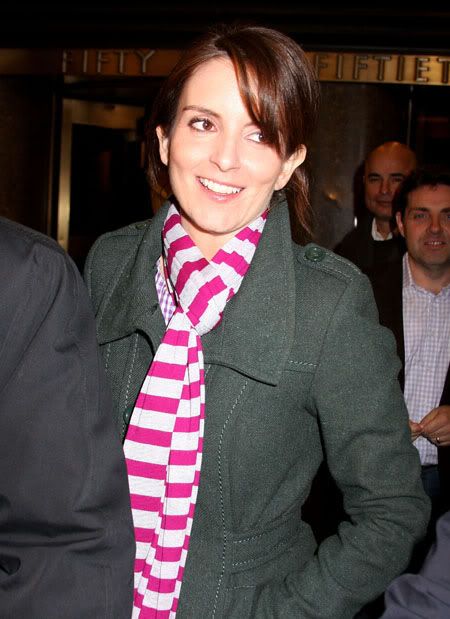 Tina Fey appeared on Conan O'Brien's show on Tuesday night. The 38 year-old comedian talked about her experience meeting Governor Sarah Palin during Palin's much lauded appearance on" Saturday Night Live." Fey has moved on from SNL to her own show, "Third Rock," but has returned in several segments with a spot-on parody of the Republican Vice Presidential Candidate. Fey's turn as Palin has significantly boosted her profile, but it doesn't sound as if she'll be back on the show after the election is over – no matter the outcome. She compared returning to SNL to moving back in with her parents.
The comedian told a story about having her daughter Alice, 3, on the set of SNL when Palin was on. Little Alice got confused when she saw Palin on the monitor and thought it was her mom, saying "I see you up there." Fey said she tried to train Alice to tell her about from Palin by showing her photos of the VP candidate in the paper, but she couldn't tell her apart from mommy.
As for meeting Palin, Fey said she was very nice and helpful and even offered her 17 year-old pregnant daughter, Bristol, to babysit for her:
"Gov. Palin was like, 'Oh did Alice go home? Oh, cause Bristol woulda babysat.' She offered Bristol Palin to babysit Alice… And it was Bristol's birthday, too. I was like yeah, that's exactly what 17-year-old Bristol Palin wants to do at SNL is babysit the toddler of the lady that goofs on her mom… but they're a nice family"
[From Huffington Post]
Bristol didn't get to babysit Alice because Fey had a friend come over and pick her daughter up while she was working that night. It's nice to hear about a celebrity who faces the same childcare problems as the rest of us. It was kind and seemed appropriate for Palin to offer her daughter as a babysitter. As long as Bristol wouldn't mind, it's was a friendly thing to do. The story fits in with the down home kind of image the Alaskan governor has only been partially successful in cultivating.
Fey also told a pretty funny story about the worst thing she's let her daughter watch on television, which was Psycho. She said she usually tries to limit her daughter's television but that once it was a rainy day and the show was on and she thought she could just turn it off for the shower scene. Her daughter accidentally saw the scene where the body got disposed in a lake in the back of a car and asked "Mommy, where's the lady?" Fey kept trying to tell her that the lady went home, or went shopping, and her daughter eventually figured it out and said "I think the lady is in the car. In the water."
Fey also talked about Aniston and Oprah's upcoming appearances on 30 Rock. She jokes that the Jennifer Aniston episode looks like someone trying to insert themselves into an episode of Friends and that the Oprah episode features an a hug scene in which she gets to hug the talkshow queen. Fey described hugging Oprah as "like a trip to the spa for a week" and said Oprah smelled nice. She said she felt like a better person after embracing her.
Tina Fey is shown outside SNL on 10/18/08. Credit: Fame