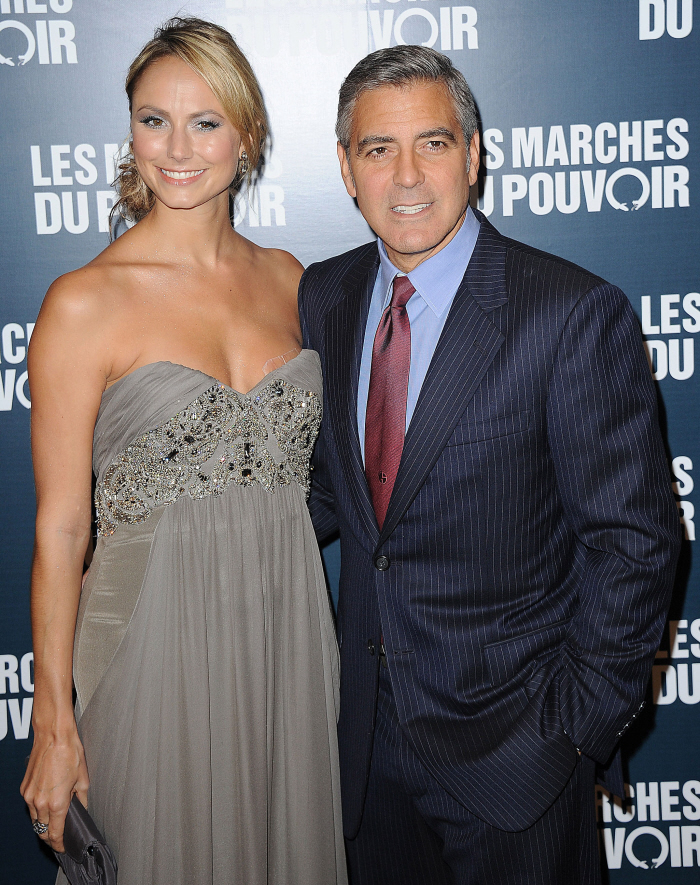 This story has so many double entendres and "WTF?" moments, I can't even start. The Enquirer got one of their many "tips" about George Clooney and his lady of the moment, his beck-and-call girl, Stacy Keibler. The Enquirer always has dirt on Cloons and his girls, so this is just continuing in the grand tradition. But this report is unlike anything I've ever read, just for the sheer "ick" factor. Clooney gave Stacy crabs. Literally, like, a bag of crabs, not the STD. Stacy prefers crabs to jewelry and anything fancy, because she's not a "girly-girl" – she's not afraid to "get her hands dirty". Filthy, right?
WHO said romance is dead? Not GEORGE CLOONEY who did the unthinkable!

George Clooney wowed his new girlfriend Stacy Keibler while the two were vacationing in Mexico by giving her a case of crabs – that is, a crate of fresh Maryland crabs shipped all the way from her hometown of Baltimore.

The 50-year-old Oscar winner had the shellfish air-shipped for a very special candlelit dinner for two during their early October getaway to ro­mantic Cabo San Lucas.

And pals say George's gesture put the 32-year-old stunner in the mood for love.

"Stacy was over the moon with George's surprise – she absolutely loves steamed crabs!" a source told The ENQUIRER.

"She's from Maryland, her family still lives there, and she loves nothing more than a crabfest. As a matter of fact, Stacy prefers crabs as a gift over roses or expensive jewelry. She was amazed that George had made such a big effort to impress her."

The source continued, "What George loves most about Stacy is that while she's gorgeous, she's not a girly girl. Stacy's not afraid to get her hands dirty – and she really showed George hot to eat crabs like a Maryland native. She got George to don a plastic lobster bib and had him ripping apart the crabs with his bare hands. He loves that Stacy gets such a big kick out of little things. And she's quickly becoming a major part of his life."
[From The Enquirer, print & online editions]
I'm sure George loves that Stacy isn't a girly-girl. I would even venture a guess that she might even be TOO feminine for her standard tastes, and that he usually likes girls a bit more drag-queeny. Still, Stacy is tall, broad and muscular, and she likes to get in there and "get her hands dirty" and root around and… that's why Clooney likes her so much. That, and she makes him wear a bib. I bet Clooney loved that, feeling so constrained around his neck. "TIGHTER. THE BIB SHOULD BE TIGHTER. OOOOO…I'm done."
As for the crabs… I'm not a crab person. But I love it when someone buys me chicken. Seriously, I'll be your friend forever if you buy me a bucket of chicken. I'll even barter sexually for chicken. Seriously.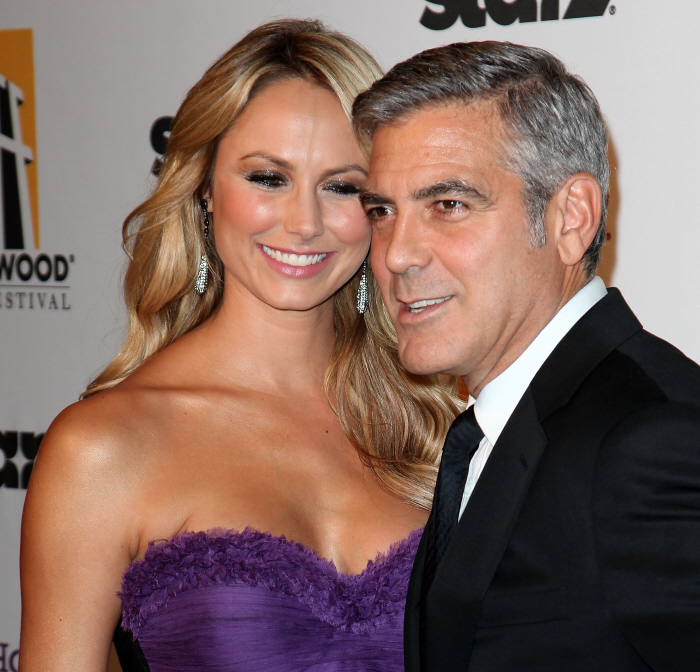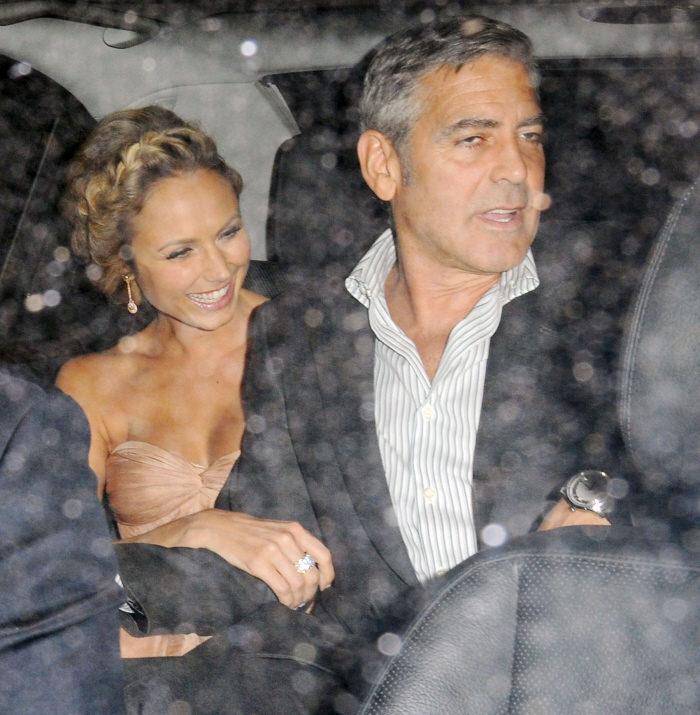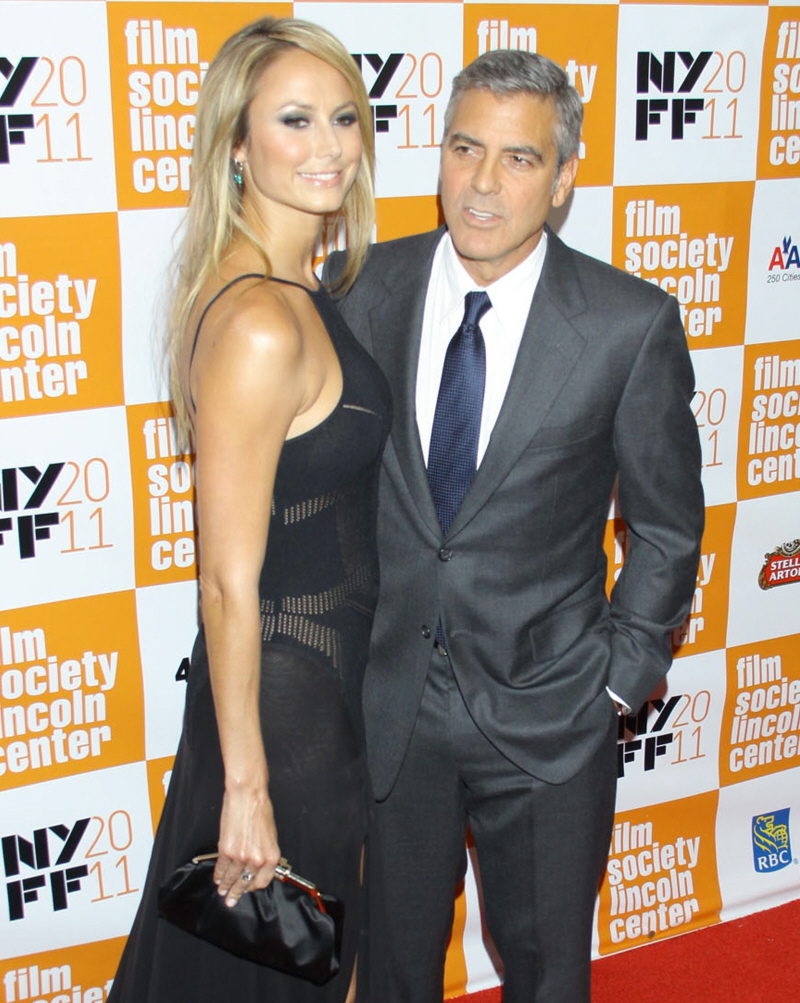 Photos courtesy of WENN.