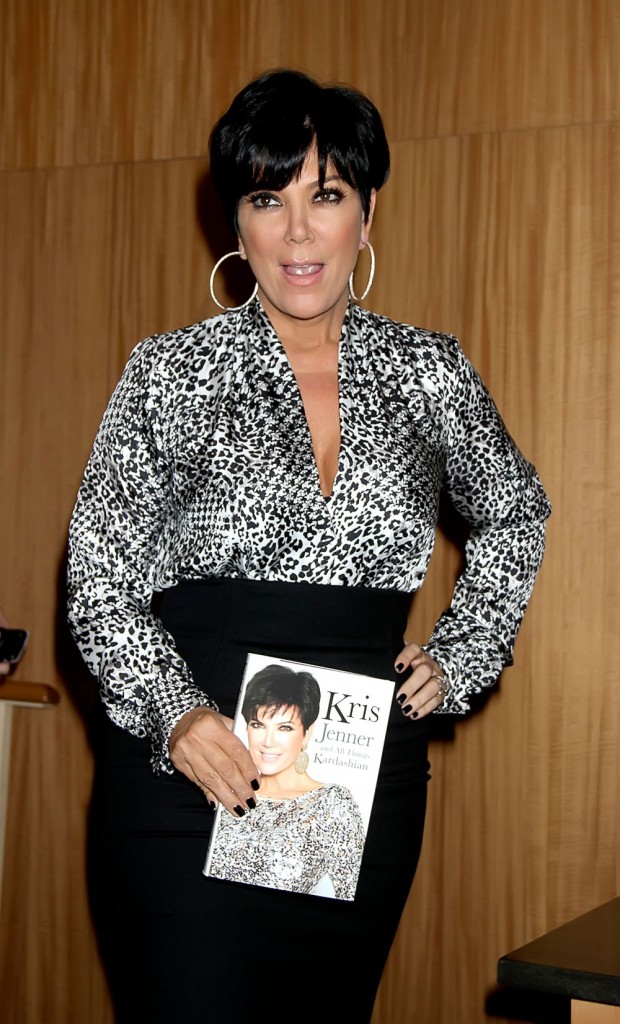 I used to think the term "Indian giver" referred to how the US Government made a lot of promises to the Native Americans and then reneged basically every time. In my mind the early Americans were the "Indian givers" because they gave to the indigenous people and then took back land and screwed them over at every turn. As I learned a while ago, the phrase actually refers to American Indians as supposedly taking back gifts, and is considered derogatory.
So Kris Jenner used the term "Indian giver" when referring to the fact that her daughter Kim Kardashian wasn't intending to give back her $2 million engagement ring to Kris Humphries after their 72 day marriage. On Good Morning America yesterday, Kris J. sniped "I hate an Indian giver. It's a gift – you keep a gift." It was a stupid and entitled thing to say, but like a lot of things this woman says it was also a half truth. That $2 million dollar engagement ring that Kim claims Kris H. bought her was recycled from 2009, when Kim bought it for herself to try and get Reggie Bush to propose.
Kris is now under fire from Native American rights groups for using that phrase. I love how these Kardashian idiots are getting fallout at every turn:
The backlash against Kris Jenner is exploding over her use of the phrase "Indian giver," and the largest American Indian and Alaska Native organization in the country has told RadarOnline.com exclusively that her comment "wrong and hurtful…"

Pata was referring to Jenner's use of the phrase "Indian giver" on Good Morning America after saying that she hoped her son-in-law Kris Humphries didn't want the engagement ring he gave her daughter Kim Kardahsian back.

"The phrase "Indian giving" is wrong and hurtful," she added. "The cultural values of Native Americans are based on giving unconditionally and empowering those around them. Instead this cultural value is forgotten when negative stereotyping of Native people occurs.

"November is Native American Heritage Month and this moment calls for a reflection on the contributions of America's first peoples to this great country. There are over 5 million US citizens identified as American Indians or Alaska Natives and 565 federally recognized tribal nations. This November we're focused on celebrating 1.7 million Native youth under the age of 18 that face many challenges. There are many hopeful solutions and we invite the Jenner and Kardashian family to join with the country in learning more during Native American Heritage Month."

As RadarOnline.com previously reported, an organization that serves the Native American community called Kris's comment "false and hurtful," as well.
[From Radar Online]
I know this is a throwaway phrase that used to be in wide use that Kris probably has no clue about. The Native American rights groups are using this as a teaching moment to try and get people to stop using it. This just goes to show how out of touch the Kardashians are, and of course how money-grubbing they are. Kris J. was talking about a $2 million dollar ring that Humphries supposedly bought for her daughter. Humphries is a multi-millionaire in his own right, but he's also an athlete with a limited shelf life. Of course Kim isn't going to return the engagement ring, though, since she bought it for herself fair and square. It was as much of a "gift" as the "loss" she took on her wedding. Bitch can't recycle it again later, either, unless she gets the diamond reset or cut so it looks significantly different.
Kris talks about the ring at 3:00 in. As they say on The Soup, I watch this for you. (And it can be a sacrifice.)

Here's Kris signing copies of her book at a Barnes and Noble in New York